Enric Monzonis has a brilliant career full of unique and surprising ideas that we have had the pleasure of enjoying practically since his time at Albert Adrià's Tickets. For a few years he has been part of the team at the Chocolate Academy of Barcelona and has been a Cacao Barry technician. On this occasion he brings us a chocolate cake (entremet) that is thought out in its combination of flavors as in its suggestive presentation. This year they are celebrating their anniversary at the Chocolate Academy, a 25-year journey that they propose to celebrate with creations like this and also with the creations that Enric Monzonis shares with us in the most recent #sogood25.
Enric himself explains the keys to this cake that combines chocolate with a citrus bouquet with orange as the central flavor below.
"Making a chocolate dessert that surprises and is different in terms of flavor is very difficult. I have thought the same for a long time, and the more years I spend in the trade, the more I can confirm it. What I propose in this case is to surprise with a classic, chocolate with orange. It is also a challenge to surprise with something that people already know and surely have idealized. How do I try to achieve this? Lightness, creaminess, a lot of chocolate flavor and a peculiar orange flavor that fits perfectly. We achieve this by adding a product that surely everyone knows, but we do not use much, the kumquat. Many times it is surely underestimated for its "complicated" use, but I encourage you to use it because its essential oil, its freshness, and slight bitterness add another dimension to the orange register that we all know. Regarding aesthetics, it would be the example of how far we can get involved in decoration to try to convey the concept we want. In this case, emulating a "packaging", a tool surely increasingly present in our daily life, which tries to tell us what we are going to eat."
Photos by Ivan Raga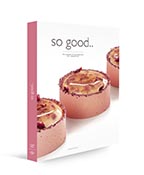 Chocolate cake with orange
Cocoa crumble
225 g butter
225 g brown sugar
225 g almond flour
180 g loose flour
45 g cocoa powder selection 22
2,5 g fine salt
In the blender with the paddle, homogenize the butter. Add the brown sugar and then the rest of the previously sifted ingredients. Work it, stretch into a tube, film it and store it in the fridge. Pass through a mincer and distribute on a baking tray with silpain. Cook at 170ºC for 10 minutes, open draft and medium ventilation.
---
Pressed croquant
560 g cocoa crumble
190 g Lactée Superieure 32% milk chocolate couverture
40 g sunflower oil
Melt the couverture at around 45ºC and mix with the oil. Mix with the crumble and reserve at 35ºC.
---
Tender Inaya sponge cake
200 g butter
400 g Inaya 65% dark chocolate couverture
190 g pasteurized egg yolk
380 g pasteurized egg whites
230 g sugar
1 g cream of tartar
70 g bread flour
Make a meringue with the whites, the sucrose and the cream of tartar. Melt the butter together with the dark chocolate couverture at about 55ºC. Add the yolks and mix lightly. Make a mother with a little meringue and finish mixing the rest in an enveloping way. Finish by adding the previously sifted flour. Dose the sponge cake into 14 cm rings and top with the cocoa crumble. Cook at 190ºC for 6 minutes, closed draft and medium ventilation.
---
Cinnamon cremeux
260 g whole milk
220 g cream 35% fat
130 g pasteurized egg yolks
3 g gelatin sheets
300 g milk couverture Alunga 41%
280 g milk couverture Lactée Supérieure 38%
6 g cinnamon powder
Boil cream and milk with the cinnamon and add the egg yolks to make a crème anglaise to 84ºC. Add the gelatin, previously soaked, and pour onto the half melted couvertures. Emulsify and cool down to 33ºC. Put into a piping bag with a n.10 tip.
---
Citric compote
170 g blanched whole oranges
115 g blanched whole kumquat
150 g natural orange juice
150 g liquefied kumquat juice
75 g yuzu juice
150 g glucose DE40
100 g 1000 flowers honey
75 g sugar
8 g pectine nh
6 g gelatin sheets
Pass the orange and kumquat peels through the mincer and reserve. Combine sugar and pectine. Mix yuzu and orange juices with the honey and glucose and heat up to 40ºC. Sprinkle sugar and pectine combined and bring to a boil for a few seconds. Mix the previousle soaked gelatin sheets. Pour over the juice with the oranges and mix well. Let cool down in the fridge and stir. Let in the fridge until set and transfer to a piping bag.
---
65% Alto el Sol Mousse
210 g whole milk
210 g cream 35% fat
60 g Trimoline inverted sugar
115 g pasteurized yolks
550 g Alto el Sol 65% dark chocolate couverture
535 g semi-whipped cream
Heat the yolks to about 45-50ºC. Heat the cream along with the milk, the trimoline and bring to a boil. Blanch the yolks and check the temperature of 83ºC. Pour the crème anglaise on top of the previously melted coating and emulsify. When the mixture reaches a temperature of 40ºC, mix with the semi-whipped cream.
---
Fleur de Cao glaze
600 g mineral water
500 g sugar
700 g glucose syrup DE44
400 g condensed milk
56 g gelatin sheet
45 g Extra Brute cocoa powder
600 g Fleur de Cao 70% dark couverture
Heat the water to 40ºC and add the sucrose, cocoa powder, and glucose until boiling. Add the previously hydrated gelatin and mix. Pour over the couverture and the condensed milk and emulsify properly. Use at approximately 30-35ºC.
---
Montage
Prepare 6 14-cm diameter rings with 3 cm high acetate to mount the interior. Place a 14 cm diameter die-cut sponge disc. Put 95 g of croquant on each cake and spread over the surface. Pour out 160 g of cream, distributing it like teardrops. Pipe 130 g of citrus compote into the empty spaces left by the cream and freeze the finished interior. Prepare 6 rings of 16 cm in diameter with 4cm high acetate. Place 240 g of mousse and insert the frozen interior. Glaze and finish decorating the cake with the chocolate ring with the packaging-like element.
Discover these creations by Enric Monzonis in sogood #25