Ángel León is one of the most renowned and avant-garde chefs on the current scene. In his restaurant Aponiente (three Michelin stars in El Puerto de Santa María, Cádiz, Spain), he is emphatically committed to bringing to the plate all the unexplored wealth of the sea, showing that there is a whole gastronomic universe to discover. Indeed, we once saw how much he impressed everyone with ingredients such as plankton, with effects such as bioluminescence or with techniques such as cooking with living salt. While presenting all these innovations, Ángel León kept alive the idea of finding something sweet in such an unfavorable environment as the sea. At last, after years of research together with his head of research and development David Chamorro, he has managed to create the first sea honey – an ingredient with a strong personality and gastronomic potential. Alongside them, in so good #25 we reveal the secrets of the surprising sweet that came from the sea. It is time now to enjoy some extract from this article.
Photos: Álvaro Fernández Prieto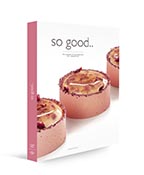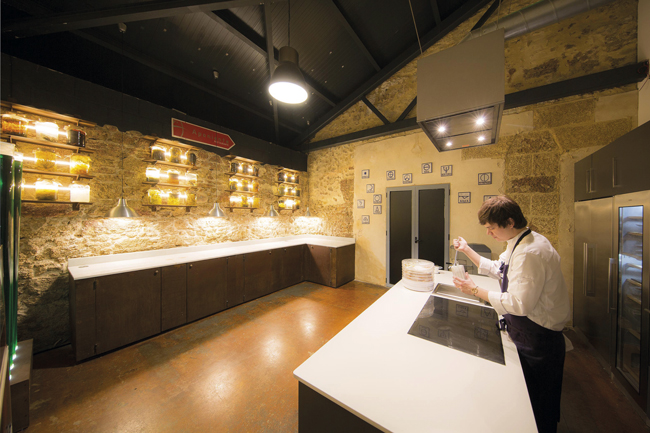 Finding sweetness in the sea has not been easy. In fact, Ángel León and his team have spent years researching and analyzing. As David Chamorro explains, 'we have tried to extract sugars from microalgae, that is, plankton, and from practically everything that lives in the sea. In those investigations, we had found many common sugars, from sucrose to polyalcohols like mannitol, for example. But the truth is that we did not find anything say palpable in a productive sense. Yes, we could extract sugar, but at a remarkably high cost, and the scale did not allow us to bring it to fruition. There is no point in melting 10 kilos of plankton to obtain mannitol, which can also be obtained from elsewhere!'
Ángel León's obsessive search took a turn when they began to focus their research on the marshes and the different plagues that they suffer, either because these are invasive species or because they are in too numerous. One of these plants, which they had never paid attention to, was the ruppia maritima (aka widgeon grass). Reviewing the features of this species, Aponiente's team discovered something rather curious: 'it was widely used to attract ducks. We were surprised, because ducks are animals, but they are not stupid. If they eat it, there must be a reason why. So, we started investigating why they ate it and liked it so much. It turned out that this
plant, at certain times of the year, has an impressive amount of sugars.'

It is important, as they point out from the restaurant, to highlight the seasonality of the ruppia. Like all plant species, this plant has an optimal harvest time, which is summer, when the plant is more mature and the marshes accumulate more biomass.
"Ducks were attracted to it. We were surprised, because ducks are animals, but they are not stupid. If they eat it, there must be a reason why"
First step: sea sucrose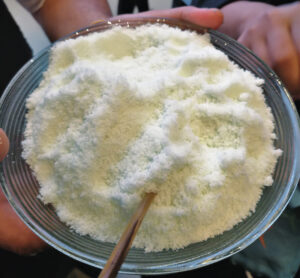 Once that concentration of sugar was verified, Aponiente's team began to work with different estuaries, saltwater lagoons that are usually found at river mouths. 'This plant grows like a tangle around the mouth and in these lagoons, which makes it difficult for the local fishermen to work properly. The ruppia clogs channels, makes movement difficult… Those who work in the estuaries are forced to extract it and then need to manage all that biomass. Some even pay to have it taken away. The fact of finding a use for the ruppia and facilitating this management can clearly help them.'
After collecting it, the first tests arrived: 'we proved that it was viable to obtain sugar, and we even got to white sucrose, the classic granulated sugar'. A real find that left Ángel and his team unsatisfied. Reflecting, they realized that they had solved a problem by creating a product that already existed. 'What was the point in competing with an equal product? That sucrose didn't even evoke the sea. It was as if we had a honeycomb and we just kept the sucrose and threw the rest away. In our quest to discover sea sugar, we had gone too far. We soon realized that we should have stopped earlier.'
Second and third step: less refined sugar and sea honey
With this reflection in mind, the next step was actually a step backwards that led to a crystallization of the sugar to achieve something equivalent to under-refined cane sugar. Find out more about this and the achieving of the sea honey in the printed version of the magazine.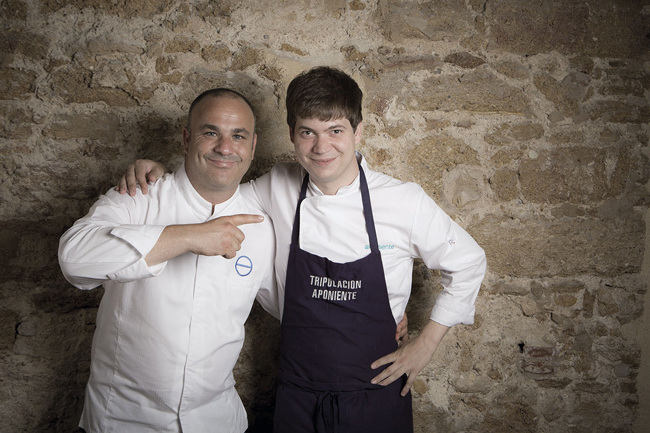 Preparation process
It is also essential to point out that the preparation process to obtain this honey is not difficult. Currently, the people who work in the estuaries mow the ruppia and leave it on the paths for Aponiente. 'We let them dry there. By drying them we achieve two things: that it weighs less and that the concentration of sugars increases. We collect it and take it to Aponiente, where it goes through a grinding process until it is practically converted into a texture that resembles sawdust.'
Next stages to get this sea honey are explained in the printed version of this article.
Is "as if the canes of a Malaga honey had been put to live under the sea. We find bitter notes of chlorophyll, umami, oxidative notes characteristic of these molasses honeys, roasted notes as a result of the production process…And at the end that salty background appears.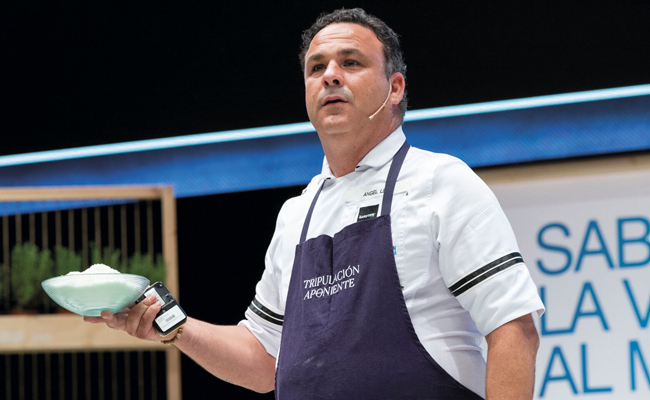 The future of a new ingredient
Given the success of this new ingredient, it is time to wonder what the next steps are. For the moment, as the chef of Aponiente acknowledges, 'we offer it in a dessert whose recipe we share with you here, but we have many ideas in mind. It will be an ingredient to be found in our kitchen which, in one way or another, will be part of our gastronomic experience. Now we are making it visible, giving it the relevance that it deserves, but as we have done on other occasions, in future years we will play with it. In fact, to this day, all the tests are done with sea honey first.'
The idea of producing and introducing this honey to the market in the future is also being considered. 'It would be beautiful to see that a small industry is generated in the estuaries of the Guadalquivir river thanks to this product, with the help people who can make a living from all of it. It would be a dream come true.'
Discover also the sea mamia dessert recipe in sogood #25