From October 28 to November 1, one of the world's great events dedicated to chocolate returns to Paris: the Salon du Chocolat.
Pavilion 5 of Porte de Versailles will once again host ambitious competitions such as The World Chocolate Masters, which will gather 18 finalists and an outstanding jury committee, the Mondial des Arts Sucrés, the Trophée de la Pâtisserie Française, and the Défi des Glacier.
Additionally, attendees will have the opportunity to learn about new products from 200 exhibitors, as well as watching leading pastry chefs such as Vincent Guerlais, Laurent Duchêne, David Wesmaël, Jeffrey Cagnes, and Philippe Conticini at work.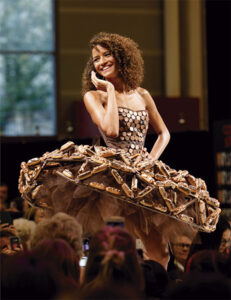 Like in previous editions, Jean-Luc Decluzeau will surprise the public with an XXL chocolate sculpture. Specifically, a Bugatti Grand Prix reproduced at ¾ scale with 400 kilos of chocolate, measuring 2.80 m long, 1.10 m wide, and 90 cm high.
On a glamorous note, shows will return with clothes made of chocolate designed by duos made up of chocolatiers and fashion designers. Likewise, there will be a space dedicated to Bean to Bar and conferences on cocoa.