With inspiration ranging from The Little Prince and Bali to traditional Korean roof tiles, the creativity at Valrhona's North American Final of its Chocolate Chef Competition (C3) was nothing short of impressive. Held in partnership with StarChefs during its annual International Chefs Congress in Brooklyn, New York, the Iron Chef meets Bocuse d'Or-style competition brings together top pastry chefs from the United States and Canada. The competition was created by Valrhona in 2008 as a way to celebrate professional pastry chefs and honor the technical and creative aspects of their trade.
When it was over 6 hours after it had started on October 28 and each of the six competitors had presented their petit fours and plated desserts in their allotted time slots to the team of renowned judges, Chef Kevin Clemenceau of Los Angeles' andSons Chocolatiers took home the top prize of $5,000 and earned a spot at the finals to be held on March 5, 2020 in Singapore. Chef Eunji Lee of Jungsik in New York City was the runner-up and received a check for $2,000 and Chef Jim Hutchinson of Winvian Farm in Litchfield Hills, Connecticut, was the winner of the press prize and $1,000. The other contestants were Desarae Bittle of The Greenbrier, White Sulphur Springs, West Virginia; Takunori Hirayama of Duo Patisserie, Markham, Ontario; and Weilu Wang of Eleven Madison Park, New York City.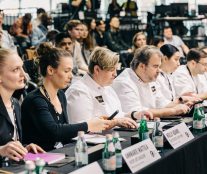 For this year's competition, the contestants were tasked with creating original recipes for a plated dessert and petit fours using Valrhona BAHIBE 46% Single Origin Dominican Republic chocolate. The panel of esteemed chef judges included Pierre Hermé, chef/owner of eponymous pastry boutiques around the world; Lincoln Carson, chef/partner of Bon Temps in Los Angeles; Kelly Fields, chef/owner of Willa Jean in New Orleans; Patrice Demers, chef/owner of Patrice Patissier in Montreal; Ghaya Oliveira, executive pastry chef of Daniel in New York City; Belinda Leong, chef/partner of B. Patisserie in San Francisco; Kamel Guechida, pastry chef at Wolfgang Puck Fine Dining; and Mina Pizarro, pastry chef of L'Appart in New York City and winner of the C3 2017 North American competition.
The success of 'something for everyone'
For both his petit fours and plated dessert, Chef Clemenceau found inspiration in modern pastry styles while at the same time paid meticulous attention to the Bahibe 46% milk chocolate he was working with and the flavors with which it paired best. "That was the interesting part for me," says Chef Clemenceau, who was familiar with the Valrhona product but hadn't used it as a main flavor profile before. "I really wanted to make sure I was getting its true taste."
His petit fours, titled "The Marais," packed a lot of flavors and textures into its diminutive size, including cocoa streusel, crunchy praline, cocoa nibs, a chocolate disk decoration, Bahibe 46% Chantilly, Bahibe 46% salted butter caramel, and cocoa nibs and gold leaf for decoration. Chef Clemenceau's plated dessert, named "Neyba," was truly a showstopper. The gravity-defying towering dessert featured vanilla-tonka crème anglaise, cocoa streusel, Bahibe 46% cremeaux, Bahibe 46% bavaroise mousse, Bahibe 46% mirror glaze, Bahibe 46% chocolate décor, rocher glaze, and hazelnut and cocoa nib nougatine. Nuts added additional texture, while a tart yuzu sauce—as dots on the plate as well as inside the bottom layer—brought in acidity and provided a refreshing contrast to the rich chocolate. "I like to bring a lot of textures to my desserts," says Chef Clemenceau. "I was trying to make sure my dessert had something for everyone."
Photos by Hugo de Piccoli (@adifferentstory_studio)