Christmas is among us, a time for pastry, and especially in France, where great chefs surprise us every year with unique and original logs.
Creations that trigger fantasy and imagination, with elegant, curious and in many cases very Christmassy. But above all they are designed to be shared with family and remember the flavors of childhood.
The exterior is striking, but we recommend taking a good look at the inside where some surprises lie that can only be discovered once it is cut to be served, to the delight of diners.
With this selection, we show you some of the logs that have surprised us the most,  either because of their high degree of creativity and elegance, all cutting edge and with a touch of patisserie d'auteur.
1. Julien Álvarez, The Peninsula Paris. L'Envol des Sens. Inspired by French desserts restaurant L'Oiseau Blanc, this elegant creation has at its core a base of salted butter caramel and crunchy cookie with dark chocolate and nuts. It is covered with a layer of caramelized banana, all covered in light cream with white chocolate and decorated with a dark chocolate helix. // paris.peninsula.com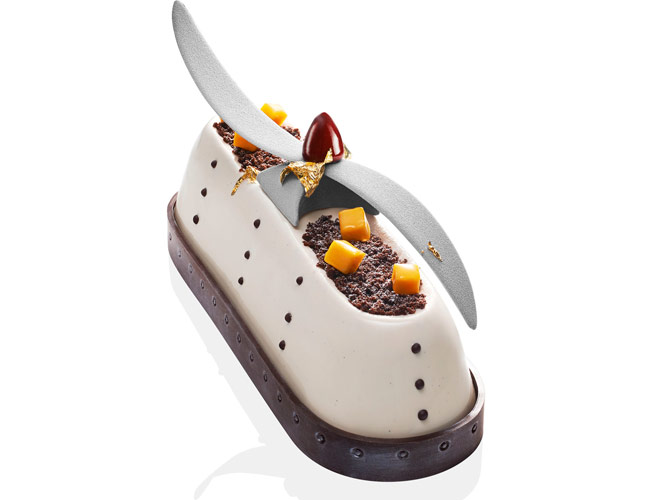 2. Philippe Conticini. Vintage vanilla. Known for reinventing the classics of French pastries in La Pâtisserie des Rêves, he has reworked his vintage buche, giving it this time a sparkling and silky touch of vanilla. The dark interior of the log, formed mainly of vanilla beans, enhances the flavor intensity. Interesting points of cherry jam and the possibility for the customer to grate lemon to increase the taste of vanilla. // lapatisseriedesreves.com
3. Bellanger. Miss B. Explosive, bright and feminine creation of  Jacques and Vianney Bellanger of  Chocolaterie Bellanger. A log consisting of a choux pastry with juice, candied bood orange, mascarpone cream with bergamot and a light blood orange mousse and and bergamot. // www.chocolats-bellanger.com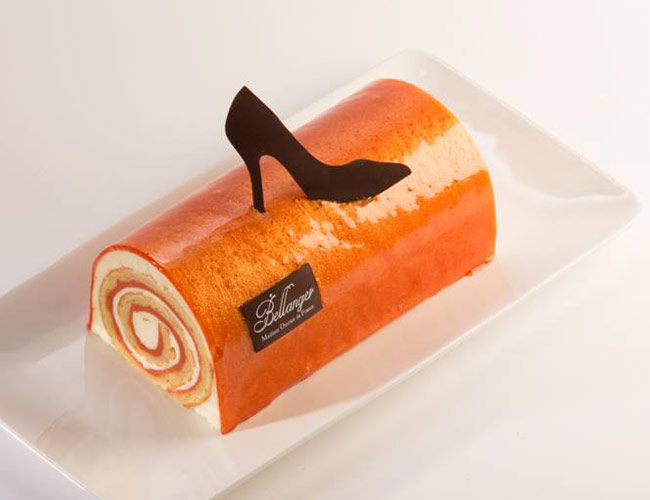 4. Claire Damon. L'Oronge de Noel. This creation comes from Paris, an admirable simplicity that transports us with a view of a nice autumn day. Mushroom-like, but with a mild flavor of almond sponge cake, brown glacés and crunchy brown sugar. // www.desgateauxetdupain.com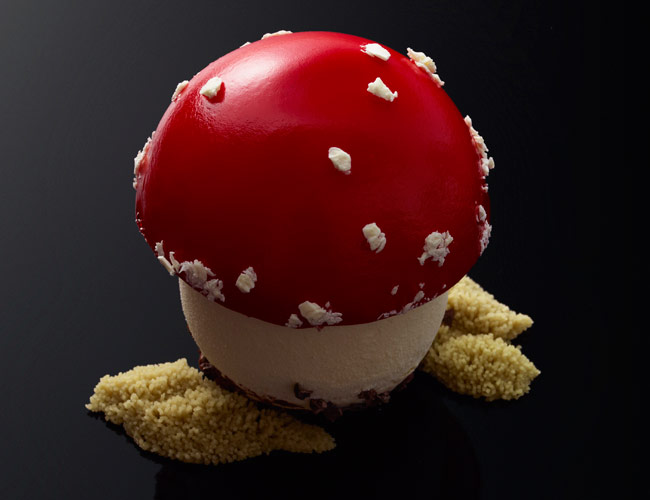 5. Jean-Paul Hévin. Interstellar. The MOF chocolatier invites you on a trip to the stars with a dark chocolate mousse with Grand Cru Brazilian cocoa, scented cocoa biscuit with star anise, coffee and coffee dacquoise, and black sesame gianduja. // www.jeanpaulhevin.com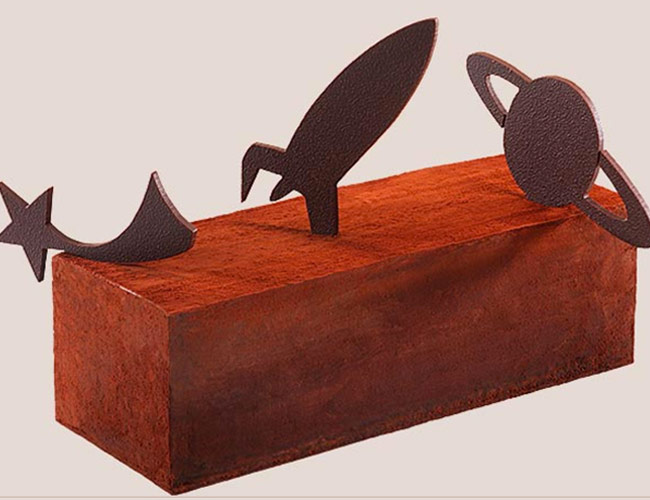 6. Christophe Adam. Hazelnut praliné Barlette. For these holidays, Adam offers a crisp limited edition Barlette which combines the silkiness of hazelnut praline with the creaminess of melted Bahibe chocolate ganache and a 80% Guanaja ganache. And a surprise element, a fun peta zeta. // leclairdegenie.com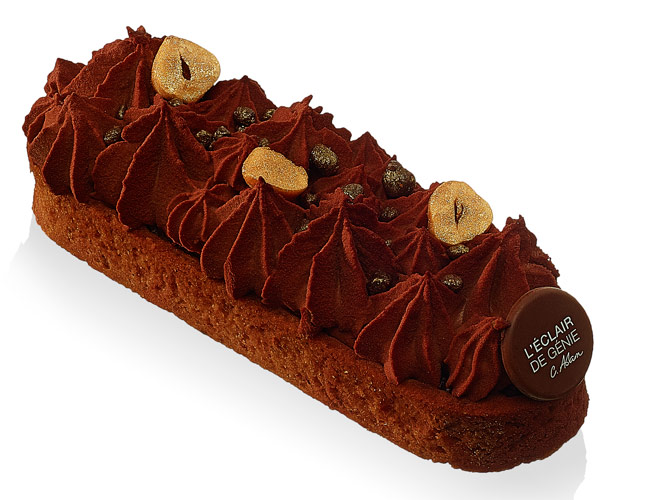 7. Christophe Roussel. Pink zebra. A log, in an ice cream version, which is imaginative and with a fresh appetizing touch after the long holiday meals. Lemon sorbet and basil are sublimated by light meringue and whipped cream. // www.christophe-roussel.fr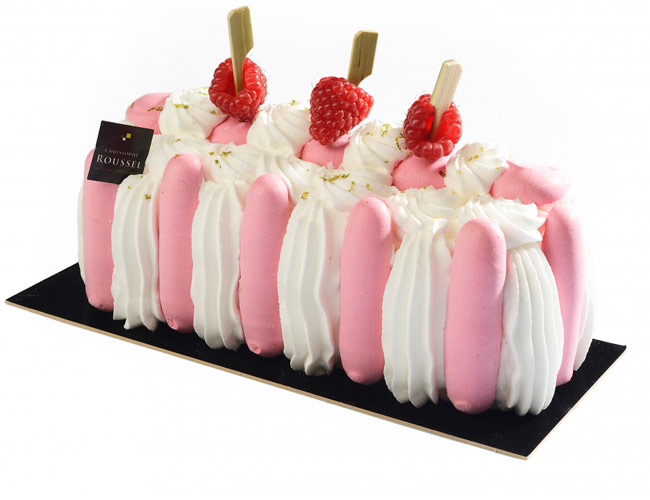 8. Damien Piscioneri. Skoulptoura. The pastry chef of Café Pouchkine went to the studio of an artist located at a Russian dacha. There, inspired by the Volga, he carved the delicate log, which combines the softness of a salted butter caramel cream with the fruit of a pear compote with spicy notes of tonka bean. // cafe-pouchkine.fr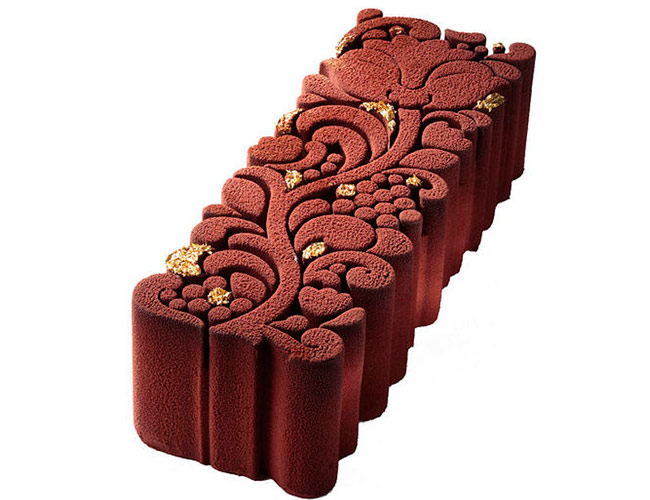 9. Rafa Delgado, Chocolate Academy. Preparing the tree … Rafa Delgado, pastry chef of Can Jubany, activates fantasy with this log, which is actually a jijona nougat mousse, creamy chocolate and tonka bean.
.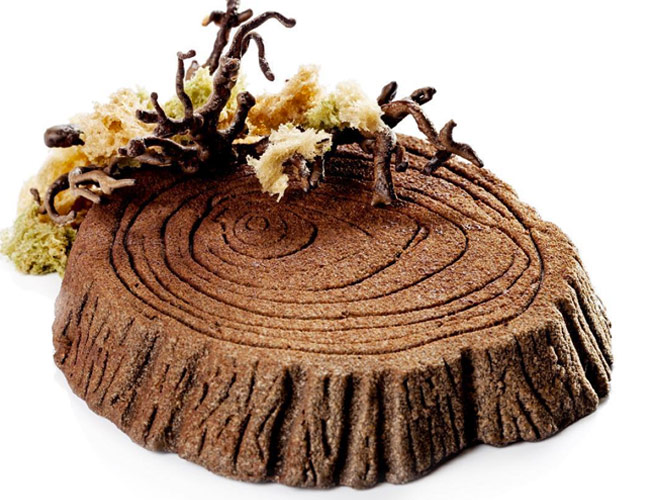 10. Vincent Guerlais. Toast to the new year. To toast the New Year, the agitator of taste buds created a different champagne, consisting of a tarte tatin, caramel mousse and hazelnut cream on a Breton sable. // www.vincentguerlais.com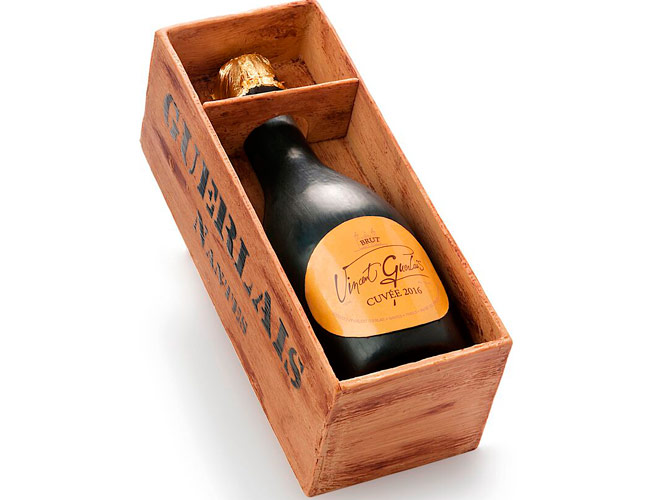 11. Thierry Mulhaupt. Kalapouasie. Papua New Guinea in the southwest Pacific, is home to an island of mountainous terrain and lush rainforests: East New Britain. In the Bay of Rabaul we can find the cocoa plantation, Tokiala, maintained by farmers in Papua. From here comes a cocoa bean of sour notes and toast which is present in this Thierry Mulhaupt log. A creation with a curious combination of ingredients: crispy praline cashews, exotic pepper cream and 70% Timut Papouasie chocolate mousse. // www.mulhaupt.fr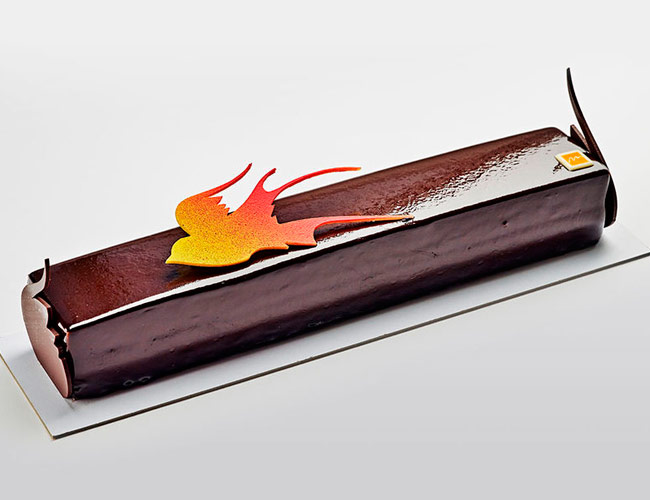 12. Pascal Caffet. Holiday crown. Praline bouchée of Piedmont hazelnuts puff pastry covered with 70% Venezuelan dark chocolate to remember and share childhood flavors with family and friends: roasted almonds, caramelized pecans and caramelized pistachios covered in milk chocolate. // www.pascal-caffet.com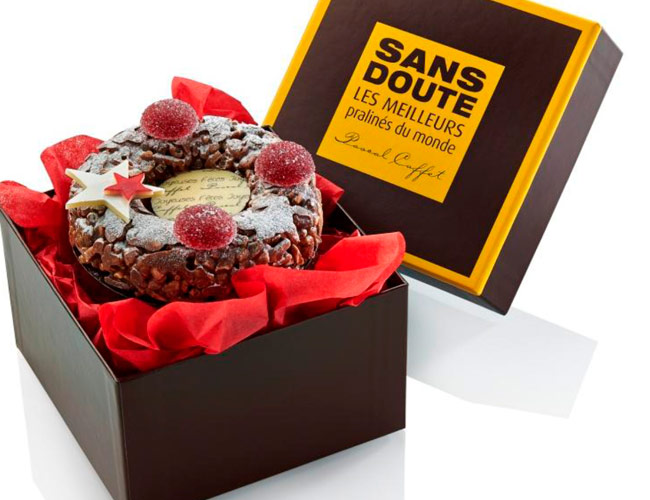 13. Christophe Michalak. Fantastik «Mr Kristmas». The chef, in continuous reinvention, presents this fun Mr. Kristmas, made with milk chocolate and biscuit soaked with blackberry tea accompanied by crispy cocoa beans and salt.And to finish, a marshmallow in the form of a fluffy Santa Claus beard. // www.christophemichalak.com