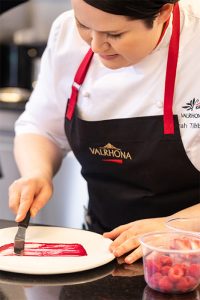 Allergies and special diets have become a topic of great interest in the United States. For this reason, L'École Valrhona Brooklyn organized the course "Rethinking ingredients & pastry trends" taught by Sarah Tibbetts on April 2 and 3. The proposal includes a vegetarian panna cotta, made with oat milk and a crunchy streusel that avoids wheat and ingredients of animal origin thanks to almonds, rice, and coconut oil, although it contains Inspiration Strawberry couverture (with milk among its ingredients).
In an intimate setting, the Valrhona Pastry Chef presented new and inspiring recipes using alternative ingredients and rethinking pastry concepts without losing sight of dietary restrictions. Think Pink is an example of a 100% vegetable origin dessert and which could be gluten free (except for the Inspiration Strawberry couverture).
The students, in addition to learning to bake with unusual products, created bonbons free of allergens and creations without lactose, without gluten, and vegan. Desserts like Think Pink, of which we detail the recipe below.
Photos: Nitzan Rubin
Think Pink
16 servings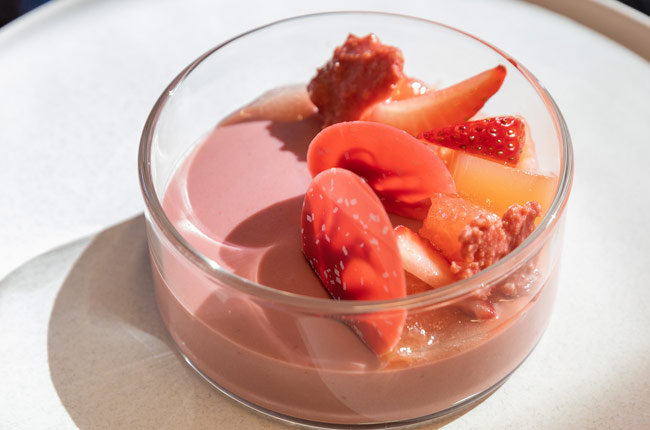 strawberry panna cotta
200 g strawberry purée
300 g oat milk
8 g Sosa Pro Panna
10 g sugar
340 g Strawberry couverture Inspiration
500 g cashew yogurt (plain)
In a pot, heat the puree and oat milk to 77°F (25˚C) and add the Pro Panna powder mixed with the sugar. Bring to a boil.
In a bowl, melt the Strawberry Inspiration.
Pour the hot liquid over the melted Strawberry Inspiration in 4 additions, mixing well after each, to create a proper emulsion.
Process with an immersion blender and add cashew yogurt. Blend again.
Pour 70 g per verrine and refrigerate.
---
almond streusel
=10 g per verrine
80 g almond flour
80 g raw cane sugar
1 g fine sea salt
70 g rice flour
60 g coconut oil
17 g water
Combine the dry ingredients.
Melt the coconut oil and add the warm water.
Pour the coconut oil/water mixture over the dry ingredients and mix until the streusel just comes together.
Spread on a silpan lined perforated sheet pan and bake at 315˚F (157˚C) until golden brown. Set aside to cool.
---
Strawberry Inspiration Coated Streusel
=10 g per verrine
270 g almond streusel
135 g Strawberry couverture Inspiration
After the streusel is baked and cooled, process to a coarse, ground texture.
Mix with the melted Strawberry Inspiration.
Use immediately.
---
grapefruit sauce
=10 g per dessert
100 g fresh pink grapefruit juice
150 g Absolu Cristal Neutral Glaze
In a pitcher using an immersion blender, combine all ingredients and blend until smooth.
Refrigerate until ready to use.
---
grapefruit jelly
=5 g per dessert
225 g grapefruit juice
2 g agar agar
10 g sugar
0.5 g citric acid
Heat the grapefruit juice and add the agar agar mixed with the sugar- bring to a boil.
Add citric acid and remove from heat.
Immediately fill mold (Silikomart SFM004) with hot jelly.
Refrigerate until completely set.
---
verrine garnish
AN pink grapefruit (segmented)
AN strawberries (quartered)
AN Strawberry couvreture Inspiration
AN Valrhona Signature Silver Speckled transfer sheet
---
Finishing and Assembly
For décor: use tempered Strawberry Inspiration and Silver Speckled transfer sheet.
Dip the base of a flat bottom glass into the Strawberry Inspiration just to coat and immediately make an imprint on the Silver Speckled transfer sheet. Repeat until the transfer sheet is full and place in a cool place to completely crystalize.
Remove the Strawberry Panna Cotta from the refrigerator and garnish with grapefruit segments and strawberry quarters.
Drizzle the Grapefruit Sauce over the fruit.
Unmold the Grapefruit Jelly and place a few pieces around the fruit.
Finish with Strawberry Inspiration Coated Streusel and décor pieces. Serve immediately.