In so good #17 we discovered the portentous book Le Pain Passion by the head of La Rose Noire, Gerard Dubois. It is a showcase of artistic photos, bound in great detail and that goes through some of this Hong Kong-based chef's favorite doughs. With croissant dough and a product as autumnal as pumpkin (le courge), presented inside a cocotte, this product is a true ode to the great doughs of bakery and pastry. Not surprisingly, the book won the award for the world's best book about bread last year.
Gérard Dubois's declarations on good dough are unequivocal, and a perfect example of his position is this croissant and pumpkin cocotte.
Pumpkin butter bread
Croissant dough
400 g strong flour
220 ml fresh full cream milk
50 g sugar
8 g salt
80 g butter from Normandie
10 g dry yeast
For folding
300 g butter from Normandie ('beurre echire')
Mix all the ingredients except the second butter for 4 minutes at slow speed.
Then mix for 8 minutes at fast speed until the dough no longer sticks to the bowl.
1st refrigerate for 1 hour before rolling flat and making a butter 'sandwich'.
'Single turn' the dough by rolling the dough sandwich out until around 15 mm thick.
Fold the dough sandwich in to make three layers.
2nd refrigerate the dough sandwich for 1 hour.
'Single turn' the dough sandwich again.
3rd refrigerate the dough sandwich for 1 hour.
'Single turn' the dough sandwich again to finish the process.
---
Pumpkin paste
450 g pumpkin purée
150 g Philadelphia cheese
q.s. salt
q.s. pepper
q.s. paprika
q.s. coriander
Boil the pumpkin and dry it.
Mix the pumpkin purée (450g) with the Philadelphia cheese (150g).
Add the salt, the pepper, the paprika for the colour.
Add the coriander to exhaust the taste.
---
MONTAGE
Roll out the croissant dough until around 3 mm thick.
Spread the pumpkin paste evenly onto croissant dough sheet.
Add the pumpkin seeds.
Roll the dough like a cinnamon snail.
Fill the cocotte with 3 slices off the roll (2/3 of the mould).
Proofing.
Bake the proofed dough at 180°C for 35-40 minutes.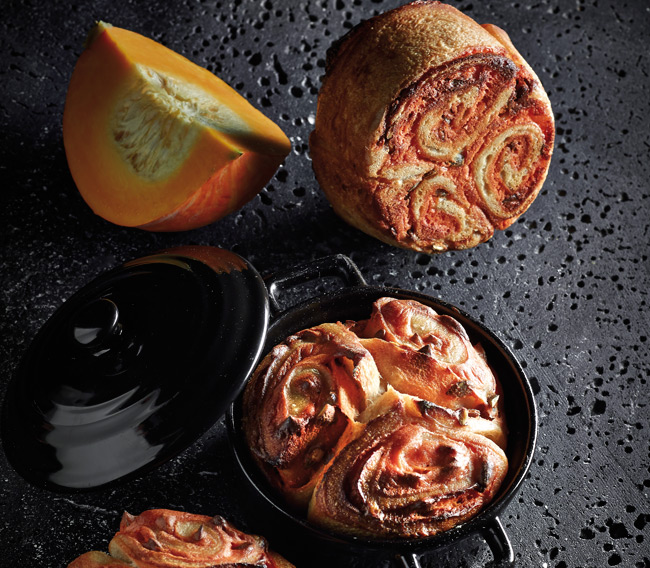 With the readers of So good #17 we could also enjoy this apricot and apple tarts.