The pastry chef of MGM Grand Hotel in Las Vegas, Marco Cossio, became Pastry Chef of the Year 2011 in USA. Here we show Marco Cossio's Nouba bonbon, one of his creations during last edition of US Pastry Competition. In a next post, we'll show you his winner entremet.
(Servings: 35 pieces at 28 g / 1 oz)
---
Pate de Fruit
400 g (15 oz) Passion fruit puree (Ravifruit)
600 g (21 oz) Apricot fruit puree (Ravifruit)
500 g (18 oz) Granulate Sugar
76 g (2 1/2 oz) Glucose
12 g Pectin (apple)
70 g (2 1/2 oz) Granulated Sugar (to mix with pectin)
8 g (1/2 oz) Lemon juice
In a saucepan, heat fruit purees, glucose, 250 g./ 9 oz. granulated sugar, to 122 F. / 50 C. add the rest of the sugar and pectin mixture and cook it to 221 F / 105 C. Remove pan from the heat and add the lemon juice. Pour mixture into forms. 450 grams
---
Yuzu Ganache
500 g (17 oz) Heavy Cream
40 g (1 1/2 oz) Glucose
30 g (2 oz) Vanilla extract liquid
2 each Fresh vanilla bean
60 g (2 oz) Yuzu juice
200 g (8 oz) Dark chocolate couverture (Noel Royal 64%) Manj
500 g (17 oz) Dark chocolate couverture (Noel Grand 58.5 %) Exc.
50 g (1 1/2 oz) Unsalted butter
In a sauce pan heat cream, glucose, vanilla extract and fresh vanilla, and bring this to a simmer. Remove from the stove and add the Yuzu juice. Cool it to around 158 F. / 70 C. and pour into chocolate solids.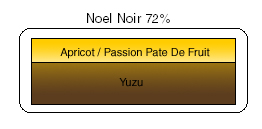 Add butter at 95 F. / 35 C. and mix with a hand blender to create emulsion. Pour mixture on top of pate de fruit at 88 F. / 31 C. let it rest 24 hours at room temperature before cutting. Deep in chocolate couverture Noel Noir 72 % after they are cut.