Luis Amado offers us in so good #27 an exclusive sample of what he has to offer. On the one hand, a masterful interpretation of three universal classics in a chocolate version, and on the other hand, a delicious nocturnal vision of Dubai. The chef explains his inspirations and motivations in detail below.
As a frequent world traveler, I have been fortunate to experience at first hand some of the likes and dislikes that various cultures have towards different flavors, textures, and shapes of confections. As a chocolatier with a strong background in pastry, I truly believe that ultimately customers want simple yet memorable flavors. These are flavors and experiences that could not only connect them to their childhood memories, but also flavor profiles that can easily be distinguished and associated to some of the most popular and recognizable pastry or dessert items globally.
For this very reason, I have decided to pay homage to some of the world's great classical desserts such as the Black Forest, Tiramisu or Mille Crepe and finally I chose to recreate a pastry item such as halva which may not necessarily be a dessert on its own but certainly a common sweet ingredient in the Middle East.
When I think of creating a new confection, I strongly believe in parting from simple and recognizable flavors. This is just my style and certainly I do not claim to be right or wrong. Through my chocolate creations, I simply offer what I believe that my students or customers would enjoy the most. I must admit, I play it safe on flavors, I don't like to deviate too much from the basics, but when it comes to building or presenting bonbons, I simply follow no rules and let my imagination go wild.
"I must admit, I play it safe on flavors, I don't like to deviate too much from the basics, but when it comes to building or presenting bonbons, I simply follow no rules and let my imagination go wild".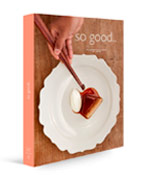 Black Forest Bonbon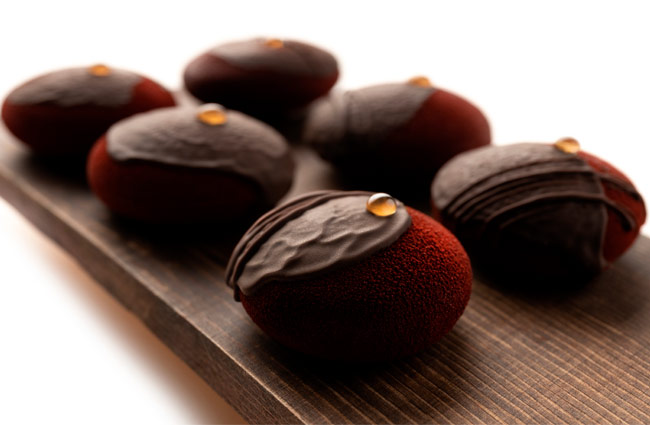 For my Black Forest Bonbon, I feature the same intense flavors that are already present in the traditional cake version, but I notice that increasing the ratio of jelly per cake was a good enough reason to prepare this classical dessert in a bonbon form. Airbrushing the exterior with a raspberry infused will not overpower any of the flavor profiles but rather adds a unique aroma and citrusy notes to the final piece.
Mille Crepe bar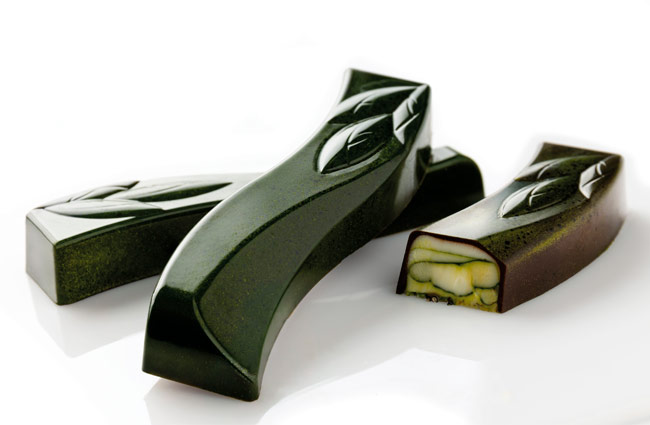 Regarding my version of the famous Mille Crepe, which by the way it is said to be invented by Japanese pastry chef, Emma Wada, I wanted to recreate the typical layers of a Mille Crepe but also feature the subtle yet recognizable notes of Japanese sencha tea as well as the traditional matcha flavors. The different layers of matcha infused cocoa butter add a long lasting 'crunching' effect which is greatly increased as the caramelized black sesame seeds and white chocolate mix ends the bite.
Tira Mont-Blanc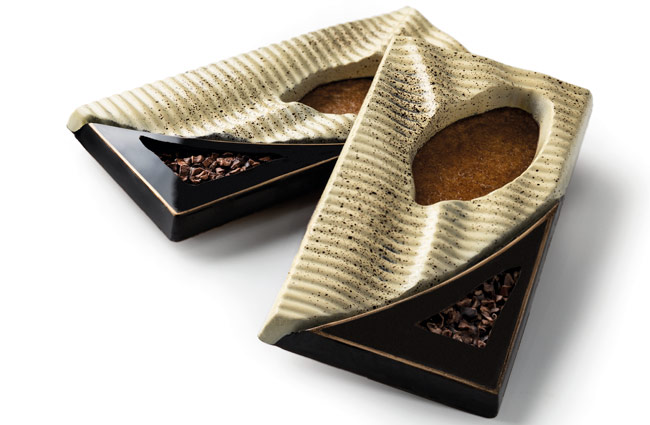 For the always loved tiramisu, I totally wanted to recreate the classical dessert but at the same time incorporate some type of element that would reflect an architectural concept, after all when one builds a tiramisu, layers are often the rule to follow, well that is not exception to the rule. I felt that my signature mold could work great for this special celebration by having the negative shape of a cocoa bean which is obviously associated with the dusting of cacao which is often to use to dust this delicious and well-known dessert. The addition of such a rich and creamy chocolate such as Felchlin Mont-Blanc provided the perfect touch of dairy richness to the ganache. The wafer not only provided texture and crunch but stays crunchy by being on the exterior of the bar.
Dubai de noche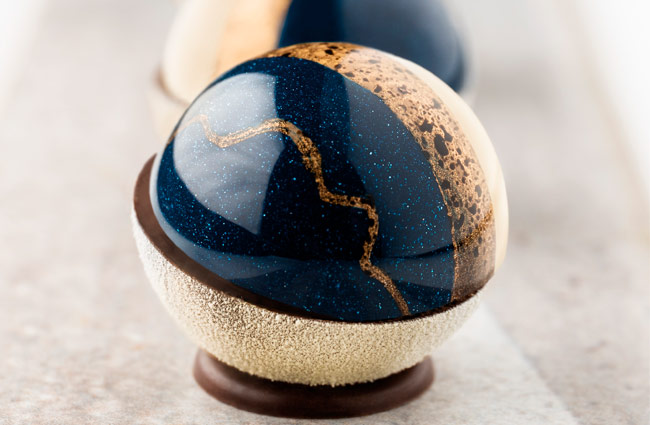 Just before the Pandemic started, I was in Dubai teaching a masterclass and will never forget leaving my hotel room for a walk around the 21:00 hrs. Somehow, I ended up in front of this pastry shop where I tasted delicious halva and a number of pistachio-based confections. I then walked back to my hotel room, took a pencil and a piece of paper and wrote my idea for this bonbon which I simply named 'Dubai de noche' ('Dubai at night'). I have to admit that choosing the classical desserts or pastries for this article was not an easy task. I set aside other classics such as Carrot Cake, Crème Brûlée, and Churros. In any case, I encourage you to become familiar with the world's most traditional or classic desserts and why not keep them alive by occasionally recreating them into new shapes and forms as I have done in this article.
Full recipes, inside photos and detailed information in so good #27