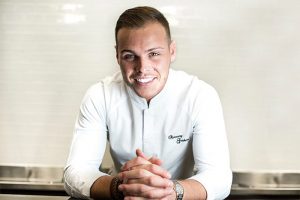 He is one of the great icons of cyber pastry, with half a million followers on Instagram. His creations influence, set trends, and are a mirror for an entire army of professionals and amateurs. But behind a fantastic photo album on the internet, the French chef Amaury Guichon represents vocation, rigor, perseverance and a professional attitude, all essential virtues to achieve success in the trade.
During his training he already stood out, as evidenced by the achievement of his gold medal for 'Best Apprentice of France'. He was executive chef of Victor&Hugo in Paris, responsible for Lenotre shop in Cannes, and assistant executive pastry chef of Jean Philippe Patisserie in Las Vegas. Now, as an independent consultant, he travels the world showing his work in schools and advising companies in the sector.
In his creative process, Guichon seeks to differentiate himself, to establish his own canon. He himself explains it: 'I try to create things that haven't been done before. I am often inspired by different materials and techniques in fields of work such as clay, wood sculpting, furniture fashion design, glass blowing, so you will see my interpretation of that in pastry. I also like to trick the mind by creating things that look like objects from day to day, such as the watch, egg, compass. I'm looking for people to see my products and say "it's too pretty… I don't want to eat it".
'For lovers only, it is a two-person sized pastry. It is extremely glam looking with the deep red choux. Inside it, you will find a fresh strawberry candy compote, a citrusy raspberry light pasty cream, a crunchy craquelin, and vanilla mascarpone whipped cream'
We also ask the chef about the future of the trade and high-end pastry and chocolate making as a concept and offers us a somewhat disconcerting yet not completely implausible reflection: 'I think high end is getting huge and people are willing to spend a little bit more to get that kind of pastry experience. However, since chocolate is getting rarer and our world is very industrial, I think our artisanal and crafty profession might disappear in 15 years. I obviously hope this is not the case.' We also hope so.
Guilty pleasure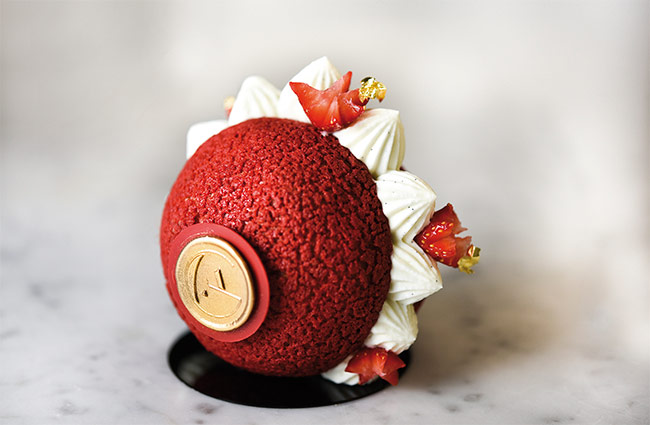 red craquelin
210 g all-purpose flour
200 g brown sugar
q.s. red color
160 g butter
Make a crumble with all the ingredients, then sheet it thin.
---
pâte à choux
250.45 g milk
250.45 g water
10.04 g sugar
10.04 g salt
275.89 g all-purpose flour
200.89 g butter
502.23 g eggs
In a pot, boil the milk, water, sugar, salt and butter together. Add the flour sifted progressively, then the eggs with a whisk. Pipe the dough in a dome, add the pâte à choux crust on top and bake it at 195°C/383°F for 25 minutes.
---
candied strawberry
108 g sugar
24 g glucose
12 g lemon juice
36 g strawberry puree
24 g cranberry juice
1 u vanilla bean
4 g pectin NH
300 g fresh strawberry
Cook the strawberry puree, cranberry juice, sugar, glucose and pectin to 108°C/226°F, then cook the strawberry a little and add the lemon juice. Cool down immediately.
---
raspberry pastry cream
750 g raspberry puree
75 g sugar
75 g yolks
30 g pastry cream powder
150 g cream
Boil the raspberry puree. Mix the sugar yolk and pastry cream powder then boil both for a minute, when cold add the wipped cream.
---
mascarpone whip
6 g powdered gelatin (knox)
28 g water
96 g sugar
96 g cream
288 g mascarpone
480 g cream
2 u vanilla bean
Hydrate gelatin with water. Heat first cream, sugar and infuse with vanilla beans for 30 min. Add gelatin to infused cream and pour over mascarpone and burr mix. Combine with last cream and burr mix again, strain and chill overnight.
---
Decor
---
Montage
Fill your puff pastry with the raspberry pastry cream then insert the strawberry compote in it.
Glue both choux with a little bit of Mascarpone whipped cream, then nicely pipe all around the choux add the fresh fruit decor and chocolate decor.
---
You will also find these three recipese in so good #19