We went to Santiago de Chile to get to know the sweetest side of 99 Restaurante, one of Latin America's modern establishments. Opened in 2014, this restaurant has a pastry station led by the young Gustavo Sáez, who in 2016 was even selected as the best restaurant pastry chef by the ranking of The World's 50 Best Restaurants for this continent.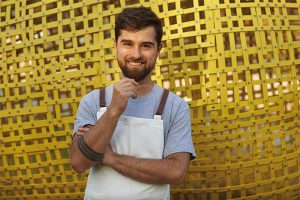 Sáez, República del Cacao ambassador and also a member of the Chilean team for the World Pastry Cup 2018, is facing the great challenge of drawing new sweet horizons in a country that, until very recently, has lived with its back to its ingredients and its ancient gastronomic tradition. A challenge that he faces without losing sight of the fact that in 99 Restaurante there are two types of cuisine: one that is served at night, which is more complex and gastronomic, and another that is offered at midday, with a more set menu. This duality is evidenced in the desserts that Gustavo shares with us.
As the pastry chef himself explains at so good #19, 'the proposals at night are a bit more daring, and that's where we put more technique and we use products which are not so typical every day.' In this case, the ingredient which is used is avocado, although mushrooms and eggplant have also come into play in other desserts. They are all products that reinforce the temporality of the menu and allow us to discover previously unexplored territories for the country. 'In these dishes is where we can play around more,' he acknowledges.
That does not mean that the midday menu desserts are less elaborate. Quite simply, they do not stray far from tradition and play more with elements of pastry aesthetics. Gustavo seeks to create recognizable and sweet dishes, with subtle modern touches. 'We always try to make it as neat as possible, and we change this menu every day, with the idea that you can come for a year and not repeat a dish. We have a matrix of about 120 desserts that we adapt according to the season, so that in winter you would find a chocolate coulant with citrus, while in summer you would eat it with berries.'
Photos: Pablo Baracat
Brioche pudding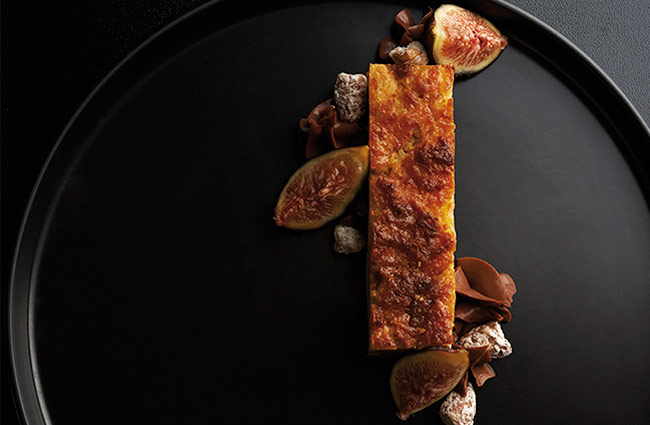 brioche
107 g sugar
107 g butter
2 g salt
500 g flour
150 g sourdough starter
50 g eggs
50 g egg yolks
1 u lemon zest
1 u orange zest
236 g milk
In the bowl of a stand mixer fitted with the hook attachment, mix the flour, salt, sugar, eggs, egg yolks, sourdough starter and milk. Knead on low speed for approximately 25 minutes until the dough comes off the sides of the bowl. Gradually mix in the softened butter. Finally add the citrus fruit zests and transfer to a gastronorm pan greased with butter. Reserve in the refrigerator for about 4 hours. Cut into 35 g portions, gather into balls and fit into rectangular silicone molds. Allow to ferment at room temperature for 12 hours. Brush with an egg wash and bake. Apply some steam at 98ºC for two minutes. Bake at 160ºC for 10 minutes. Unmold and bake for an additional 5 minutes.
---
pudding
840 g brioche, cubed
1344 g cream
336 g sugar
240 g egg yolks
336 g white chocolate
336 g fruit
Cut the brioche into cubes. Mix the egg yolks and sugar in a bowl and reserve. Place the cream over the heat and bring to a boil, then pour half of it over the previous mixture, place all back over the heat and cook to 85ºC. Mix with the white chocolate. Strain and pour over the brioche cubes. Reserve for 1 hour. Add the fruit to the mixture and bake in a gastronorm pan at 162ºC for 25 minutes. Cut into 9×2.5-cm rectangles.
---
sugared nuts
150 g nuts
60 g sugar
15 g water
Make a syrup with the sugar and water to 110ºC. Add the nuts and stir until crystallized. Pour onto a silpat and separate the nuts.
---
chocolate crémeux
200 g milk
120 g egg yolks
120 g sugar
300 g chocolate couverture, 60% cocoa
250 g cream
Combine the cream and milk and bring to a boil. Pour over the egg yolks, previously mixed with the sugar. Cook to 84ºC, quickly pass through a fine chinois or rapidly reserve in the refrigerator. With the help of a rubber spatula, emulsify with the melted chocolate until a smooth, elastic and glossy texture is obtained. To perfect the emulsion, process the mixture with a handheld blender being careful not to add air, and always working at 35ºC.
---
Serving
Place the pudding in the center and pipe the chocolate crémeux next to two of its corners.
Finish by placing some fresh figs and sugared nuts.
---
You will also find these two recipese in so good #19