In June, L'École Valrhona Brooklyn once again hosted the popular course "Tastes and Variations on Viennoiseire" by Greg Mindel.
The students, among other things, learned hands on lamination and lamination with a sheeter, practiced a variety of molding techniques and production methods to create artistic and delicious breakfast cakes, and obtained a better understanding of doughs and how to use them efficiently in the kitchen.
The owner of Neighbor Bakehouse shared his vision of modern viennoiseire, focusing on the techniques and cross-utilization of a few base doughs. For this, he made some of the star products of his establishment, such as this Passion Chocolate Brioche. Beauty in the presentation, power in the flavor, precision in the kneading techniques, the chef prepared this and other specialties with maximum vigor.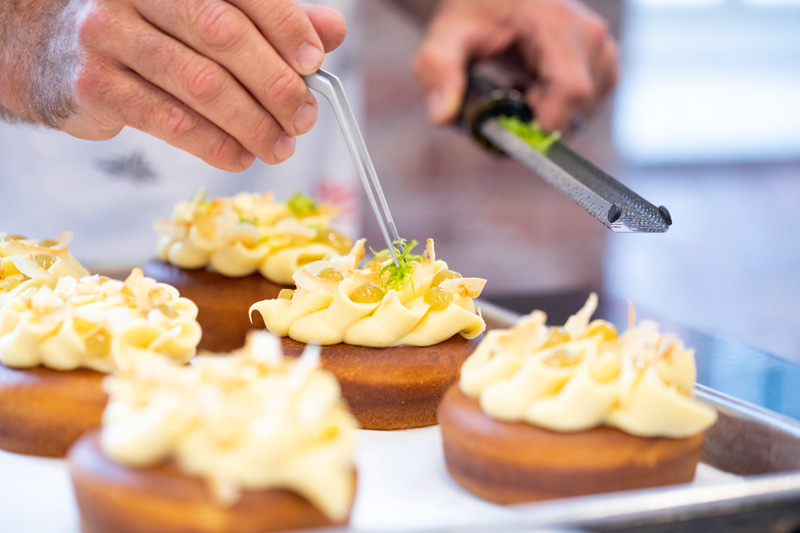 Passion chocolate icing
300 g Passion Fruit Inspiration
280 g heavy cream
50 g confectioner's sugar
300 g cream cheese
150 g unsalted butter
Sift confectioner's sugar.
Melt Passion Fruit Inspiration.
Warm cream, and make a ganche with Passion Fruit Inspiration.
Place into robocoupe all ingredients. Blend until smooth. Place into cooler.
Remove from cooler 4-6 hours before using.
---
Tamarind Marzipan
500 g Valrhona Almond Paste
130 g tamarind paste
Robocoupe together.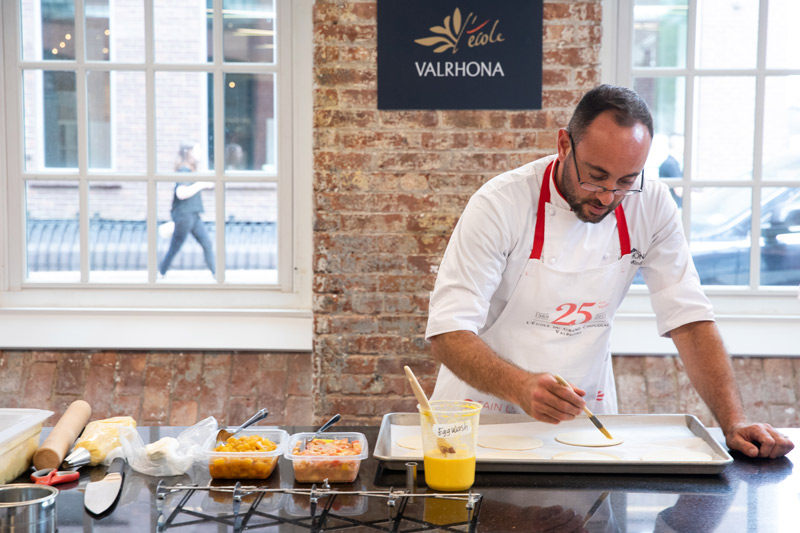 ---
Chocolate Brioche
Butter Ganache
150 g european butter
190 g P125 Coeur De Guanaja
Prep ganache with butter and P125 Coeur De Guanaja by combining and melting in microwave. Stir completely to create a smooth ganache.
Cast into ½ sheet tray lined with plastic, place plastic on top the place in cooler to set.
---
 Dough
671 g bread flour (King Arthur patent flour)
67 g milk 2% whole
403 g whole eggs
10 g yeast (DIY gold osmotolerant)
15 g sea salt (fine)
135 g sugar
252 g european butter-1
340 g Butter Ganache
Place eggs and milk into mixing bowl. Then combine flour, salt and yeast and add to bowl.
Add 20% of sugar.
Mix on low speed for 5-6 minutes (to hydrate all ingredients).
Turn on to medium speed and mix until strength starts to develop (3-5 minutes), then add remaining sugar.
Mix until dough regains strength and window starts to develop.
Add butter, let incorporate a bit.
Add Butter Ganache.
Continue mixing until dough smooths out, and an organized window can be pulled. (scrape down the bowl a few times as needed).
---
Assembly and Finishing
Fermentation:
Bulk ferment for 45-90 minutes depending on usage and retarding methods.
Shaping:
Divide into 50-55g pieces.
Pre-shape: boule
Final shape: boule
Proof: approximately 2-2.5 hours.
Bake:
Bake  at 325-335°F (163-168°C) for 8-10 minutes.
(c) Photos: Nitzan Rubin