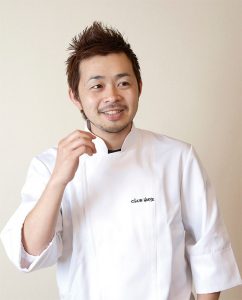 Text: Reiko Matsuno
The preliminary contest for World Chocolate Master 2018 took place in Tokyo on October 17. As it was the first contest ever opened to the public, the hall was packed with enthusiastic audience. In the group of judges and committee watching over contestants, I found Hisashi Onobayashi who was the second prize winner of World Chocolate Masters 2015, and leads the section of product development at Club Harie, the Western confectionery department of the traditional Japanese confectionery company, Taneya Group. He finally got a ticket to the world championship in 2014 after losing opportunities twice in the past preliminary contests. Now his creativity is dedicated to Chef's Counter accommodated in the store in Yokaichi, Shiga prefecture.
The theme for WCM 2015 was 'The inspiration from nature' which reminded him of Mother Earth, our Blue Planet, and the flora and fauna there. He won prizes both in the showpiece section with a chocolate statue of Gaia, goddess of the earth, and 'Snack to Go' section with a hot chocolate dessert with a twist. In order to make this dessert, he brought a gadget specially made for Takoyaki, popular savory pancakes in a ball shape with a small piece of octopus inside. The takoyaki machine is a staple among households in the western Japan where Onobayashi is original from. Instead of octopus pancake balls, he made balls of fondant au chocolat and hid ice cream and shaved ice beneath the steaming-hot chocolate treats. Like at Chef's Counter, his chaud-froid au dessert captured judges' eyes and palates.
Taneya is a well-established wagashi (Japanese confectionery) maker and is based in Shiga prefecture in the west Japan neighboring Kyoto. Surrounded by mountains, the region is blessed with clear water which is essential for wagashi-making. And its Western confectionery department, Club Harie is famous for Baumkuchen (the cake that resembles tree ring is thought to be auspicious and has been long loved in Japan). The store Onobayashi works was revamped in January 2017 and opened a Chef's Counter to serve freshly-made dessert by pastry chefs. 'Chef's Counter is a place to offer desserts with the best ingredients at the time and moment just like a sushi bar. In the autumn, I even used eggplant in our dessert course. Every Japanese looks forward to eating delicious eggplant harvested in autumn. Eggplant's skin is slightly bitter, and it goes well with espresso, I think. I combined sautéed eggplant in olive oil with espresso and caramelized hazel nut ice cream, and milk chocolate custard cream to make a plated dessert.' There, he and his sous chefs offer seven-course dessert menu including two main courses. Customers must feel very privileged to sit on the Chef's Counter because there are only six seats and it opens only 3 days a week.
Rich in clear water, the region produces best quality rice. And quality rice makes excellent sake. One of Onobayashi's specialty, riz au lait is made with locally-grown Ormimai rice. The rice is cooked with spring water from the mountain and flavored with coconut. It is served with 'rice sorbet' made of cooked Ormimai rice and sake lees of daiginjo sake (it is often finest sake at each sake brewery using the best rice at the highest polishing rate) called Hiko, literally meaning beautiful lake which is named after Lake Biwa in Shiga, the largest one in Japan. Local tastes come together as one on the plate. 'Pastry chefs must have professional skills for sure, but I also significantly believe in the power of ingredients. Our parent company has long been produced wagashi and primary ingredients of wagashi can be said water, rice and beans. Very simple. In the headquarters, there's a guy who travels around Japan to hunt quality ingredients for wagashi. I learn much about ingredients from him and I found myself to be very lucky.'
He had been supposed to be a business man at a trading company after graduating from the university until he unexpectedly stepped into the world of pastry when he started to work at Taneya as a part-timer during his vacation. He found his calling and a passion he would keep for 13 years there. It was good luck for him and good luck for the Japanese pastry industry.
Heart chocolate brownie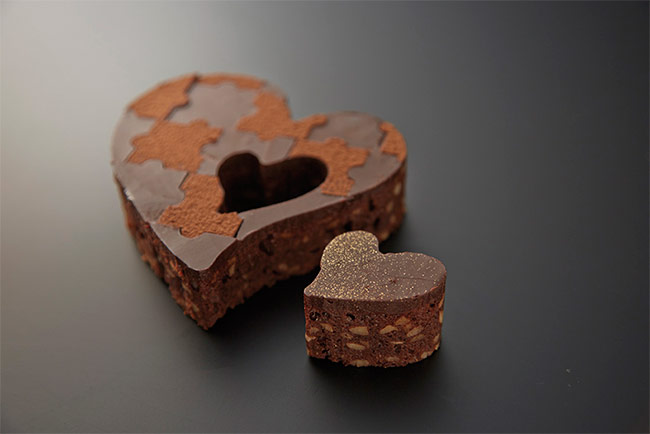 'For the Japanese confectionery industry, January and February are the busiest months because of Valentine's day. One of Onobayashi's idea for Valentine's day was a Heart Brownie; heart-shaped jigsaw puzzle made of luscious brownie. Basically, this American cake is extremely sweet and rather chewy. Ingredients are almost the same as for a traditional one, but he replaced sugar with trehalose to make it less sweet, and the batter was made fluffier texture by whipping well. Ganache tops the brownie to add richness.'
brownie
for 64 units
2124 g butter
2124 g dark chocolate
1062 g macadamia nuts, roasted
1062 g cashew nuts, roasted
2124 g whole eggs
2124 g trehalose
10 g salt
263 g cocoa powder
1449 g cake flour
5.5 g vanilla bean powder
Melt chocolates and let cool to 40ºC. Combine eggs with caster sugar, trehalose and salt, and whisk. Add chocolates to the egg mixture and mix well. Add cocoa powder, cake flour and vanilla bean powder and mix well. Pour into a 60×40 cm-mold and bake at 180ºC for 15 minutes. Rest at 18ºC overnight.
---
ganache
3559 g bitter chocolate
882 g cocoa mass
2565 g fresh cream, 35% milk fat
658 g maltose
346 g sorbitol
439 g butter
Heat fresh cream, maltose and sorbitol and combine the mixture with chocolate and cocoa mass. Add butter to the chocolate mixture at 35ºC and emulsify with the hand blender. Pour the chocolate mixture (about 5 mm in thickness) into a 60×40 cm-mold lined with OPP film, and place the brownie on it. Rest at 18ºC overnight.
---
Finish
q.s.edible gold dust
q.s. cocoa powder
Unmold the brownie and cut into heart shape and then into pieces of jigsaw puzzle by the water jet cutter. Decorate with gold dust and cocoa powder.