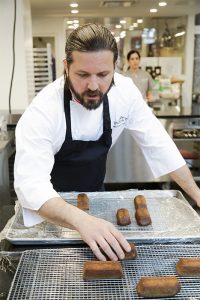 In l'École Valrhona Brooklyn, from the 24th to the 26th of April, William Werner revealed what is behind the scenes of one of the country's best patisseries, Craftsman and Wolves, one of the stars of so good #17.
With the aim of teaching a variety of plated desserts techniques (suitable for plated desserts, buffets, and bakery display cases) and discussing the importance of branding and creativity in business, he gave advice to take creativity to a higher level.
An interesting course in which attendees had the opportunity to produce pastry elements from Craftsman and Wolves pâtisserie culminating in an eye catching seasonally driven spread, explore an ever-changing menu of pastries, cakes, entremets, breads, confections and confitures, and listen to Werner's ideas on creating and managing a successful pastry brand.
As a sample of what was giving in the seminar, we bring you this Chocolate Peanut Caramel, which combines a product as American as peanut with Orizaba chocolate, playing with different elements and textures ranging from the crunch of a Chocolate cornflake nests or cocoa nibs, to the intensity of the chocolate-coated ganache or peanut caramel.
Photos: Daniela Constantini
Chocolate peanut caramel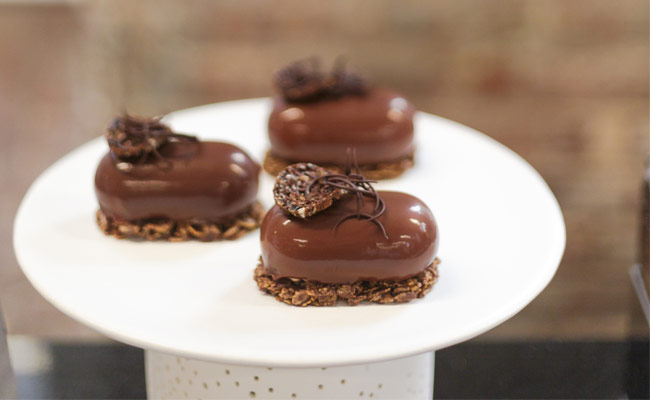 chocolate daquoise
247 g almond flour
284 g sugar 1
18 g cup for cup flour
18 g cocoa powder
295.5 g whites
69 g sugar 2
Sift all dries together.
Make meringue with sugar 2 and whites.
Fold dries into meringue.
Raplette at bar 10
Bake at 350F for 30 minutes.
Cut into 1.5"x1.5" squares.
---
house peanut butter
450 g peanuts
45 g sugar
10 g salt
45 g peanut oil
Toast peanuts at 315 for 15 minutes or until golden brown.
Put in robot coupe with sugar and salt and blend.
Drizzle in peanut oil until peanut butter is still slightly chunky.
---
peanut caramel
275 g powdered sugar
250 g cream
25 g glucose
150 g house peanut butter
Make a LIGHT dry caramel with the powdered sugar.
Deglaze with warmed cream and glucose.
Cool to 55C.
Stir in peanut butter.
Cast in small pallet mold.
---
whipped orizaba ganache
226 g cream 1
26 g trimoline
26 g glucose
310 g orizaba milk chocolate
580 g cream 2
Melt chocolate to 45C.
Bring cream 1, trimoline, and glucose to 50C.
Emulsify with melted chocolate. burr mix in cold cream 2.
Let mature 12 hours and whip when needed.
---
chocolate cornflake nests
257 g satilia 62%
66 g cocoa butter
66 g coconut oil
177 g corn flake
106 g rice crispies (crushed to a powder)
1 g maldon salt
1 g vanilla powder
Melt satilia, cocoa butter, and coconut oil to 45C.
Add corn flake, rice crispies, salt and vanilla powder.
Stir to 29C and pack 25G per mould, freeze.
---
cocoa nib croquant
300 g powdered sugar **SIFTED
300 g cocoa nibs
In a pot, melt sifted powdered sugar and cocoa nibs on number 10-12.
Stir vigorously and constantly. pour onto silpat and immediately roll flat and thin.
while warm cut out circles .5" in diameter.
Shape on a gouttière.
Store with silica gel.
---
chocolate glaze
225 g cream
310 g satilia 62%
600 g absolu cristal
Emulsify warm cream and chocolate melted at 45C.
Add melted absolu cristal (70-80C).
Strain and refrigerate.
---
Finishing
Cut cake to fit inside mould. Pipe a mound of peanut caramel and freeze.
Whip orizaba ganache and pipe into the mould filling up ⅔.
Insert cake and peanut caramel even with base of the mould.
Freeze, unmould, spray and place onto of cornflake nest.
Allow to temper in the refrigerator, covered for 2 hours before garnishing.
Pipe a dot soft chocolate ganache off center and a piece of caramelized cocoa nib.