At San Francisco's Craftsman and Wolves, William Werner pairs pristine seasonal ingredients with classic and modern pastry techniques to create beautiful and delicious pastries.
Text: Lisa Shames • Creation photos: Nick Kova • William Werner portrait: Cindy Loughridge • CAW-Pacific photos: Aubrie Pick

By now everyone is familiar with the cronut, the croissant-doughnut hybrid created by New York City pastry chef Dominique Ansel. While it might seem like a pastry chef's dream come true to create an item that becomes so popular it necessitates a trademark, it does have its downside.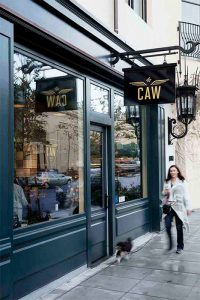 At Craftsman and Wolves, its Rebel Within, a muffin-shaped cake of sorts dotted with bits of housemade sausage, asiago and green onion and stuffed with a perfect soft-cooked egg, became the San Francisco's pastry shop's cronut. Even before pastry chef William Werner opened Craftsman and Wolves in 2012, the savory baked good had earned a loyal following from its appearances at the farmers market pop-ups at which the former Ritz-Carlton and Quince chef appeared.
But once the modern patisserie opened, Werner knew he had to find a way to make sure that first-time customers looking for his signature item didn't leave empty handed when the shop inevitably ran out. What started out as a "frustrating situation," says Werner, ended up becoming an important learning opportunity for him and his staff, who have developed a menu that never fails to intrigue patrons, whether or not there's a Rebel Within still available. "We listened, learned and applied some different tactics," he says.
Taking a thoughtful approach to pastry is nothing new for Werner, a self-taught chef who has since expanded to two San Francisco locations of Craftsman and Wolves as well as a stand at the popular Ferry Building Farmers Market on Saturdays. It was while working as a lifeguard and in emergency medicine that he started taking an interest in cooking and began working part-time in restaurants. "What I love about cooking is at the end of the day it's manual labor. It's very much working with your hands and body," says Werner. "But there's also a huge amount of creativity, forethought and design that comes into play."
It was the second half of that equation that eventually led him to pastry at the age of 23. "In pastry, there's much more design, and complex theories and ideas," he says.
After spending some 13 years working as a pastry chef at high-end restaurants and hotels, Werner felt ready to do his own project. "In San Francisco, we have this incredible food scene and lush history of amazing chefs and talent," he says, "but the pastry chefs and bakeries are not involved in it." That was something Werner wanted to change at his shop.
"I can't imagine coming here and making the same things. It would probably be a lot easier, but it wouldn't be as fun. We do like to challenge ourselves."
Utilizing the wonderful ingredients the Bay Area has access to was another aspect he wanted to incorporate. "We look at how can we apply seasonal products and do something interesting, but not to the point where we shy away from its purity," he says of the Craftsman and Wolves menu, which changes frequently. Also just as important is the ability of the staff to communicate to guests those flavors, some of which they may be unfamiliar with. Werner cites a recent entremet that featured bananas, blackberries and verbena. "They know bananas and blackberries, but then there's this lush citrusy element floating through it," he says. "We rely on classical French techniques, but we're not afraid to use modern techniques."
Great texture is something else Werner strives for, as is eye-appeal. But what you won't find in the glass cases is a huge variety of each item. "We're not trying to present an onslaught of products and be everything to everyone," he says. "We are really trying to focus on beautiful products and thoughtful applications."
That means instead of five muffins, there'll be only one very seasonal one—a pumpkin, date and coconut muffin, perhaps. There are cookies but typically only two, such as a matcha snickerdoodle with candied ginger and white chocolate. Cheesecake is represented but here it's an intriguing violet vanilla one. The cult-favorite kouign amann is on the counter, too. Looking for bread? Craftsman and Wolves finds time to do that as well, including Japanese milk bread and a Valrhona chocolate sourdough. "I can't imagine coming here and making the same things," says Werner. "It would probably be a lot easier, but it wouldn't be as fun. We do like to challenge ourselves."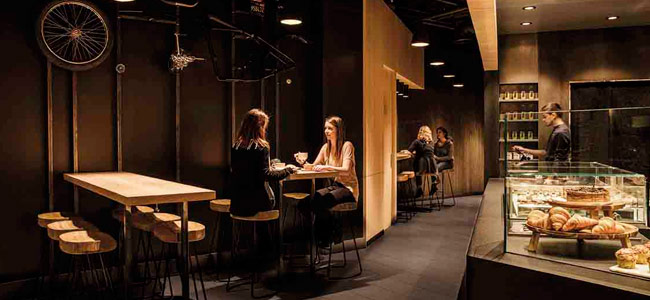 While creativity is all over the menu at Craftsman and Wolves that doesn't mean Werner and his staff don't listen to the needs of their clients. With that in mind, they added a savory program, which includes breakfast items (housemade granola, quiche, frittata sandwiches) and lunch, which features a small selection of sandwiches and salads. Beautifully wrapped confitures, candy and pate de fruits are available at the shops and online.
"The biggest compliment I get is when someone sees something from us in unbranded packaging and says, 'Oh, that's from Craftsman.' That's exciting for us," says Werner. "Craftsman is this living, breathing, organic brand we created and we're constantly trying to evolve it, make it grow and grow the people with it."
You will find these four creations with recipes at so good #17