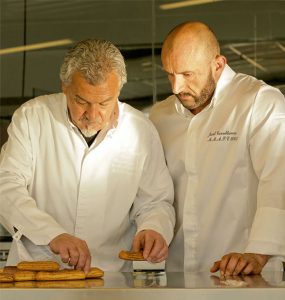 'We want aesthetics to go in cleaner lines and it's not about being aseptic, but simple. We do not want seven things inside a cake, we do not want people to have to think to identify the flavors. When I go to a restaurant and they serve me a plate with many combinations, I tell them: do not give me cuisine to think, I do not want to think to eat.', told us Paco Torreblanca in a recent interview.
A perfect example of this view is this Blanc de Blancs entremet, from his 2017 collection and featured at so good #17. This creations allows to appreciate the search of new shapes in modern pastry, something very common in the work of Paco Torreblanca and his son Jacob.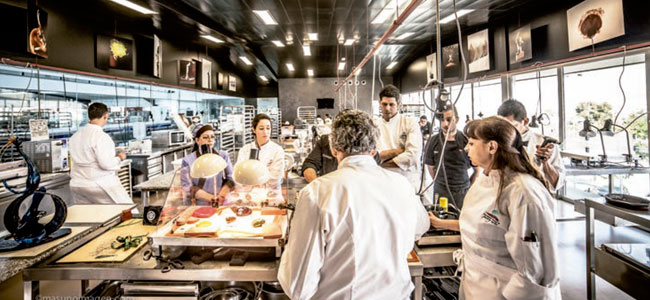 Blanc de blancs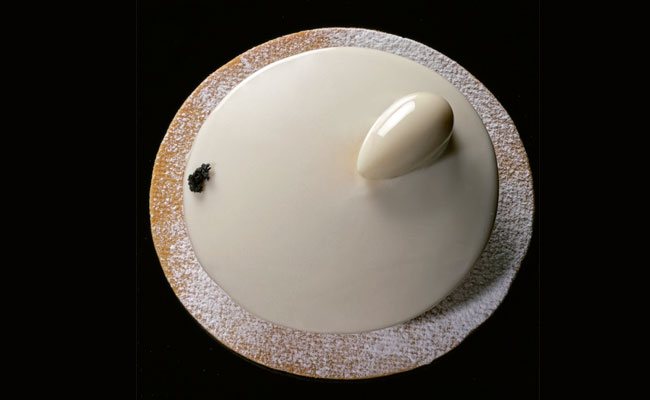 vanilla sablé
500 g cake flour
250 g butter
60 g egg
125 g confectioners' sugar
2 g salt
1 uvanilla bean
Sift the flour together with the confectioners' sugar. Place the butter in the bowl of a mixer together with the flour, salt, sugar and vanilla and mix until it forms a dough. Finally add the egg and ensure the dough has a proper consistency.
Laminate on position 2, cut and shape depending to the desired mold. On this occasion, we have used a 16-cm-wide base. It is important to sheet the dough the previous day and leave to set at 5ºC in the refrigerator so as to prevent it from deforming when baked.
Bake at 180ºC for approximately 15 minutes to a golden color. Remove from the oven and allow to cool.
---
vanilla bavaroise
1 l milk
360 g sugar
12 u gelatin sheets
320 g egg yolks
850 g whipped cream
1 u Tahitian vanilla bean
Make a crème anglaise with the milk, sugar, egg yolks and vanilla bean. Once cooked to 85ºC, add the gelatin sheets, previously hydrated and drained. Whisk to dissolve. Finally allow the crème anglaise to cool down to 30ºC and add the whipped cream. It is essential to control the temperatures properly so that the resulting bavaroise is creamy and smooth. Use the bavaroise as well to fill the quenelle-shaped mold which will be used to decorate the cake.
---
apricot and vanilla insert
1000 g apricot purée
400 g sugar
34 g pectin
1 u vanilla bean
Mix the sugar with the pectin. Add the melted apricot purée and vanilla bean. Simmer the mixture for one minute and strain into disks. Freeze until needed.
---
blanc de blancs glaze
150 g mineral water
300 g sugar
300 g glucose
200 g condensed milk
16 g gelatin sheets
300 g white chocolate couverture
q.s. white fat-soluble color
Boil the water together with the sugar, glucose and condensed milk. Add the gelatin, previously hydrated in iced water and drained. Pour the previous mixture over the chocolate and emulsify. Optionally, a vanilla bean can be added if we want to see the vanilla seeds in the final glaze.
---
Montage
Use two equal flattened molds.
Fill with bavaroise and place the apricot and vanilla insert into the mold which will be the base.
Freeze, unmold and join both parts.
Glaze and place on top of the sablé base.
---
You will also find this two recipes in so good #17