Meet Massari R-evolution is a project that began in 2018 in Italy by Iginio Massari and aims to train professionals in the sector on topics related to the world of traditional pastry. On Monday the 25th, this initiative arrived in Spain in the form of a great event dedicated to panettone, which was attended by so good.. magazine.

During the day, at the Sofitel Barcelona Skipper hotel, Massari, Paco Torreblanca, Jose Romero, Giacomo Pini, and Ramón Morató shared their techniques and secrets to achieve a perfect panettone, and gave the keys to how it has evolved from a Christmas dessert to a timeless sweet in recent years. As Massari himself explained to us, "panettone has conquered the palate of the whole world, we see it in eastern countries, in Japan, in Africa, in Europe. And in the last five to six years, even in France, which hardly accepts sweets from other countries."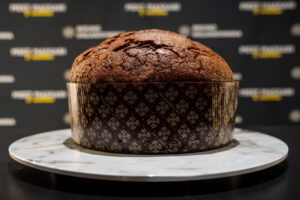 In the case of Spain, the popularity of panettone continues to rise thanks to ambassadors like Torreblanca. The renowned chef points out that it is a great achievement for the country to have achieved that "we artisans sell a completely different panettone than the industrial one, which is what interests us, to make a difference, that when you pay 35 euros for one quality and 5 euros for another, the customer understands that there is a difference for a reason. The quality, the raw materials, fresh products with no preservatives." Likewise, he recognizes that "we have learned from Iginio, and from other professionals like Achille Zoia. "The most important thing in its preparation is good raw materials, good butter, good candied fruit, and good flour, of course." Jose Romero also highlighted that "panettone has one very positive thing: it is a gift piece. An exceptional gift at an inexpensive price."

Attendees also received business and management training from Giacomo Pini, from the Cast Alimenti school. "Counseling is something that everyone needs, but it is not natural. People think that it is synonymous with paying for an outsider to tell you that you are not doing it right. For this reason, we rely on word of mouth and events to gain visibility and generate new contacts," says the Italian consultant.

Without a doubt, Meet Massari R-evolution, organized by Molino Dallagiovanna, is a necessary event so that professionals can understand the importance of following a work philosophy. "From the philosophy of Massari, or another philosophy of why we have reached this point. I remember that 70 years ago there was only one panettone, which was the Milanese.  Massari has created a new idea about panettone. It is important that people begin to understand that there are other possibilities if we use our heads," added Torreblanca.

At the end of the day, we did not want to miss the opportunity to ask Massari what the shortcomings of the professionals who already work with panettone are. His answer was clear: "lack of knowledge, knowledge that cannot be bought in the supermarket, you have to conquer it, like when you start making pastries, shortcrust pastry, puff pastry, mousse… and making mousse is easier than making panettone!".