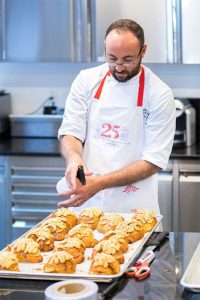 Greg Mindel's popular viennoserie course is already a classic at L'École Valrhona Brooklyn. The owner of Neighbor Bakehouse has once again returned to the training center to share his vision of modern viennoiserie, placing the focus of attention on the techniques and cross-utilization of a few base doughs.
Students have worked with puff pastries, chocolate brioche, medium rich brioche and croissant dough, have practiced with a great variety of molding techniques and production methods to create delicious breakfast pastries, and have also discovered the secret of successful products that Mindel sells at his establishment. Among them, this babka swirl, which we detail in the following step-by-step instructions.
Babka swirl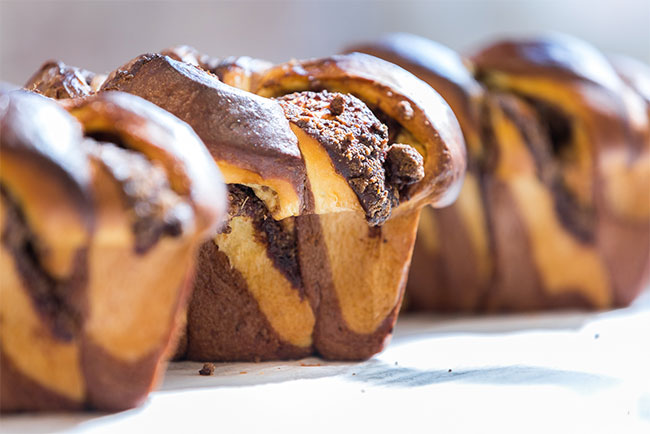 brioche – medium rich
sponge
506 g bread flour
355 g water (room temperature)
5 g Red yest
5 g salt
dough
AN sponge
1083 g bread flour
39 g salt
27 g Gold yest (away from salt)
355 g sugar
152 g milk
338 g egg yolks
287 g eggs
818 g butter (cold)
Temper milk and eggs for 1/2 hour – 1 hour before mix if winter, leave in cooler when hot.
Add milk, eggs, Sponge into mixer first, then toss in all premixed dries and ¼ sugar.
Mix for 1 ½ minutes, scrape halfway.
Make butter pliable by tenderizing with rolling pin.
Mix for 2-3 minutes until dough starts organizing.
At 3 minutes scrape down, add remaining sugar.
Continue mixing for several minutes. Look for strength, shininess, window pane, not fully developed, add butter, scrape down, squeeze, pulling away from walls, window panes.
Instant read thermometer, 24-26°C (76-78°F) degrees for 45-30 minutes.
Put into oiled black tub, fold NS, EW, roll, roll, set with smooth side up.
Flour 3 white sheet trays, divide dough, de-gas, cover, freeze with lots of air circulation.
Asembly and finishing
Roll boules 38-40g
Fill buns with 40g of custard
---
chocolate brioche
butter ganache
150 g european butter (1 x batch) / 300 g european butter (2 x batch)
190 g P125 coeur de Guanaja (1 x batch) / 300 g P125 coeur de Guanaja (2 x batch)
Prepare ganache with European butter and P125 COEUR DE GUANAJA by combining and melting in microwave.
Stir completely to create a smooth ganache.
Cast into ½ sheet tray lined with plastic, place plastic on top and place in cooler to set.
dough
671 g bread flour (1 x batch) / 1342 g bread flour (2 x batch)
67 2% milk (1 x batch) / 134 g 2% milk (2 x batch)
403 eggs (1 x batch) / 806 eggs (2 x batch)
10 Gold instant yeast (1 x batch) / 20 Gold instant yeast (2 x batch)
15 fine sea salt (1 x batch) / 30 fine sea salt (2 x batch)
180 sugar (1 x batch) / 360 sugar (2 x batch)
152 european butter (1 x batch) / 304 european butter (2 x batch)
AN butter ganache (1 x batch) / AN butter ganache
Place eggs and milk into mixing bowl. Combine flour, salt and yeast and add to bowl. Add 20% of sugar.
Mix on low speed for 5-6 minutes (to hydrate all ingredients).
Turn on to medium speed and mix until strength starts to develop (3-5 minutes), then add remaining sugar.
Mix until dough regains strength and window starts to develop.
Add European butter, let incorporate a bit.
Add Butter Ganache.
Continue mixing until dough smoothes out, and an organized window can be pulled (scrape down the bowl a few times as needed).
Asembly and finishing
Fermentation
Bulk ferment for 45 minutes to 1.5 hours depending on usage and retarding methods.
Shaping
Divide into 50-55g pieces
Pre-shape: boule
Final shape: boule
Proof: approximately 2-2.5 hours
Bake
Bake at 163-168°C (325-335°F) for 8-10 minutes
---
chocolate Ganache Glaze
295 g Guanaja 70% couverture
225 g heavy cream
20 g glucose syrup
500 g Absolu Cristal neutral glaze
Melt Guanaja 70% couverture completely in microwave.
Add cream, glucose syrup and Absolu Cristal to pot and bring to a complete boil.
Prepare a ganache with a spatula to start the emulsion, add all hot liquids and finish with immersion blender.
Be sure to minimize air bubbles when blending.
---
chocolate streussel
940 g butter
940 g almond flour
900 g bread flour
65 g Valrhona cocoa powder
800 g sugar
175 g brown sugar
21 g salt
Dice butter small, place in cooler 2 hours.
In mixer with paddle, combine dry ingredients, add cold butter.
Mix past sandy in texture and smaller clumps start to form (or mix to desired texture).
---
Final assembly
After all the components are made get ready to build Babka Swirl:
After bulk fermentation place both chocolate and medium brioches into the cooler to set firm.
Bake off the chocolate streusel and cool completely.
Butter molds with clarified salted butter
Steps
Separately, roll out medium and chocolate brioches to the same length and width, 6mm thick,
place on a sheet tray and into the freezer to set firm enough to spread on fillings. Shouldn't be
frozen.
Approx: width-(10-11"), length- (depends on quantity of dough)
warm chocolate ganache just enough so it's easily spreadable but not too fluid as it will become
messy when shaping.
take medium brioche from freezer and apply the ganache.
add a generous amount of streusel over top of ganache, too taste. You can add more as it is
already cooked.
place the chocolate brioche over top, like a sandwich.
with a rolling pin or dowel lightly compress the layers together.
cut rectangles approx 10"x3.75". Cut 3 strips equally thick 1.25". Leave one end not cut
completely through (approx..5") as to anchor down the braid.
make a basic 3-strand braid, then fold in half to fit into the mold.
adapt the size of cuts to fit the size of the mold