MOF Yann Brys, director of Evok's sweet creations, has designed impressive bûches for five hotels: Nolinski, Brach, Sinner, Cour des Vosges, and Evok. Five creations that fit the personality of each establishment, whether classic, warm, unsettling, or exclusive.

In our Christmas ranking, we share the disturbing and spectacular piece he has made for the extravagant hotel, Sinner. An enigmatic cube made with dark chocolate soft biscuit, 75% Tanzanian dark chocolate mousse, spiced pomegranate compote, dark chocolate cremeux, and chocolate crunch.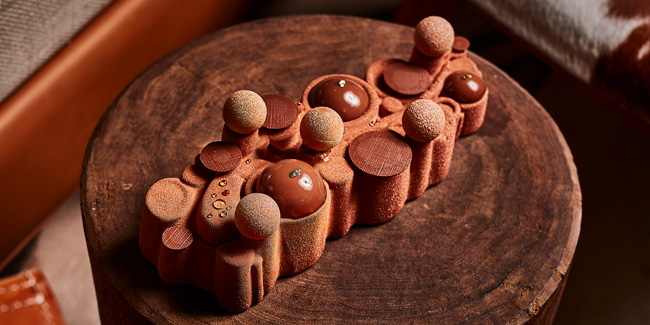 Brach is a light space designed by Philippe Starck, elegant, romantic and inspired by the modern architecture of the 1930s. Following this philosophy, Brys presents an olive oil biscuit, tangy citrus crémeux, almond crunch and pine nuts, and lightly smoked Dominican Republic milk chocolate mousse.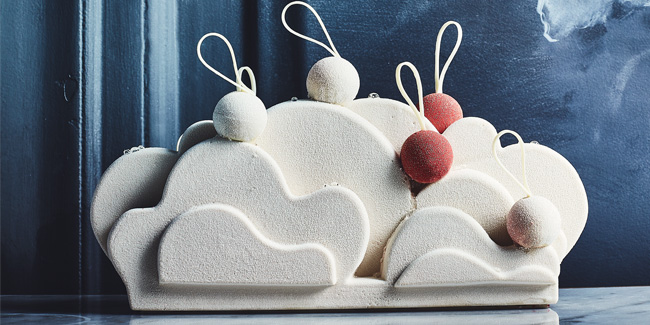 For Nolinski, defined as a temple to art and life à la française that features the eclectic refinement of the decorator Jean Louis Deniot, the pastry chef proposes a madeleine soft biscuit, light cream with Tahitian vanilla, elderflower crémeux, berry compote, and crispy shortbread made using PDO Charentes butter.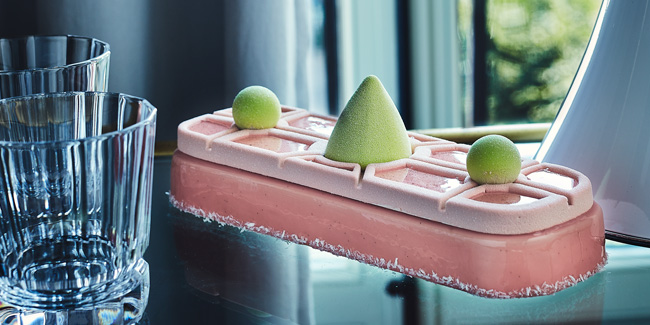 Cour des Voges, which opened its doors this fall, was a 17th-century residence. The hotel retains the splendor of that era and combines it with the design of the 1970s. For this one, Brys opts for a pistachio soft biscuit, almond shortbread made using PDO Charentes butter, lychee creamy, raspberry compote, and jasmine tea cream.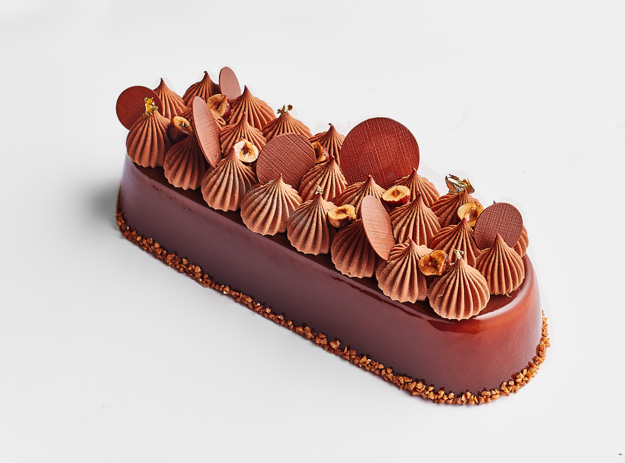 And for Evok, the chef, emblem of Dalloyau pastry for some years, makes an almond crunch, vanilla soft biscuit, exotic compote, passion fruit crémeux, and milk chocolate mousse.