'Nowadays everything seems to have to be done very quickly, and due to that, important steps can be neglected during the kneading, fermentation or cooking,' This is how Johan Martin expressed herself in the interview that we included in so good #21. And he continues, 'profitability is omnipresent and sometimes pushes the professional to overlook some of these steps.'
Indeed, patisserie finds its best quality in patience. Respecting the timing of each process, allowing the required rests and waiting for each stage of preparation to be completed is the guaranteed way to obtain an incomparable product. That is the essence of this trade and its main hallmark in response to the efficient and overwhelming industry.
It is not easy to defend and exercise patience in the midst of the frenetic pace of our current lives, in which that childish desire to obtain everything quickly, immediately, is imposed. The slogan is to produce more and at a higher speed to satisfy a customer who is not willing to wait.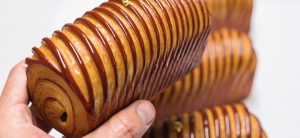 Opposite to this crazy race, there are good examples of a calm that, paradoxically, reaps successes. We are speaking of Yann Couvreur's limited-edition millefeuille (also present in the same #21 issue), of the long-fermented panettone that Jose Romero details, or the croissants and brioches of Johan Martin himself. They are handmade, patient and rigorous works, in which the professional prints not only their knowledge and skills but also their soul. It is a patisserie in which the only pressing thing is that serving a product to a customer cannot take too much time after the product has been prepared.