In early March, Antonio Bachour gave a course at the L'École Valrhona Brooklyn school on entremets and petits gâteaux in which he explored many combinations of different flavors with gâteaux bases and created multi-layer entremets of various textures and fillings. The title of the course speaks for itself, "Bachour style", which we can perfectly admire in this Peckale Opera, a kind of deconstruction of the classic Opera dessert based on butter and coffee. Enjoy the complete recipe below.
This was the first of three seminars that the chef has scheduled in the 2017 school calendar for Valrhona Brooklyn. The following one, Bachour Bakery Desserts, will be in June, and the third will be taught in October as a duet with Carles Mampel and only for members of Cercle V of Valrhona.
Photos: Nitzan Rubin
Peckale Opera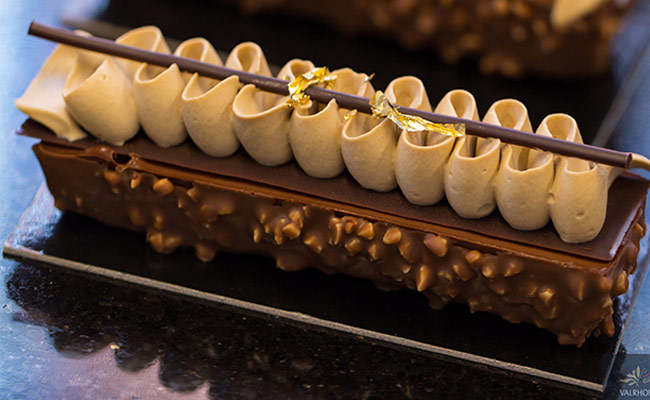 (Yiels 12-15 Petit Gateaux)
almond chocolate cake
210 g almond praline
80 g sugar
210 g eggs
15 g cocoa powder
55 g dark chocolate 70%
60 g flour
55 g butter
Preheat ove 175C
Mix the eggs, sugar and praline in the mixer with the whip attactment. Melt butter and chocolate. Sift dry ingredients. Add butter chocolate mixture to the egg mixture and fold in the dry ingredients.Pour batter in silicone mold and bake 10-12 minutes.
---
chocolate cremeux
375 g heavy cream
375 g milk
150 g yolks
175 g sugar
375 g 70% chocolate
Make a creme anglaise and cook to 82C. Strain through a fine sieve over the partially melted chocolate in order to get a smooth, shiny texture (mix with the rubber spatula). Process the emulsion with a hand blender to perfect the cremeux.
Immediately pour the cremeux on top the almond cake. Freeze it.
---
almond Milk Chocolate Coating Coverture
500 g Milk Chocolate couverture
110 g Cocoa Butter
150 g Dry roasted almond ( crushed)
Melt down the couverture and cocoa butter to about 45°C Crush down the almond to nibs. Temper the couverture down to 30 °C and stir in the peanut nibs.
---
coffee White Chocolate Whipped Ganache
250 g heavy cream
25 g inverted sugar
25 g glucose syrup
12 g instant coffee
220 g white chocolate, melted
375 g heavy cream
Bring 250 g heavy cream, sugar and glucose to a boil in a small pot. Pour over chocolate and whisk until smooth. Add 375 g chilled cream and process with a hand blender until smooth. Refrigerate overnight to set.
Transfer to a pastry bag with a #1 round pastry tip for Assembly.
---
Assembly
Stick a tooth-pick trough each almondcale/ cremeux and set aside in the freezer for a few minutes. Dip each petit gateaux in the almond milk chocolate coating and remove the tooth pick. Using a pastry bag fitted a small star nozzle pipe a rosette of coffee whipped ganache on top.