He is without doubt one of the most interesting chefs in the current gastronomic landscape in vibrant South East Asia. In early 2008, the British chef, Ryan Clift, ventured to Singapore to set up his own business, Tippling Club, an establishment focused on developing a new relationship between haute cuisine and the world of the cocktail. Very soon his work received rewards and recognition. Clift features in so good.. magazine #12, where he demonstrates his approach to the avant-garde, his creativity and his technical prowess. A great example is his Textured Milk, a dessert as surprising as it is beautiful.
yogurt sorbet
100 g sugar
6 g pectin NH
250 g  milk
80 g  inverted sugar
25 g  lemon juice
600 g  natural Greek yogurt
Put the milk and inverted sugar in robot and take to 50ºC. Mix the pectin and sugar in a small bowl and pour into the robot with the blending milk. Take the mixture to 100ºC on high speed.
Add the yogurt and lemon juice and blend on high speed for 1 minute. Store in Pacojet canisters and freeze to -20ºC. Churn to order.
---
milk meringue
500 g milk
500 g fresh egg white
30 g egg white powder
200 g  sugar
12 g  Gelespesa
3 g  Whip (foaming effect)
Place all the ingredients in the bowl of a mixer and mix on a low speed for 2 minutes and then on high for 6 minutes. Spread on dehydrator mats (3 cm thick) and dehydrate overnight.
---
coconut milk sago
300 g sago pearls
5 l boiling water
300 g coconut cream
100 g  sugar syrup 50-50
Cook the sago in the boiling water until tender. Remove and cool under cold running water. Mix the coconut cream and sugar syrup together and slowly add to the sago until you have a smooth but firm mix. Store in a container in the fridge, but keep some excess coconut syrup as the sago will soak up more liquid over the day, so it will need to be readjusted when required.
Garnish this dessert with wild wood sorrel. If unavailable, use micro red vein sorrel.
---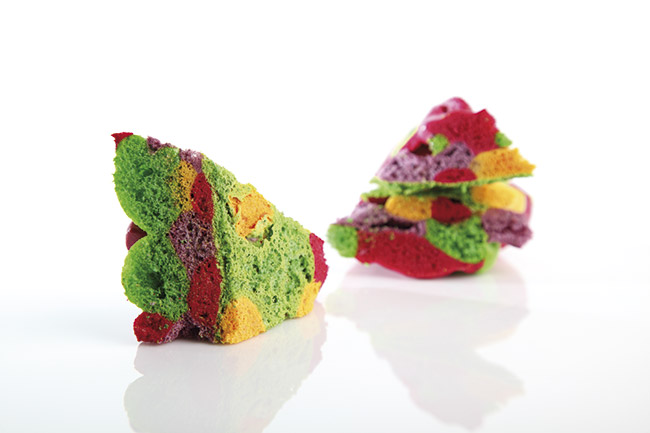 Fruit Salad Crunch
Discover the complete recipe 'Fruit Salad Crunch' in so good.. magazine #12