Photos: Appetizer Storyteller
Jesús Escalera is one of the great promoters of pastry making in Mexico thanks to La Postrería, a successful space that he directs alongside Fernanda Covarrubias in Guadalajara and that combines training with the tasting of desserts and workshop pastry.
In this establishment they want to offer a technical, quality, and sweet pastry, which generates a sweet culture, but without falling into academic formalism that can become pedantic and scare off the diner.
As he explained to us in so good…magazine # 27, this year he is presenting a collection that is going to give a lot of scope. "Many of us have thought about what it would be like to get into a painting, that is, to travel to that place, to that time, or to that surreal moment. We take it to gastronomy and we wonder what it would be like to eat a painting. What would it taste like? I realized that the possibilities were enormous, there is as much variety in desserts as there are paintings, and even more, since each person interprets art differently".
For this collection he was inspired by the prints that were made on rice wafers on birthday cakes a long time ago. These wafers also have a texture similar to that of a canvas. "We chose certain paintings that inspired us, and from there we started to play, either with flavors of a country or an era, or with chromaticism and taste associations that each work suggested to us. In addition, another interesting aspect of this bet is that there is no need to look for an aesthetic to the dessert, since it is already covered by the canvas. The diner only has to tear 'the canvas' without knowing what they are going to find."
Below we share exclusively on sogoodmagazine.com the recipe for Katsushika Hokusai's "The Great Wave off Kanagawa" canvas. A dessert with Asian and fresh flavors with the effervescent touch of kombucha that refers to the foam of the sea.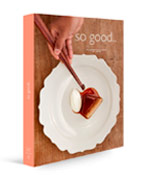 The Great Wave off Kanagawa
Iced matcha drops
135 g milk
3 g 290º B gelatin powder
120 g 35% GM cream
37 g glucose
3 g matcha tea
Disperse the gelatin in the cold milk. Meanwhile, put the cream and glucose to heat up to approximately 80ºC. Add the gelatin mass and let cool for a few minutes. Add the matcha tea and blend with a blender. Store in a bottle and let cool. Sprinkle drops onto liquid nitrogen. Remove with the help of a strainer and reserve in the freezer.
Note: if you store the bottle in the fridge, give it a slight microwave blow to melt the gelled mixture.
---
Iced Cucumber and Spearmint Drops
70 g water
3,5 g290º B gelatin powder
240 g cucumber with skin without seeds
20 g spearmint
15 g lime juice
70 g T.P.T. syrup
0,4 g xanthan
Disperse the gelatin in the cold water. Meanwhile, blanch the spearmint (only leaves without stem) in boiling water for a few seconds and let stand in ice water. Cut the cucumber lengthwise in 4 and remove the part of the seeds. Blend all the ingredients except for the gelatin mass and pass through a fine sieve. Melt the gelatin mass in the microwave at about 60ºC and mix. Store in a bottle and sprinkle drops onto liquid nitrogen. Remove the drops with the help of a strainer and reserve in the freezer.
---
Iced natural yogurt drops
cs natural yogurt without sugar
Store the yogurt in a bottle and sprinkle drops onto liquid nitrogen. Remove with the help of a strainer and reserve in the freezer.
---
Green apple puree
395 g green apple with skin
95 g T.P.T. syrup
120 g water
1,2 g xanthan
2 g ascorbic acid
---
Blend everything in a blender for a few minutes until a creamy puree remains. Pass through a fine sieve pressing as much as possible. Everything should pass without leaving any residue in the strainer. Reserve for the next preparation.
Note: in this elaboration the function of the xanthan is emulsifying, in order to obtain a fine puree without any lumps.
---
Green apple sorbet
125 g water
12 g invert sugar
90 g sugar
68 g dextrose
4 g stabilizer
625 g green apple puree (preparation above)
Mix the sugar, dextrose, and stabilizer. Heat the water with the invert sugar and when it is at about 50ºC add the powders while mixing with a whisk. Bring to 85ºC for the complete dissolution of the sugars. Cool and mix. Let mature for at least 8 hours. Add the puree and mix with a blender. Go through the ice cream machine and keep frozen.
Note: It is important to prepare the apple puree the same day that the sorbet is going to be passed. Ice creams are formulated to be kept at -14ºC.
---
Cucumber impregnated
c.s. cucumber
80 g T.P.T. syrup
100 g water
10 g spearmint leaves
Peel the cucumbers and remove the seeds. Cut into 3×3 mm cubes and reserve in a vacuum bag with the water, the TPT and the mint leaves. Vacuum pack at 100% and leave to rest for at least 2 hours. Drain.
---
Kombucha effervescent foam
380 g Postreria natural kombucha
4 g 290ºB gelatin powder
2,5 g xanthan
Disperse the gelatin in about 40 grams of kombucha. Blend the rest of the kombucha with the xanthan and add the gelatin mass previously melted in the microwave at about 60ºC. Put in a half-liter siphon and load with a load of N20 to obtain a cream. Let rest in the fridge for at least 1 hour. Shake vigorously and add 2 charges of CO2 to make a soda. Reserve in the fridge until service.
---
Crystallized kumquats
c.s. kumquats
c.s. T.P.T. syrup
Cut the kumquats (washed) into slices of about 3 mm. Put them in a pot with syrup from cold and bring them to a slight boil. Turn off the heat and let the syrup cool with the kumquats inside. Drain and spread out on a plastic wrap-lined dehydrator tray. Dehydrate for 24 hours at approximately 50ºC. After that time, remove from the tray and store in an airtight container in a cool, dry place.
Note: if you don't have a dehydrator, you can always use the oven at temperatures below 80ºC so that the kumquats don't caramelize or darken.
---
Sake gelatine
30 g water
4 g 290º B gelatin powder
170 g sake Namisake sake (of Mexican origin, very floral)
Disperse the gelatin powder with the cold water. Heat the gelatin mass and dissolve in the sake. Let it become a gel.
---
Creamy kumquat
300 g kumquat
65 g T.P.T. syrup
15 g water
1,2 g xanthan
30 g butter
Wash and cut the stems of the kumquats. With a skewer, prick them 3 times. Blanch the kumquats from cold water until they reach a slight boil, strain, and repeat the operation once more from cold water. Pack the blanched kumquat, the TPT syrup and water to 100%. Put the bag in boiling water for an hour, remove and let cool. Open the bag and pour into a blender with the xanthan. Blend for several minutes until you get a fine cream. Add the butter and blend for a couple more minutes. Let it rest in a sleeve in the refrigerator.
---
Matcha Tea Cotton Cake
125 g cream cheese
25 g noisette butter
3 g matcha
60 g milk
60 g egg yolks
30 g flour
30 g cornstarch
2,5 g salt
2,5 g baking powder
120 g egg whites
120 g sugar
Put the cream cheese together with the butter and the matcha in KitchenAid with the shovel. Beat until creamy and smooth. Add the milk and combine with the whisk. Incorporate yolks, flour, cornstarch, and salt. Lastly, add the impeller and continue assembling everything. Meanwhile, semi whip the egg whites with the sugar and incorporate them into the first mixture with an encircling movement. Spread on a 1-cm thick tray and bake at 160ºC for approximately 20 minutes (it will rise to 1.5 cm). Once cold, cut cubes of 1.5 x 1.5 cm and reserve in the fridge.
---
"Canvas"
10×15 cm rice print with `The Great Wave off Kanagawa´ painting impression
90 g 32% white chocolate
20 g cocoa butter
0,8 g matcha
Melt the chocolate and butter separately and combine. Mix with the matcha tea. When we are going to use the mixture, temper it in an inverted bain marie (45ºC / 31ºC) and with a brush, paint the back of each rice sheet. Allow to crystallize between 2 heavy baking papers so that it does not arch and store in a cool, dry place.
---
Other ingredients
small spearmint leaves
lime zest
---
Montage
In a wooden frame, distribute eight points of creamy kumquat and five cubes of matcha cotton cake. Cover the base with the frozen drops of matcha, yogurt and cucumber and spearmint. Grate some lime over everything, place five crystallized slices of kumquat and three pieces of sake gel. In a separate bowl, empty some of the effervescent foam and break it up a bit with a spoon. Place three tablespoons of the foam spread over the frame. Finish with some spearmint leaves and a medium quenelle of green apple sorbet. Once the dessert is assembled, place a frame with the `The Great Wave off Kanagawa´ canvas, gluing the corners of the canvas to the frame with the help of a little glucose. This way it stays firm and the diner can break the canvas.
Discover these three signature creations recipes by Jesús Escalera in so good #27