Christophe Adam has conquered the world with l'Éclair Génie. an original pastry concept where he offers eclairs full of fantasy which, beyond their appearance, satisfy with their flavor.
The chef, who defines himself as a workaholic, has made a hole in his tight schedule to present fresh, simple desserts in so good #19, desserts "that remind me of when I was an apprentice".
Creations like this giant meringue where he has placed special attention to flavor and textures.
" I realized a 'giant meringue' in the idea of a vacherin revisited, I was really inspired following a fantastic dinner at Christophe Hardiquest's restaurant in Brussels"
Giant meringue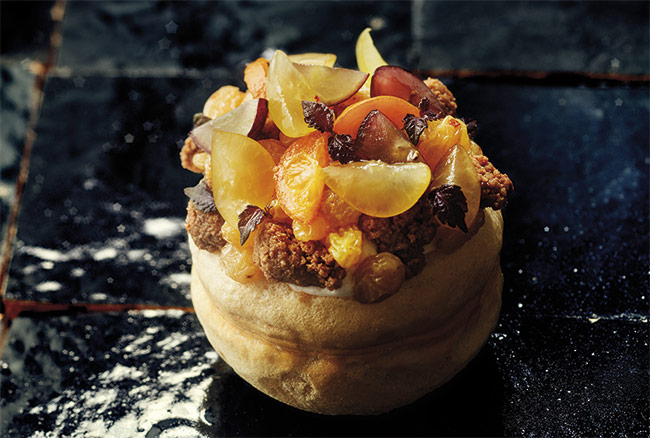 homemade rum ice cream
210 g whole milk
45 g UHT cream, 35% fat
60 g confectioners' sugar
10 g non-fat milk powder
15 g Agrimontana ice cream base 50
200 g homemade rum
Mix the powdered ingredients and add to the liquids, except alcohol. Blend. Allow to mature for 12 hours. Before churning, add the rum and mix.
---
meringue
280 g egg whites
220 g superfine sugar
Temper the egg whites with the help of a bain marie. Preheat the oven to 110ºC. Whip the egg whites while adding the sugar in 3 additions.
Prepare and grease 6-cm-wide hemisphere molds. Use a flat 6-mm tip. Pipe the meringue balls in the mold upside down. Bake at 110ºC for 30 minutes and at 90ºC for 2 hours. Unmold the hemispheres, cut half of them into 2/3 and stick to the other hemisphere using your fingers to mold. Then, turn off the oven and allow the meringue to dry completely for 2 to 3 hours. Reserve in a drying oven.
---
rum-soaked grapes
40 g white grapes
q.s. homemade rum
Warm up the rum and soak the grapes in it until perfectly inflated.
---
raisin paste
150 g Zante currants
water
Bring the water to a boil, allow the raisins to inflate for 1 hour and then drain off. Mix until a paste is obtained.
---
praliné croustillant
90 g butter
35 g confectioners' sugar
1 g fine salt
35 g almond powder
85 g flour t55
5 g cocoa powder
15 g whole eggs
140 g hazelnut gianduja
q.s. gold
Mix the tempered butter with the confectioners' sugar, almond powder, flour and cocoa powder. Finish by gradually adding the eggs until a smooth dough is obtained. Laminate to a thickness of 5 mm and bake for 12 minutes. Reserve in the refrigerator for 15 minutes. Allow the gianduja to melt.
Crush the croustillant and mix with the melted gianduja.
---
other
15 u fresh black grapes
15 u white grapes
purple shiso
green shiso
5 u kumquats
---
Montage
Recipe for 5 desserts
350 g homemade rum ice cream
250 g meringue
40 g rum-soaked grapes
150 g raisin paste
400 g praliné croustillant
15 u fresh black grapes
Make the ice cream mix and meringue the previous day. Churn the ice cream while adding the rum. Make the raisin paste, rum-soaked grapes and praliné croustillant.
For the assembly, fill the bottom of each meringue with 15 g of raisin paste and then the rum ice cream. Following this, add an additional 15 g of raisin paste and the rum-soaked grapes.
For the décor, peel and cut the grapes into quarters. Add the shiso sprouts, the croustillant, the rum-soaked grapes and some kumquat slices.
---
You will also find these three recipes in so good #19