Patrice Ibarboure is one of the youngest chefs to achieve the MOF title.
After two years in Fauchon, he went through prestigious kitchens, being in charge of the sweet station with Pierre Gagnaire in Paris or Daniel Boulud in New York. In 2013, he then joined his brother Xabi, a chef, to direct the gastronomic proposal of the restaurant Les Frères Ibarboure, with one Michelin star and located in Bidart, a French town very close to the border of Spain. The designation of Patrice as MOF shows that the trade has been open to restaurant confectioners.
In so good # 21, we interviewed this professional and entered into the concerns that have led him to struggle to get this title. We also share the recipe for this exotic mojito. "I wanted to show this creation in So Good because it is a restaurant dessert that represents me very well. I was looking for a preparation that was light in terms of flavors and visually delicate," says Ibarboure.
Mango mousse
170 g mango puree
3 g gelatin sheets
25 g brown sugar
70 g whipped cream
Heat half the mango puree with the brown sugar until it simmers. Add the gelatin and pour over the other half of the cold puree. Cool to 30 or 35 °. Add the whipped cream. Extend between two rulers 0.5 cm thick.
---
Mojito sorbet
140 g water
55 g brown sugar
20 g mint leaves
140 g Perrier
35 g black rum
75 g lime juice
55 g egg whites
3,5 g stabilizer
75 g atomized glucose
25 g powdered milk
Mix the powders together. Boil the water and add the mint. Infuse for 10 minutes. Strain. Add the powders and let boil. Cool, add the Perrier, rum, lime juice, and finish with the egg whites. Mix, set aside, and put through ice cream maker.
---
Mango Sauce
100 g mango puree
10 g glucose
Reduce to low heat.
---
Coconut mousse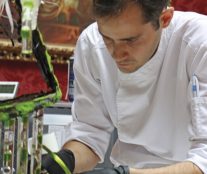 240 g coconut pulp
7 g gelatin
40 g egg whites
45 g sugar
180 g cream
15 g coconut paste
Soak the gelatin. Make an Italian meringue with egg whites and sugar. Assemble the cream, mix the pulp and the coconut paste, add the melted gelatin in the microwave.
Mix with the Italian meringue and then the whipped cream. Mold in 2 cm half spheres.
---
lime glaze
60 g neutral gelatin
10 g water
1 thin lime peel
6 g lime juice
q/s green coloring
Boil everything, mix and keep cool.
---
Mounted Vanilla Ganache
90 g Ivoire white chocolate
3 g gelatin
400 g cream
1 vanilla pod
1,5 g vanilla extract
Soak the gelatin, infuse the vanilla pods and the vanilla extract in hot cream for 15 minutes.
Strain, add the gelatin, and pour over the chocolate. Mix and set aside.