From his stronghold, the Het Gebaar restaurant in Antwerp (Belgium), Roger Van Damme has been delighting his guests for decades with a pastry that is visually dreamy, technically attentive to the latest innovations, surprising in its play of flavors and textures, and always a winner when it comes to leaving a memorable impression on his guests.
The Dutch chef, who has recently captured his vision and repertoire in his book, Dessert, is in a moment of transition that was captured in so good .. magazine 29 by our correspondent Bruno Van Vaerenbergh. A moment that takes into account the great desserts of his career, such as La Dame Blanche, but also reflects an orientation towards the future.
Below we share the recipe for his spectacular Cocoa bean dessert, a small work of art whose concept he explains as follows: "Without cocoa beans we would not have chocolate and for a long time I wanted to do something special. That is why we started working on a mold that we then looked for a way to cover to find the color we were looking for. The inspiration also comes from my trips to Costa Rica. What is also good about the bean is that it does not have chocolate inside, it is white and actually has a very refreshing interior".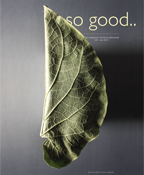 Cocoa bean
Cocoa bean
3.000 g isomalt
1.000 g maltitol
1.000 g sugar
20 g cocoa powder
Cook the isomalt, maltitol and sugar to 155ºC. Add the cocoa powder. Fill the molds and allow the sugar to cool down.
---
Grandmother's Crumble
Crumble
150 g flour
100 g white caster sugar
125 g almond powder
75 g butter
5 g salt
1 g baking powder
1,5 g cinnamon powder
Mix everything until a homogeneous dough. Bake at 160°C, 0% steam, fan speed 2, for 12 minutes.
---
Pressed crunch
crumble (previous)
150 g rice pops
15 g ginger powder
2 g ground coffee powder
10 g Yopol yogurt powder
80 g confit yuzu peel
80 g cocoa nibs
Mix the crumble with the rice pops, ginger powder, grounded coffee powder, Yopol, yuzu and cocoa nibs.
---
Coffee and licorice espuma
egg yolks
cream
mascarpone
sugar
coffee powder
egg whites
Dulcey blond chocolate, 35% cocoa
Proespuma Sosa
licorice
tonka bean
salted caramel
black pepper
pinch of ground coffee
Check out the recipe, quantities and elaborations in #sogood29
---
Dulcey cream
37 g glucose
375 g milk
5 g gelatin powder
25 g cold water for gelatin
700 g Dulcey blond chocolate, 35% cocoa
750 g cream
Mix the gelatin powder with the cold water and let it soak for 20 minutes. Melt the gelatin mass before use. Bring the milk and glucose to the boil. Add the gelatin. Pour the hot liquid over the chocolate and mix with a hand blender. Pour the cold cream slowly into the mixture and mix with a hand blender.
---
Pâte à bombe espuma
Pâte à bombe
sugar
water
egg yolks
eggs
tonka bean
Check out the recipe, quantities and elaborations in #sogood29
---
Espuma
hazelnut paste
pâte à bombe
Proespuma
cocoa vinegar
cardamom vinegar
xanthan
Check out the recipe, quantities and elaborations in #sogood29
---
Tonka cream
500 g cream
250 g milk
100 g egg yolks
50 g sugar
450 g Caraïbe dark chocolate, 66% cocoa
450 g Jivara milk chocolate, 40% cocoa
900 g mascarpone
4 u tonka beans, crushed
Heat up the cream and milk and infuse the crushed tonka beans overnight. Make an anglaise by cooking the cream, milk, egg yolks and sugar to 84ºC. Pour over the chocolates and process with a hand blender. Leave to rest overnight. Mix with the mascarpone in a stand mixer, layer by layer.
---
Chocolate sauce
cream
water
milk
sugar
glucose
pâte à glacer
dark chocolate
Check out the recipe, quantities and elaborations in #sogood29
---
Salted caramel orange blossom
390 g cream, 35% fat
2 u vanilla pods
40 g glucose
390 g sugar
100 g butter
5 g sea salt
30 g orange blossom water
Simmer the cream and vanilla and infuse for 30 minutes. Soften the glucose and sugar. Cook to a light caramel. Deglaze with the butter. Add the hot cream. Cook to 107°C. Add the orange blossom water and mix.
---
Mango vinegar gel
mango vinegar
sugar
glucose
pectin
Check out the recipe, quantities and elaborations in #sogood29
---
Chocolate microwave sponge cake
190 g egg whites
120 g almond powder
120 g egg yolks
120 g sugar
30 g flour
18 g cocoa powder
pinch of salt
Mix all the ingredients for 1 minute and a half on the highest speed in a blender. Sieve the mixture and fill a siphon. Add 4 gas cartridges. Fill 4 Styrofoam cups until 2/3 full. Microwave for 1 minute and 45 seconds.
---
Montage
Air brush the cocoa bean with light green, yellow, orange and red cocoa butter. Pipe a dot of tonka cream on the left side, inside the cocoa bean. Pipe a dot of Dulcey cream on the right side, inside the cocoa bean. Pipe a small line of mango vinegar gel inside the cocoa bean from left to right. Repeat with the licorice espuma and pâte à bombe espuma until the cocoa bean is full. Cover the bottom of the cocoa bean with chocolate sponge cake. Put the cocoa bean on a plate with the chocolate sponge cake on the bottom as a cushion. Place the crumble around the cocoa bean and cover up the chocolate sponge cake. Pour a large oval-shaped drop of chocolate sauce in front of the cocoa bean. Pipe three sizes of salted caramel orange blossom around the bean randomly.
Discover these three recipes by Roger Van Damme in so good #29