Elena Pérez is part of the team at Preludio, a signature restaurant in Singapore where the diner is often treated as a spectator who is about to enjoy a work of art and whichthis 2020 is proposing dishes around the theme, "Time" .
At the pastry level, this theme translates into desserts that represent "moments, they are experiences that have been happening to me throughout life and have made me the person that I am now", this pastry chef of Basque origin tells us in so good # 23 .
Desserts like Amona, which translates to grandmother in Basque, is a nostalgic dish for Pérez, one that is fondly reminiscent of home and childhood days. Upon returning home from school, her Grandmother would prepare a treat –a traditional bread slathered with chocolate. She translates these memories into this dessert that features Guanaja 70% chocolate curls with a hazelnut dacquoise and olive oil gel in between. It is plated with a hazelnut streusel, smoky olive oil snow, extra virgin olive oil caviar, rosemary and a fougasse bread ice cream.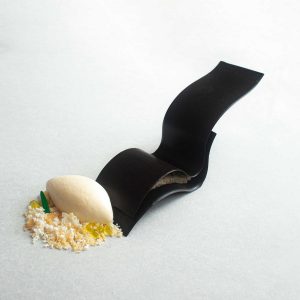 'Amona'. Chocolate, hazelnut, olive oil and bread plated dessert
Chocolate decoration
Temper Guanaja dark chocolate. Stretch it on plastic sheet 4.5 cm x 20 cm and 4.5 cm x 15 cm. Shape into a curve.
---
Hazelnut streusel
90 g butter
90 g brown sugar
120 g ground hazelnut
90 g salt
1 g fleur de sel
Combine all the ingredients and mix in the bowl of a mixer fitted with a paddle. Mix to a grainy mixture. Bake at 160ºC for 15-20 min, vent open.
---
Olive oil gel
25 g glucose powder
80 g caster sugar
100 g water
100 g isomalt
200 g extra virgin olive oil
5 sheets of gelatine
Rehydrate gelatine with ice water. Bring glucose, sugar, water and isomalt to a boil. Add the gelatine and mix. Transfer it to a jar and slowly with the help of a hand blender add the extra virgin
olive oil. Remove the air with a vacuum machine.
---
Hazelnut dacquoise
160 g ground hazelnut
58 g flour
200 g icing sugar
100 g caster sugar
330 g egg white
Sieve the ground hazelnut, flour and icing sugar. Whisk egg whites with the sugar until soft peak, mix all together with spatula. Spread on a tray. Bake at 180ºC for 14 minutes. Cut into 3 x 9 cm.
---
Fougasse
320 g bread flour
210 g cold water
7 g fresh yeast
6 g fine salt
6 g rosemary
Mix flour, water and yeast for about 5 min, add the salt and rosemary and mix for
another 5 min. Knead and put it in a bowl and proof for 1 hour.
Roll into 30 g balls. Cover with a wet cloth and proof for another 45 min. Remove the excess air carefully with your hands. Proof for another 15 min, and spray water.
Bake at 230ºC / 2 vent. / 10 min. Bake at 230ºC / 3 vent. / 2 min. Once it's cold, cut and continue baking it for 20 min at 230ºC.
---
Fougasse ice cream
283 g milk
86 g cream
21 g milk powder
69 g dextrose
13 g trimoline
25 g sugar
3 g ice cream stabilizer
120 g fougasse
Boil the milk and combine with the fougasse and infuse for one night, then sieve. Mix the milk with the cream, milk powder, dextrose, trimoline, sugar and ice cream stabilizer, and bring to 85 degrees Celsius. Refill a Paco jet container and freeze for 12 hours.
---
Smoked olive oil powder
100 g smoked olive oil
100 g maltosec
4 g salt
Combine all together and mix. Keep it in a dry place.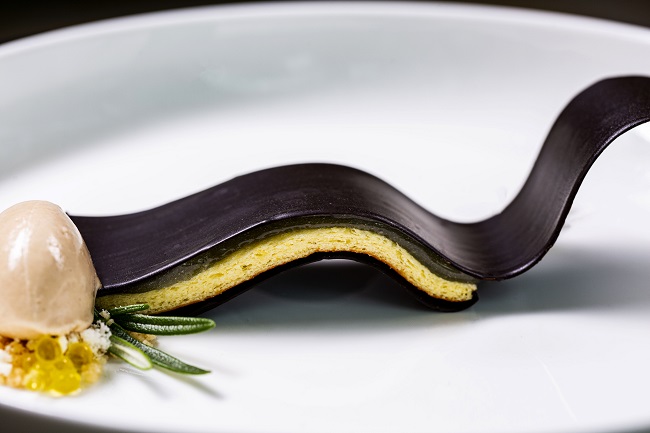 ---
Garnish
Encapsulated extra virgin olive oil
Rosemary
---
Montage and finishing
Place the small chocolate decoration on top of the hazelnut dacquoise and the olive oil gel. Stick the other chocolate piece. In one of the corners, put the hazelnut streusel, the smoky olive oil snow, extra virgin olive oil caviar, rosemary and finish with fougasse bread ice cream.
Discover the 1412014 plated dessert recipes by Elena Pérez in so good #23