Restaurants have been trying their fortune for years with ingredients from the entertainment world. If there was a time when both realities (cuisine and the entertainment world) have refused to believe that to be true, today it is common to sit at the table in a place where the customer is often treated as a spectator who is about to enjoy a play. It is with that idea that Fernando Arévalo and his team opened, a little more than a year ago, Prelude in Singapore. A signature restaurant in which each part of the team, including Elena Pérez as a pastry chef, intervenes decisively, orchestrating a unique space, and a service more similar, as we said, to a function than to regular table serving. Because of this, this restless chef of Colombian origin raises his cuisine by chapters (Chapters) that work as a type of season, which go on for an indeterminate time and that are expressed in everything, from the crockery and tableware setting, all the way to the last dish served. And we had the chance to take a closer look to it in so good #23.
The first of the proposed chapters has been named 'Monochrome', and has involved an effort so that most of the dishes were presented in black and white. A challenge that, as Elena Pérez explains, went from being an element of anguish and restriction, to an incentive with which to feed creativity. The results in both the salty and the sweet parts are surprising and captivating. For more than a year, they have been developing seasonal dishes around this theme, and they have realized that the possibilities were many, and that the angles around which the theme 'monochrome' could be interpreted were quite considerable. With the change of the year, in 2020, Prelude proposes a new chapter, Time, whose results has begun to be seen in February, and with which Elena Pérez has already wanted to share a small breakthrough with us in so good #23. This chef of Basque origin, has been trained on the tails of great professionals in Spain, such as pastry chef Eric Ortuño and chef Aitor Zabala, and then embarked on patisserie in different restaurants in Turin (Consorzio Restaurant) and London (Pollen Street Social and L'Atelier by Joel Robuchon). Today she explains this interesting experience.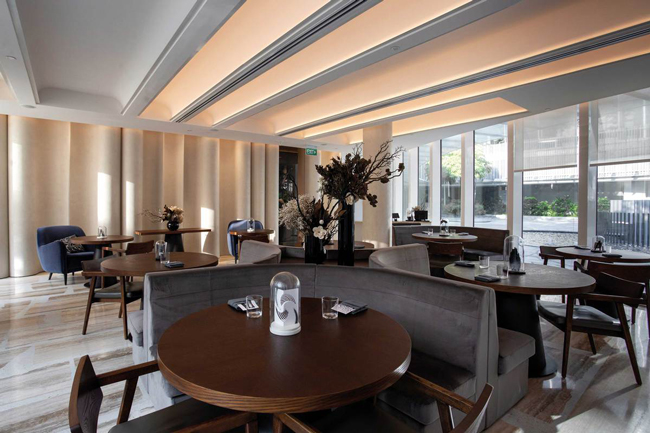 Among your latest creations you pay homage to your grandmother. How much, would you say, do your origins play a role in what you do every day, and what parts are completely new?
I think that the more time that has passed since being away from home, and from my family, the more I try to make my origins, in the new desserts, increasingly present. For me it is a way of giving them a kind of wink, that they feel that, although we are far away, I feel them very close. And the new part is that journey for very balanced desserts without the fear of introducing ingredients such as caviar, vinegar … or other ingredients that are more associated with savory cooking.
Are there any professionals, today or in the past, that you find inspiring in philosophy, technique or creativity?
Definitely Eric Ortuño, he was my teacher in Barcelona when I was studying at Hofmann, and he was the one who gave me this passion for patisserie. I also admire him very much for his versatility, and how he dominates so many different branches. And Aitor Zabala. I know he is not a pastry chef, but I love his work, the concept he has of cooking, his delicacy … I like him very much.
What has this chapter contributed to the whole team (and you in particular)? How have you been influenced by the reaction that customers have had to your creations?
In my case, I would say that it has given me self-confidence. The Monochrome chapter initially intimidated me a lot, making desserts only in black and white seemed crazy to me! And that has become evident in the evolution of our desserts, and how they have been improving because little by little we felt much more comfortable with this concept.
The reaction of the customers has always been incredible, that's why we did an 'upside down' event that consisted of an 8-dessert menu dinner.
Does the fact of adjusting to a theme from which all the products, and to the rest of the aspects related to the restaurant (dishes, interior design elements, etc.), have to have a relationship, limit your creativity or set the foundation?
Definitely the foundation. But only once you break those barriers that you set yourself is when you start to see beyond those 'restrictions'.
From so good it gives us the impression that a concept helps a product to increase its dimension from being a simple dish or cake to an experience that may surprise you, not only in its taste, but also in the emotional and intellectual aspects. Do you think there is any method to guide these conceptualization exercises?
I do not think there is a method or a formula for it, but I do think that you are only going to excite the customer and surprise them if the chef who created that dessert or cake has been previously excited. It is something that works both ways. In my case, I have seen it many times that desserts with which I felt more confident or that represented me more, the client noticed.
What other aspects of the chapter can you highlight and that will help the customer to get involved?
When I learned that the new chapter was 'Time', I had to think about what it meant to me, because it is a very abstract concept. Then I came to the conclusion that for me, 'time' signifies moments, they are experiences that have been happening to me throughout life and have made me the person that I am now. That's why in patisserie we will try to create desserts that represent those moments, and a clear example is dessert 1412014, which is inspired by the day I arrived in Singapore.
Discover the 1412014 recipe by Elena Pérez in sogood #23