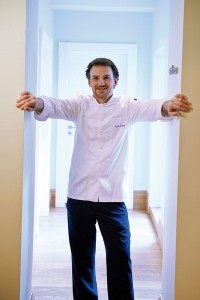 'When you look at a dessert you need to see it always in its context. When is it supposed to be eaten? And what did your customer eat in the previous courses? If you have a menu which already contains fruits and a bunch of components made with milk products followed by a cheese course, it makes much more sense to abstain from further milk products in the last course for the sake of your guests' wellbeing'. So clearly spoke for us René Frank, Executive pastry Chef at the three-starred Relais & Châteaux La Vie (the Chef, Thomas Bühner, appears in so good #7)  in Osnabrueck (Germany) for the last five years.
His challenge leaves no room for doubt, 'I want to create a modern pastry where people do not have to think much about calories. And desserts which you do not have to stop eating because you're full.' This is the conclusion he reaches after an extensive professional and training career in such illustrious places like l'École Lenotre of Paris, Alain Ducasse Formation, The Culinary Institute of America; three-starred restaurants like Georges Blanc, Vonnas (France); Akelarre, San Sebastián (Spain); Restaurant Kikunoi, Kyoto (Japan); and alongside renowned pastry chefs like Oriol Balaguer in Barcelona. In 2013, he was acclaimed as Pastry Chef of the Year 2013 (Gault & Millau).
This tendency towards lightness is perfectly compatible with creativity and enthusiasm for risk. A good example of this is the desserts which this German chef shares with us in these pages. He dares to elegantly introduce a blown sugar doughnut filled with carrot ice cream which, altogether, revisits the traditional and universal carrot cake. And how about his evocative foam bath, rubber duck included.
In conclusion, balance and good sense when it comes to choosing the ingredients, combinations and quantities, and creative madness regarding the shapes and aesthetics. It sounds quite good as a recipe.
Car ,,O" Nut
The idea for this blown sugar doughnut came through experimenting when I was looking for alternative shapes you can make with blown sugar using it as a part of a dish. For me it is always important that the blown sugar component is not only a visual thing. In this case the sugar content is balanced with the granulated carrot sorbet inside, which is made with non-additional sugar in the recipe. Here we reduced carrot juice in vacuum at 35°C to keep its fresh flavour. It got balanced with a bit of passion fruit for being not so 'in the face' bitter and sweet. As I grew up in the south of Germany close to the border of Switzerland, sweet carrot always reminds to the rüblitorte, which is a traditional carrot cake my Grandmother used to feed me with. And she was a master in that cake. The idea of using avocado in a dessert is very common in Thai cuisine, so nothing unusual. Its nutty flavour goes perfect with the hazelnut.
---
avocado cream
saffron isomalt
lime-passion fruit granita
saffron foam
caramelized hazelnut crumble
frozen granulated carrot
These recipes are in so good #14.

---
You will find two other very special creations in so good #14