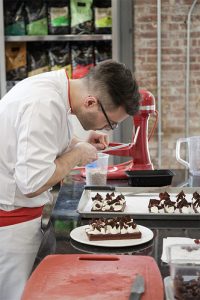 On May 1st, 2nd and 3rd, L'École Valrhona Brooklyn was visited by Patrice Demers (so good # 13), TV celebrity, award-winning cookbook author, and one of Canada's best pastry chefs.
A course dedicated to Intensive Pastry Plated Desserts & Petits Gâteaux where Patrice made sweet creations that he produces in his acclaimed pastry shop in Montreal, Patrice Pâtissier. During the three days of the course, different techniques related to the preparation of contemporary high-class pastry, such as the preparation of sponge cakes, mousses and elements for the final decoration, came to light.
He also shared experiences and motivations with attendees, as well as teaching the importance of getting the exact balance in the combination of flavors and textures. A good example of this we have with this classic European pastry, the "Foret noir" or Black Forest, which at the hands of the Canadian pastry chef, acquires this spectacular result.
Photos: Daniela Constantini
Black Forest cake
Recipe calculated for 5 frames of 11cmX35cm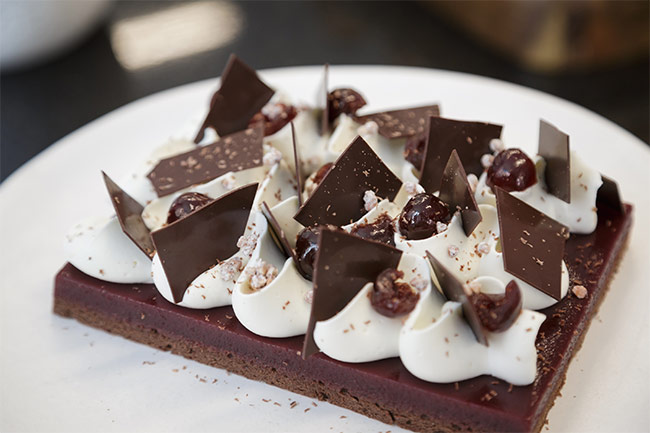 Coeur de Guanaja cake
200 g P125 Coeur de Guanaja
80 g canola oil
80 g butter
360 g egg whites
375 g sugar
380 g egg yolks
60 g flour
60 g corn starch
30 g Valrhona cocoa powder
4 g salt
Melt P125 Coeur de Guanaja, butter and canola oil together.
In a mixer, whip egg whites and sugar until soft peaks form. With the mixer at low speed, add egg yolks and mix until just combined.
Sift dry ingredients and incorporate them while folding with a whisk in the egg mixture.
Pour in a full sheet pan and cook at 177°C (350°F) for about 14 minutes.
---
sour cherry jelly
1500 g sour cherry purée
375 g water
225 g sugar
2 ea vanilla bean
18 ea gelatine sheets
75 g kirsh
Heat sour cherry purée with water, sugar and vanilla bean.
Add gelatin sheets and kirsh, let cool to room temperature.
---
Opalys chocolate and buckwheat whipped ganache
150 g toasted buckwheat
550 g whipping cream
3 g salt
50 g glucose
50 g invert sugar
500 g Opalys 33% chocolate
1000 g whipping cream
Heat buckwheat in the oven at 177°C (350°F) for 4 minutes.
Bring 550 g of cream to boil, take off the heat, add buckwheat, cover and let infuse for 4 minutes.
Strain through a fine strainer and correct the weight to 450 g.
Bring back to boil with salt, invert sugar and glucose.
Gradually pour the boiling hot mixture over the chopped OPALYS 33% chocolate, stirring from the center to create a shiny elastic core, showing the start of an emulsion. Maintain this texture right to the end of the mixing stage.
Continue mixing, gradually adding the liquid. Mix with a handheld mixer to finish.
Add the remaining cream while mixing.
Cover and refrigerate for at least 8 hours to crystallize.
---
Asembly and finishing
Using 5 frames of 11cmX35cm cut the cake.
Divide the jelly in 5 and pour in each frame on the cakes. Leave in the fridge to set for 6 hours.
Using a paring knife, unmold the cakes from the frames and cut them in 11cmX16cm rectangles.
Whip the Opalys Chocolate and Buckwheat Ganache to soft peaks and pipe on each cake using a flat tip.
Garnish with fresh Bing cherries cut in quarters, some crystalized buckwheat and shards of tempered dark chocolate.