For over six years now, Olivier Fernández has been the director of the Pastry School of Barcelona (Spain), a training school which has experienced a spectacular development during this last period to become an international reference model. The school does not confine itself to regular programmed teaching only, but also to continuous collaboration tasks with other schools and institutions with regard to the creation and development of new products. As a result of this, the chef Fernández has created a new collection of éclairs whose main feature is their perfect shape, thanks to an ingenious stainless steel mold fitted with a lid in which they are baked.
This feature is especially visible in the case of the apple or tatin éclair – both the pâte à choux and the compote which crowns it have the same shape.
customized éclairs
pâte à choux
500 g water
500 g milk
440 g  butter
12 g  salt
20 g  invert sugar
600 g  flour
18 u  eggs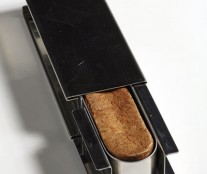 Combine the milk and water and place over the heat. Add the invert sugar, butter and salt and heat up to 100ºC. Add the flour, previously sifted. Mix thoroughly to obtain a homogeneous mixture. Transfer to the bowl of a mixer and beat to cool down; then gradually add the eggs until perfectly incorporated in the dough. Stop when the dough has an oily, glossy texture.
Once ready, place the dough between two parchment paper sheets. Place two 1-cm-high ends and roll out. This way, the dough will have an even thickness. Allow to set properly in the freezer for 12 hours.
Peel off the sheets, cut and mold.
Firstly, preheat the oven to 210ºC. When the oven is ready, bake the éclairs for 6 minutes, vent closed. Secondly, bake at 180ºC for 27 minutes.
---
Apple compote éclair
500 g Granny Smith apple, diced
50 g granulated sugar
50 g  apricot jam
1 u  vanilla
8 g  bloomed gelatin
Cook all the ingredients in a lidded saucepan until the apple drains off some of its water. Remove from the heat, add the gelatin and mix. Pour onto the éclairs, already baked but still in their molds. The apple compote will complete the pieces. Thanks to the gelatin, it will hold the shape of the mold once unfolded.
---
DISCOVER MORE CUSTOMIZED ÉCLAIRS IN SO GOOD #10