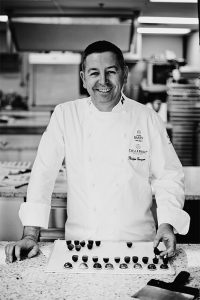 Quebec is, so far, the last place this itchy-feet pâtissier has settled down in. He headed for that city with the idea of setting up a new Chocolate Academy there, and suddenly found himself immersed in Nature, finding some new interesting resources for his ever-chocolatey creations.
We are referring to the master Philippe Vancayseele, a giant both professionally and on the human side, who is happy to share his latest works with us – three elegant proposals, not complicated in the manufacturing and precious both visually and esthetically.
As Vancayseele himself says, 'food is not only to survive'. It can also be a pleasure and reach high beauty stages. It all depends on the sensitivity and the magic which come out of the chef's hands. The pictures speak for themselves. This spectacular bonbon and the no less meritorious photograph deserved the cover of the tenth issue of So Good.
'Travelling all over the world is always a special experience, especially in relation to a touch of the local and cultural gastronomy. Food is not only to survive, but also to enjoy, discover, the curiosity and passion of what we create.
For hundreds, thousands of years, we have always been looking for the "special" ingredient or method that gives the satisfaction of our creations. Since I came to Canada, more precisely, the Province of Quebec, in June last year as the Director of the Chocolate Academy Center in Canada, I was surprised how Canadians are passionate about food, and I'm not talking about junk food, but the real gastronomic restaurants and auberges.
Montreal, Vancouver, Toronto, Winnipeg, Calgary…etc. All those cities have not only very good and top level restaurants, but also outstanding pastry and chocolate shops. More and more foreigners are coming to Canada to start a business in the food sector with a variety of good products and food culture, all in a very nice atmosphere.
That's why Canadians just enjoy it, at all seasons.
If you are keen on a gastronomic tour in for example Montreal, make sure your name is on the reservation list.'
The universe of the Bleuet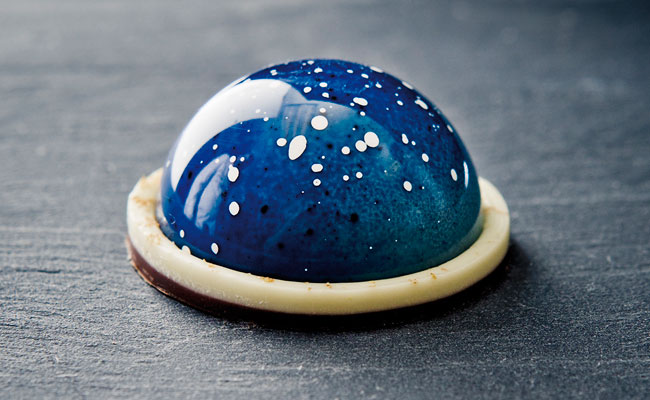 bleuet ganache
300 g fresh wild blueberries (bleuets sauvages) from Quebec
75 g cream, 35% fat
25 g sorbitol (powder)
pinch of "Fleur de Sel"
30 g butter
500 g Zephir white couverture
Boil the bleuets, cream, sorbitol and salt together. Pour over the white couverture and homogenize with a hand blender. Finally at 35ºC add the butter. Prepare a half-sphere mold sprayed with white dots and blue color. Make a shell with the Zephir white couverture. Fill up the crystallized ganache in the mold and leave to harden in the fridge.
---
Finishing
Spread 2 thin layers of couverture on top of each other, first milk, and then white. Sprinkle ground cumin on top of the white couverture. Remove the half-sphere from the mold and push into the layered couvertures. Remove the bonbon with a round cutter.
---
You will also find this two recipes in so good #10