Relais Desserts held on Monday, September 13, the annual meeting that takes place at the Pavillon Gabriel in Paris. At its chefs meeting, which is attended by more than 100 professionals from 19 countries, five new faces have been presented. Eric Ortuño (L'Atelier in Barcelona), Emmanuel Ryon and Olivier Ménard (Une Glace a Paris), Florian Köller (L'Art Sucre in Wiesbaden), and Clément Battut (Patisserie Clément in Rodez, France) have become part of the prestigious Association.
With the aim of extending its mission to give prestige to fine pastry in the world and to share knowledge and experiences among its members, Relais Desserts has incorporated four temples of "signature" desserts this year. The French-born pastry chef based in Barcelona, ​​Eric Ortuño is well known by So Good.. readers for his work at the head of l'Atelier, where he displays a creative pastry full of influences and with a great ability to surprise with all kinds of new formats and trompe l'oeil.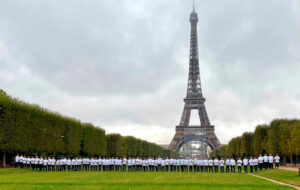 No less well known is Emmanuel Ryon in charge of Une Glace À Paris. Alongside his partner Olivier Ménard, they are two new members who combine pastry with ice cream, demonstrating that sub-zero temperatures are not incompatible with the most personal and elegant creations.
Florian Köller, a brand with more than a decade of experience and three points of sale, will do the same from L'Art Sucre in Wiesbaden (Germany), developing a line of signature products together with his partner, Sandra Koeller.
The list of newcomers is completed by the pastry chef Clément Battut from the Pâtisserie Clément de Rodez, in France, who also becomes part and shares with the whole group his concerns for a pastry that is respectful of tradition and excited about the future. After the annual meeting of chefs, the new members also enjoyed the Awards of Excellence Gala that took place in the same facilities on Wednesday, September 15.