Nobody can deny the general desire to regain some sort of normality after the long months of restrictions due to the health crisis. What better way to talk about France and the country's pastry elite than by celebrating the Relais Desserts association's annual Prix de l'Excellence Gala. The Gabriel Pavillon on the outskirts of Paris was the setting chosen again for such an emotional moment, in which a hundred great professionals and members of the Association from 19 different countries came together to share good wishes and sound acknowledgments. The big names of the night were Yann Brys, Johan Martin, Nicolas Lambert, and Pit Oberweis, while the president of Relais Desserts, Vincent Guerlais, acted as master of ceremonies.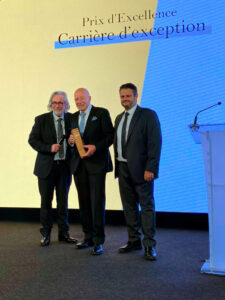 These awards are meant to acknowledge those figures who have deserved the recognition of both the general public and their professional colleagues. Although there are a total of six awards, there are three of them that have the most expectation. The award for the shop pastry chef (Pâtissier Boutique) went to Yann Brys, who beat the other two contenders, Marc Ducobu and Kevin Lacote. The Prize for the best promotion of pâtisserie at an international level went to Johan Martin, beating Amaury Guichon and Antoine Santos from l'Ecole Criollo in Japan. Finally, the third grand prize, dedicated to the hotel and restaurant pastry chef, went to Nicolas Lambert, who deserved this recognition ahead of Michael Bartocetti (Hotel George V in Paris) and Maxime Frederic (Cheval Blanc Paris).

No less emotional was the performance of the "Carriere d'Exception" to Pit Oberweis from the Maison Oberweis in Luxembourg. The legendary chef dedicated a very special speech of the ups and downs of the business and its various setbacks until the most recent and unfortunate flood. Simon Buguet from Alban Guilmet also received an award as a young promise (Jeune Espoir) and there were also different recognitions to artisan producers for their work in the defense of biodiversity and agri-food quality.