Signing up for a pastry competition is a simple step. Of course, you need to be trained or at least have great confidence in yourself and submit the application. From there, you just have to prepare and wait for the day. But how should a candidate be trained? What is a priority and what is an accessory before and during the competition? Who and how will my opponents be? Do I understand the rules correctly? What do the judges take into account?
In order to answer these and many other questions, Cacao Barry, organizer of the World Chocolate Masters, had the great idea of gathering the 21 candidates in Berlin, candidates who will compete in the grand finale of this prestigious competition in Paris on the 31st October and November 1 and 2, for 3 days.
And for this task there is nothing better than inviting some of the winners of previous editions of this competition, such as the defending champion, Vincent Vallée, or the 2011 winner, Frank Haasnoot.
Vallée, interviewed by Ramon Morató, referred to the enormous opportunities that arise after winning the competition and the possibility of carrying out projects such as the Atelier that will soon be launched. He took the opportunity to thank the support of Thierry Bamas and Pierre Mirgalet in their preparation. And he advised the candidates to always strive for regularity in all the tests (if you fail in something, you sink), look for the balance between aesthetics and taste, and do all of this while keeping in mind that those judging the work are an international jury with different tastes and cultures.
Inspire yourself but never copy
The Dutch chef Frank Haasnoot offered the audience a masterly presentation full of reflections and good advice for facing the championship and not die in the attempt. In 2006 he entered the competition to check if his level was enough. He learned from the experience, waited two editions, and in 2011 returned to the scene prepared to win, and won.
Where did he find the necessary motivation to not falter? "There might be some crazy hardworking Japanese chef working 24 hours, while I would go home early. I spend several years in this competition, why not spend a few extra hours", Hasnoot himself explains.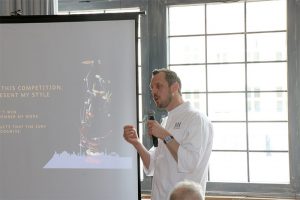 And from this reflection, the chef launched numerous recommendations of enormous value to anyone who wants to embark on the adventure of a competition. Below we textually collect some of them:
I always try to use inspiration to twist it. Get inspired but not copy. Know the techniques but change them into something that is yours.
I not only want to win this competition, I also wanted to present my style. Even if I didn't win I wanted people to remember my work.
All of you have the same rules and regulations, understand these rules. Do not lose points by doing stupid things like go too high, too heavy, etc.
 I wanted to create a Michelin star dessert, not a pastry on a plate.
Now people spend months on a showpiece and days on a bonbon, while the points are the same.
Forget the first that comes up … You need to stand up. Do not copy paste the WCM branding. Who says the future is green, white, and blue? Why not gray and black?
Show your special techniques when judges are around. And if you used techniques in your showpiece that are very unique, find a way to use it in another product to show it off.
Amaze with what is basic. One of my philosophies while creating cakes is that I do not want to use fancy molds.
Be unique. Be inspired, do not copy, understand the technique but change it into yours. Be subtle. Make something that is tasty for everyone but make it more unique with subtle ingredients.
Design, freshness, and creativity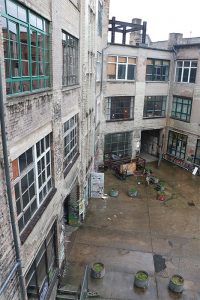 This meeting was not just fuelled by experiences in the competition itself. The candidates were fortunate enough to receive other more transversal contents of enormous utility in their task.
Adam Johnston, head of the Edinburgh office of Andreu Carulla's design studio, referred in his speech to the importance of taking care of the formal and conceptual aspect of everything we do and showed some of the work done for the three brothers of el Celler de Can Roca.
The popular pastry chef, Yann Couvreur, who is about to open his third store in Paris, told those present his way of understanding pastry as the preparation of fresh products of the highest quality which are then promptly served, inspired by Nature and the seasons, and always looking for the magic of the instantaneous and ephemeral. And as a sample, he made his famous mille-feuille of thin, crunchy and wavy tiles of Kouing Amann and, in this case, filled with chocolate cream and caramel.
And to awaken creativity and abandon any prejudice nothing better than an interactive session with Studio BamBam Artist, in which the candidates had to make a sculpture from any element that can be found lying on the street.
And of course, the top technical managers of Cacao Barry responded to any doubts the candidates had about rules and regulations.
In short, an atypical but successful professional meeting that served for learning, for exchange, for friendship, for reflection, but above all for the 21 finalists to face the World Chocolate Masters with greater knowledge and confidence.