Northern California is the epicenter of never-ending progressiveness and technological and culinary innovations. What happens in San Francisco resounds around the United States, making this city a launching point for entrepreneurs and startups: what happens in this city becomes trendy, chic and unique. It becomes a must do or a must have.

For decades, the San Francisco bay area has held a highly undisputed culinary reputation. Here you can find some of the best restaurants and pastry shops in the United States: creativity and craftsmanship meet in a unique way and a true identity to its core.With a vast repertoire of fresh produce all year round, chefs from around the world travel to SF, looking for the next new thing. This culinary mecca was the selected city for the unveiling of Barry Callebaut's new WholeFruit Chocolate.
So Good Magazine was invited by the CEO of Barry Callebaut, Antoine de Saint-Affrique, and host chefs: Creative Director chef Ramon Morató and WCM Davide Comaschi to join a select group of chefs (Andrey Dubovik, Arnaud Larher, Aurélien Trottier, Benoît Castel, Christophe Morel, Emmanuel Ryon, Fabrizio Galla, Francisco Migoya, Hironobu Tsujiguchi, Iginio Massari, Jean-Charles Rochoux, Jeffrey Cagnes, Juan Contreras, Ken Thomas, Kirsten Tibballs, Lauren Haas, Laurent Duchêne, Lori Saur, Markus Bohr, Naomi Mizuno, Ramon Perez, Renata Arassiro, Ronya Belova, Susumu Koyama…) to meet in San Francisco for a one day event to unveil the latest chocolate creation of the company. It was kept a secret so nobody really knew what this new product was going to be. Everyone was excited about this mysterious new product.
We were officially welcomed by our Barry Callebaut hosts: Olivier Cannic, Yasuke Wakabayashi, Mathieu Brunfaut, Andrea Doucet Donida, and Manuela Lima. They made this event a once in a lifetime experience with their full attention to every detail.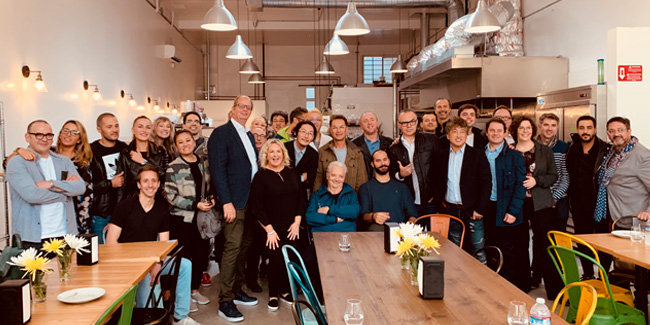 Samovar and Renewal Mill
Our first destination was the Samovar tea house, located on Fillmore, opened in 2002 by founder Jesse Jacobs and his wife. Trained in the fine art of tea making, Jesse Jacobs explained how you should drink and taste tea. "As humans we like to look good and feel good, everyday people switch from drinking coffee to tea because it's better to drink tea to live a healthier more productive live". Opening Samovar has allowed him to "explore my passion for bringing the benefits of drinking tea to the community". Matcha, Chamomile, Grass, Basil, Turmeric, Hibiscus, Chai were among the different flavor profiles teas that we had a chance to taste.

After Jacobs' interesting discussion, we were able to check out Claire Schlemme's project, founder of Renewal Mill, in detail, a food waste reprocessing venture that upcycles fibrous by-products from food manufacturing into high value end-user goods. Her passion for food and the environment made her create a circular economy of food that closes the loop in today's current supply chain, keeping valuable nutrients from going to waste, and reduces the impact on the environment. An initiative in line with the #nowaste movement, which is in full swing in the kitchens of the United States.
Restaurant, Kitchen and ice cream's
It was time for our second mysterious second destination: Creator, a restaurant in SoMa where high-tech robots make $6 hamburgers. It's the culmination of years of research aided by some of the region's best and brightest minds who have worked at Tesla, NASA, Walt Disney Imagineering, and Chez Panisse. The company behind the cutting-edge venture is Bay Area-based culinary robotics outfit. Creator, founded in 2012 by entrepreneur Alex Vardakostas. has become the first restaurant to automate the preparation of a major food category from start to finish. It means higher quality food at a lower price. It means reducing the cost of farm-to-table dining for the eater by spending more on the cost of ingredients than other burger restaurants at that price point, democratizing access to culinary techniques that were previously only accessible to ultra high-end restaurants, supporting an intimate, social, human-interaction-rich service experience.
After a delicious lunch we hop into the shuttle-bus to go to our third location. We stop in front of Tinker Kitchen, a communal kitchen laboratory which was founded by Dan Mills, with the purpose of bringing the community together, providing a professional space for amateurs and professionals food enthusiasts to have the opportunity to work in a professional kitchen with a perfectly equipped laboratory, with all sorts of toys and gadgets to play with, but who do not necessarily have the resources to buy that equipment. They rent this space for some hours a days or weeks and it's a perfect venue to connect, create, and play.
Our next stop was Smitten Ice-Cream. The founder Robyn Sue Fisher reinvented the way to make ice cream using her patent technology, by creating a better texture, she crafted the perfect scoop of ice cream. People have been making ice-creams with liquid nitrogen for decades now, but what is different about Smitten is the ice cream machine mixes in a way that scrapes and touches every part of the bowl, making the smallest ice crystals. The result of this is the smooth texture that the ice cream acquires while mixing. Here is another example of how technology has helped chefs create unique food products.

The WholeFruit Chocolate show
The Pearl was our final stop of the day, this multi-use event space in San Francisco's Dogpatch neighborhood was the venue to host the launching of WholeFruit Chocolate. As we got off the shuttle bus we were greeted by Chef Ej- Desserts, Chef Diego Lozano, Chef Martin Diez and Polo Bistro these talented chefs were the selected few to put out a dessert tasting pick up sweet chocolate buffet with the new secret ingredient.
It was clear the show was about to begin, we rapidly sat down on the chairs which were facing a wood cacao tree decorating the wall. Suddenly images and sounds, projections start appearing from within the tree, it was like it was alive. The Cacao tree was welcoming us and explaining the future of WholeFruit Chocolate.

Using the cacao pulp as sweetener agent you add the natural sugars of the same cacao pod so it taste like what should taste, a 100% chocolate made with #nowaste

When the video was over we moved to the second level to enter into a room with jungle like leafs decorating the room and floating cacao pods. WholeFruit Chocolate is a very different new way of producing chocolate using 100% of the productgiving us the possibility of a great fruity combinations of products which will be a revolution for our industry. I have to say the products are nutritious and honest, this culinary achievement by the group of scientists, craftsmen, and artisans created something very different and will revolutionize the chocolate industry. Like Creative Director Ramon Morato explains, "for centuries, chocolate was mixed with sugar cane to add sweetness. These are two totally different random ingredients. By using the cacao pulp as a sweetener agent you add the natural sugars of the same cacao pod so it tastes like what it should taste, a 100% chocolate made with #nowaste inventive ways to transform but always respecting the nature of its origin".
WholeFruit Chocolate gives us the possibility of a great fruity combinations of products which will revolutionize our industry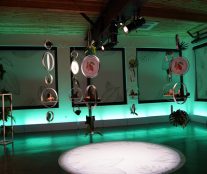 After the unveiling of WholeFruit Chocolate we proceed to the roof top for a cocktail chocolate tasting. Chef lozano created a very organic display with an Amazon feel., Chef EJ showed her style and craft by merging traditional Asian flavors with a beautiful and delicate balance using Whole Fruit Chocolate with a feminine and fine touch in each of her pick up sweets. Chef Martin Diez with his immaculate chocolate work, presented a clean and modern style. Using Whole fruit Chocolate, he carefully crafted chocolate bars filled with gianduja, and splash looking chocolate drops filled with cocoa pulp reduction were among some of his creations.
Paul Morel and the Zeeuwse Brothers @blend, a group of talented chefs, were in charge of producing cocoa fruit punch bowls using the cocoa fruit as base ingredient for these drinks. Maracuya, champagne, Cocoa Fruit & Elderflower bubbles, Peach Verbena & Elderflower, Chia Morada, Cocoa Fruit & Habanero, Cocoa Fruit, Shies & Yuzu were among the flavor profiles used to create these refreshing drinks.
The taste experience
We began eating and drinking, trying the different experiences and creations made by the chefs with whole fruit chocolate. As a result of that, we had a coca fruit experience that gave us the possibility to taste a natural convention of products that we had as a first got to work with and see nature of the inspiration of all the markets and all of our friends.
The different groups worked together with team members of Cacao-Barry representatives asking for their feedback and input in this new Cocoa fruit experience. questions, coming up with ideas of how to use the chocolate, etc. but there were also questions like whether Whole Fruit Chocolate could really be called chocolate if it's not made the traditional way. It is chocolate and tastes like chocolate.
Millennials and Centennials are among the fastest growing group in the U.S conscious about ecology and their care for the planet. It's clear that humanity is heading to extinction if we don't act now. Chefs are part of this change, we are responsible for teaching and creating more products like Whole Fruit Chocolate.
Humanity is heading to extinction if we don't act now. Chefs are part of this change, we are responsible for teaching and creating more products like Whole Fruit Chocolate