Derived from the Sanskrit word for 'peace', aman, and the ancient Hindu name of a heavenly nymph, Apsara, Amansara Luxury Resort is located in Siam Reap, Cambodia. A unique destination awarded with many recognitions such as Best International Hideaways, Top Resort in Asia, Cambodia top 10 places to stay, Worlds best Award, and Worlds Best service award by Travel + Leisure magazine make this resort the best in Siam Reap, attracting unique international and sophisticated clientele.
Located very close to the UNESCO World Heritage Site, Angkor Wat, the jungle covered ruins of the Khmer Empire and which flourished between the 9th and 14th centuries, makes Amasara a perfect place for adventure and food lovers. The country's food culture is also not to be missed. Khmer food takes influences from a variety of countries. Cambodia was a French colony and many Chinese immigrants moved to Cambodia, so both French and Chinese foods have played an important role in Cambodian food. In the west of the country, the cuisine is naturally influenced by the food of neighboring Thailand, while in the east the flavors of Vietnamese cuisine are more evident.
I had the chance to interview a sous pastry chef since 2005, Van Vandy, originally from a small town in Bontay Meanchey, a small province 500 kilometers away from Siam Reap. Since she was little, she wanted to learn English and learn how to cook, so she moved to Siam Reap and began studying at Salabai School for Hospitality Management, a local school that teaches people with no economic resources how to cook and the different areas of the hotel industry. In Amansara, she makes classic pastry with local ingredients and confesses that one of her wishes is for people from all over the world to know the full potential of Cambodian gastronomy.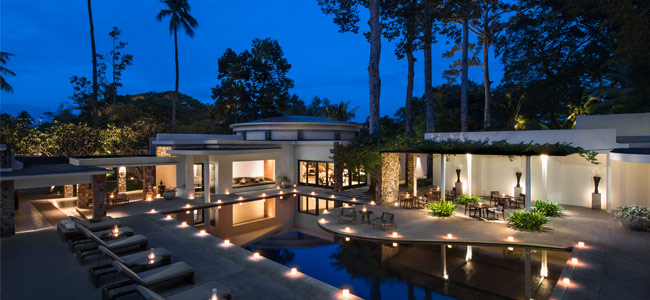 How did you transition from being a cook to pastry chef?
First, I worked six years in the kitchen but I said to myself, if I want to be a good chef I need to learn everything, so I asked to be moved to the pastry department where I have been working for the past seven years. Amansara has another property on a Private Island in the Philippines where I have worked as well.
Tell me more about your pastries, what do you like to make?
I like to create with local ingredients, we don't want to be too modern, I'm classic. Remember this is the jungle so we source all our produce locally, except for apples, which are not local, but all the tropical fruit like Jack fruit, pineapple, mango, coconut is, so we create with what is available.
How do you deal with the food allergy restrictions that your clients might have?
We try to make the best desserts for our clients. Sometimes it's hard, we try to choose the best selection of the best ingredients, fruit-based desserts help a lot.
Is there a chance for female pastry chefs to become successful in Cambodia?
Yes, there is, but you have to work very hard. Cambodian women are incredible, absolutely amazing, they can work longer and harder than anyone else and are truly talented. Cambodian cuisine is really up and coming. As you have experienced, it is amazing food. You're really going to be hearing about it in the next few years. Every year, tourism is booming and more people come. Cambodian cuisine is going to blow up soon. A lot of the recipes that we make here are hand written, it being a very family-oriented culture, and recipes are passed down from generation to generation.
"A lot of the recipes that we make here are hand written, it being a very family-oriented culture, and recipes are passed down from generation to generation"
How do you see yourself in the next couple of years?
I can say I'm really happy to be a pastry chef now. I moved from my hometown to follow my dream; I wanted to learn English and I studied hard. It wasn't easy working and studying but my heart was in my dreams and I'm very thankful for my job right now. I can say I'm really happy and I hope I can be a famous chef one day and let everyone around the world learn and know about Cambodian food and share my culture and traditions.