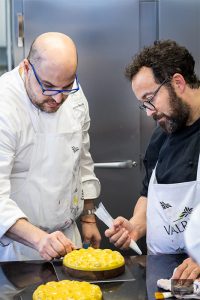 Antonio Bachour shared the spotlight with Carles Mampel during his last pastry course at the L'École Valrhona Brooklyn. Both chefs shared space, techniques and advice in front of a dozen lucky people who could enjoy the technical and creative display they were offered. Tarts, individual portions, small cups, bonbons, travel cakes which, depending on the chef, had some characteristics or others. As a sample, we are left with this piece of the Miami-based chef's repertoire. A tasty yogurt cheesecake that incorporates refreshing elements such as yogurt and pineapple to get a sweet result which is also suitable for almost any time of the year.
Antonio Bachour dominates style like few others, always attentive to the latest trends to offer fresh presentations without losing one bit of personality. Precisely in this course he offered surprising cakes thanks to a new collection of molds and updated classic ideas like the cheesecake that we present here.
Yogurt Cheesecake with Coconut Whipped Ganache, Compressed Pineapple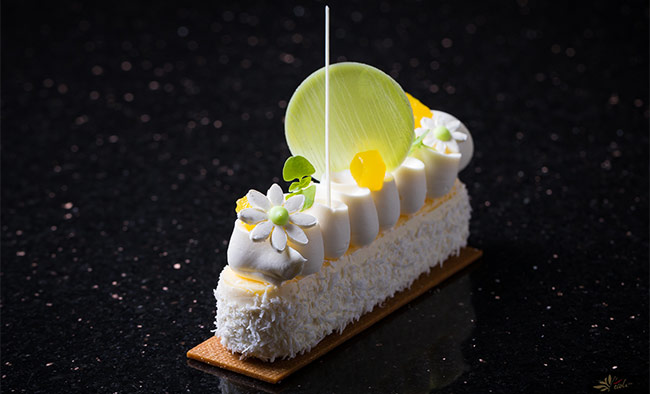 yields 24 servings
cheesecake
500 g cream cheese
224 g granulated sugar
28 g whole milk
564 g Greek Yogurt
2 large whole eggs
3 large egg yolks
Pre heat the oven to 104ºC.
In a stand mixer fitted with a paddle attachment, beat cream cheese with sugar until smooth. In a separate bowl, combine eggs, yolks and milk. Add egg and milk mixture to cream cheese and sugar mixture in stages, slowly, scraping the bowl as you go to prevent lumps. Add the greek yogurt and mix in low speed. Pass through a fine mesh strainer. Pour cheesecake into the Bachour Pavoni "Pastel" mold and fill until ¾ of the mold. Bake for 35 minutes; turn off oven, and let sit for another 10-15 minutes. Check to see if done by gently shaking. Chill completely and remove from molds.
---
coconut whipped ganache
180 g coconut puree
30 g glucose
30 g invert sugar
270 g opalys white chocolate
520 g whipped cream
34 g Malibu
Bring the coconut puree to boil with the glucose and invert sugar, gradually pour over the white chocolate, emulsify with a hand blender. Mix with the cold cream and Malibu. Let set in the refrigerator for 12 hours.
---
compressed Malibu Pineapple
1 pineapple
1 vanilla beans
250 g Malibu rum
Place all the ingredients into a vacuum pack and seal. Compress the ingredients and marinate in the refrigerator for few hours.
---
white chocolate coating
500 g opalys white chocolate
100 g cocoa butter
100 g finely coconut flakes
Melt chocolate and cocoa butter to 45ºC, temper to 29ºC.
Dip each cheesecake into the white chocolate coating and sprinkle coconut flakes around it.
---
Assembly
Whip the coconut whipped ganache to medium peak. Pipe coconut panna cotta on top the cheesecake. Decorate with compressed pineapple decorate with some chocolate garnish.