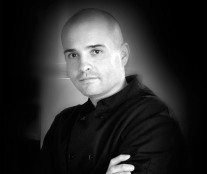 Xavier Séjournant is one of those restless spirits who stand out in contemporary French pastry. Captivated by this trade at an early age, his different experiences in maisons de pâtisserie and boulangerie made him feel increasingly attracted to the artistic potential that this artisan craft guards. Currently, he is about to open his own pastry establishment "in the Paris region", as he himself tells us. We want to know more about this upcoming project. For now, we can enjoy one of his Christmas proposals.



Rouge Desir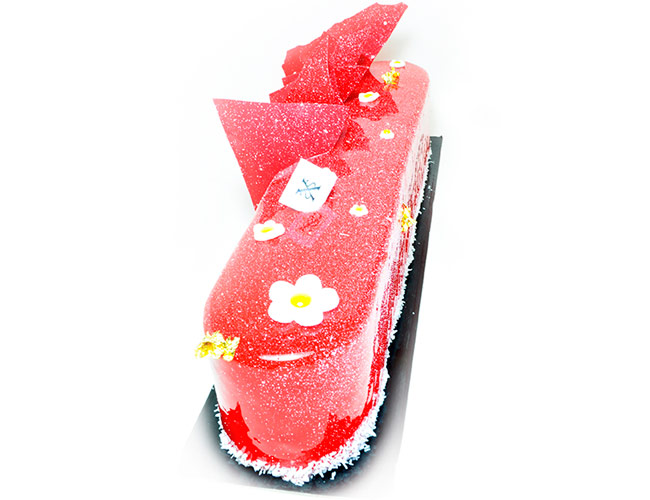 lemon streussel
66 g butter
66 g brown sugar
66 g almond powder
50 g flour
1 u lemon skin
Mix all the ingredients in order. Extend to a thickness of 3 mm and cut to a smaller measurement to that of the log. Bake at 160ºC for about 15 minutes.
---
olive oil madeleine cake
56 g sugar
22 g inverted sugar
66 g eggs
66 g flour
3 g baking powder
2 g lemon peel
60 g olive oil
Heat the sugars and eggs to 50ºC and mount in the blender with the rods. Add sifted flour with baking powder. Follow with the lemon peel and finish with olive oil. Spread on the cooled streussel and bake in a ventilated oven at 170 ° C for about 10 minutes. Put in freezer.
---
berry coulis
150 g frozen mixed berries
38 g sugar
6 g 200 bloom gelatin powder +30 g water (gelatin mass)
255 g berry purée
Heat the berry purée with sugar to 50 °C, add the gelatin mass and mix well. Add the berries and pour over the frozen madeleine cake. Freeze.
---
light vanilla cream and white chocolate
120 g milk
60 g 35% fat cream
0.5 or Madagascar vanilla bean
37 g yolks
30 g sugar
9 g starch
24 g Ivoire white covering
24 g gelatin mass
125 g whipped cream
In a saucepan boil the milk with scraped pods and leave to infuse for 20 minutes. Strain and make custard. Add covering and melted gelatin mass. Cool to 30ºC and join with whipped cream. Pour.
---
rouge mirror glaze
150 g sugar
150 g glucose
75 g water
150 g Ivoire white covering
50 g concentrated milk
500 g neutral gelatin
70 g gelatin mass (10 g + 60 g water)
5 g fat-soluble red dye
Boil the water, sugar and glucose. Pour over the white covering, concentrated milk, the neutral gelatin and food coloring. Mix. At 60ºC, add melted gelatin mass. Blend with mixer without adding air. Reserve in cold until the following day.
---
Assembly and finishing
Assemble in reverse in an eight people Oblong mold. Pour the light cream to medium height and place inside the Streussel-cake-Coulis until the cream is closer to the edges. Freeze. Unmold and glaze with melted Miroir Rouge at 30ºC. Then sprinkle a mixture of cocoa butter, Ivoire covering, and titanium oxide coloring, melted, with the help of a brush. Decorate with red-colored white chocolate chips, flowers, sugar paste, gold leaf, and grated coconut.