Vinesh Johny and Andrés Lara, two great pastry chefs, educators, friends, and collaborators of So Good Magazine, came together to write the book, New-School Sweets. Old-school pastries with an insanely delicious twist. Drawing on their years of experience teaching at renowned pastry schools around the world, they both demonstrate how to create treats from scratch, using unexpected flavor combinations and carefully layered textures.
The detailed step-by-step recipes with tips on timing and assembly are valid both for those who want to improve their baking skills at home and for pastry professionals looking for inspiration. The creations are inspired by delicacies that chefs have sampled while traveling the world, and they encourage readers to change from French classics, incorporate key spices, or play around with vegetables.
Inside the book we find recipes like the rice pudding baba tart, inspired by Andrés' first visit to India and Vinesh took him to the local traditional sweet vendors. Once the gulaab jamun came out, Andrés instantly fell in love with the soft, fried dough soaked in an aromatic rose syrup. It immediately reminded him of the classic baba doughs of France, "so we found a way to honor the jamun in our own cafe-style tart that's filled with rice pudding and topped with baked, soaked baba," he says.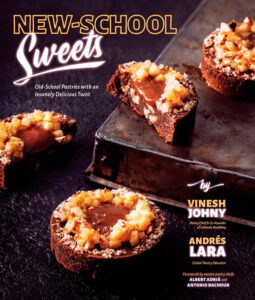 Rice pudding baba tart
Yield: 8 tarts
Mold: 2.5-inch (6-cm) ring
Coconut ganache
180 g coconut cream, divided
14 g corn syrup
14 g invert sugar
150 g white chocolate
20 g coconut rum (We recommend Malibu®)
250 g heavy cream
Pinch of sea salt
In a saucepan, heat 6 tablespoons (90 g) of coconut cream, the corn syrup and the invert sugar until the mixture is nice and warm. Then pour it out into a narrow container with the white chocolate, and emulsify well using a hand blender. Add in the last 6 tablespoons (90 g) of coconut cream along with the coconut rum, cream and salt, and continue to blend into a smooth ganache. Wrap in cling film and keep this in the refrigerator overnight for it to set perfectly.
---
Tart dough
120 g butter, plus more for greasing rings, at room temperature
Pinch of sea salt
90 g icing sugar
1 u egg
230 g all-purpose flour
30 g almond flour
In a stand mixer with a paddle attachment, start by mixing the butter with salt and icing sugar. Gradually add in the egg a little at a time, making sure it's well combined. Next, fold in the all-purpose flour and almond flour, and gently mix everything into a nice dough. Place this between two sheets of baking paper and flatten slightly, before resting the dough in the refrigerator for 1 hour. Grease 8 rings with extra butter and place them on a tray lined with baking paper. If you don't have 8 rings you can bake these in batches. Roll the dough out into a sheet 1⁄8 inch (3 mm) thick, and cut out 8 (4-inch [10-cm]) discs of dough for the base of the tart. Place a disc inside each greased ring and press gently, starting from the bottom and working your way up the sides. If the edges are above the rim, carefully trim them with a small knife, then pop these in the refrigerator for 1 hour. Preheat the oven at 320°F (160°C) and bake for 20 to 25 minutes, until they turn a delicious golden brown.
---
Coconut rice pudding
105 g arborio rice
600 g whole milk
1/2 u vanilla bean pod
112 g coconut milk
100 g jaggery
Zest of 1 lime
Pinch of sea salt
1/2 tsp ground cardamom
1/2 tsp ground cinnamon
Start by blanching the rice: Take a bowl of water with about a teaspoon of salt dissolved in it, and submerge the rice into it, washing the grains and removing the starch until the water turns a pale white. Then pour out the starch water and add in fresh salt water, repeating the process a total of 3 times. Now that the rice is ready, add it to a saucepan along with the whole milk and vanilla, and cook it until the mixture starts to turn thick and creamy. Once it's done, turn off the heat and mix in the coconut milk and jaggery, then season the pudding with the lime zest, salt, cardamom and cinnamon to give it a warm, spiced flavor. Mix so everything combines well, and set it aside for later.
---
Baba dough
75 g bread flour
25 g butter, at room temperature
3/4 tsp granulated sugar
1/4 tsp sea salt
1 tsp instant dry yeast
2 u eggs
Preheat the oven to 338°F (170°C). In a stand mixer with a paddle attachment, take the flour, butter, granulated sugar, salt and yeast and combine evenly. Add in the eggs a little at a time while mixing continuously, combining the ingredients into a thick, elastic dough. Once the dough is ready, it's time to fill it into 8 (1-oz [30-ml]) spherical molds. If you don't have 8 molds you can bake in batches. Fill them about halfway, then let them proof at room temperature for 15 minutes, until the dough has risen to just below the surface of the mold. Pop them in the oven for 15 minutes, until golden brown. After baking, allow them to cool and demold; you may notice some excess on the top of each sphere, which can be trimmed with a small knife to get a beautiful, rounded shape.
---
Spiced rose syrup
200 g water
100 g granulated sugar
2 pc whole cardamom
2 pc cinnamon bark
2 pc whole cloves
20 g rose water
Pistachio powder, for garnish
Rose petals, for garnish
Make sure that everything else is ready for assembly before we start soaking the babas in the spiced rose syrup. Never keep soaked babas lying around! Start by heating the water and granulated sugar in a saucepan along with the cardamom, cinnamon and cloves. Let it boil for a couple of minutes to let the spice flavors open up, then add in the rose water. Turn off the heat and pour it into a small but slightly deep container, and pop those freshly baked babas in so they're completely submerged in the rose syrup. Leave them to soak for about 20 minutes so they're nice and juicy.
---
Montage
Bring those baked tart shells out, and fill them completely with a generous helping of rice pudding. Whip the coconut ganache in a stand mixer with a whisk attachment until it's nice and fluffy, and using a piping bag with a large, round tip nozzle, form a neat dome of ganache over each tart. Finally, take a soaked baba and carefully place it right on top, with a sprinkling of pistachio powder and rose petals to finish the look. These incredible India-inspired tarts are best served chilled. You can store them in the refrigerator for up to 2 days.
Discover many other creations in the book New-School Sweets