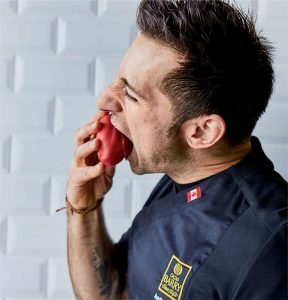 Ice cream is a complex and beautiful world, thinks Andrés Lara. There are always aspects of the product that are waiting for its evolution, for its change. And there are always possibilities to continue learning from a trade and a product that has hardly been thoroughly worked on.
With these premises, the Cacao barry Canada creative Chef, now also a teacher at the Chocolate Academy of Canada, has created a line of individual "cakes" that can be both served in the dining room of an ice cream parlor and thought of as a product to take home. They can also be part of a dessert. It is a creative exercise with ice cream as the protagonist and the individual format as context. Because there is nothing more stimulating than starting from an underrated product in pastry, showing its potential without leaving behind imagination, complex tastes, fun textures, and offering alternatives to the silicone molds when it comes to presentation.
Paths that are also possible in a product as popular as ice cream.
'The idea is to take the concept of an ice cream sandwich but giving it an elegant shape as an individual ice cream cake. The flavors are the pure expression of all the sensations that are important to me. A game of savory, spicy, sweet, acidic and -the surprising touch- cheese!'
Parmesan sandwich
zephyr passion fruit ice cream
655 g water
60 g 0% milk powder
80 g sucrose
60 g invert sugar
80 g glucose powder DE 38
45 g maltodextrin DE 12
340 g passion fruit purée
4 g Maldon salt
215 g Zephyr white couverture, 34% cocoa
6 g ice cream stabilizer
Heat the water to 50ºC. Add the dry solids and heat to 85ºC. Homogenize with the Zephyr couverture. Allow to chill then homogenize with the purée. Allow to mature in the refrigerator for 12 hours. Churn.
---
black pepper mango sorbet
430 g water
126 g sucrose
130 g maltodextrin DE12
70 g dextrose
1000 g mango purée
50 g lemon juice
5 g Maldon salt
2 g ground black pepper
6 g sorbet stabilizer
Warm the water and ground pepper to 50ºC. Add the dry solids. Heat to 85ºC and allow to cool. Mix in the mango purée and lemon juice, homogenize. Allow to mature in the refrigerator for 12 hours. Churn.
---
passion fruit gelée
250 g passion fruit purée
18 g dextrose
63 g water
8 g agar agar
21 g gelatin mass, 200 bloom
2.5 g Maldon salt
Heat the purée, water and agar agar to a boil. Add the gelatin mass and dissolve. Cast in a silicone disk to 1 mm thickness. Freeze.
---
parmesan sablé
160 g butter
40 g sucrose
100 g Parmesan cheese, grated
1.5 g Maldon salt
100 g T-55 flour
100 g almond flour
Combine all the ingredients with the cold butter in a food processor. Store in the refrigerator for 2 hours. Roll to a thickness of 2 mm and bake at 160ºC.
---
meringue
100 g pasteurized egg whites
200 g sucrose
80 g water
20 g glucose syrup DE40
Cook the sugar syrup to 121ºC. Pour over the egg whites and whip.
---
Montage
In a 5-cm diameter silicon round mold, prepare one sablé in the mold.
Pipe the passion fruit ice cream on top of sable and insert the passion fruit gel.
Pipe another layer of ice cream to cover the gel.
Top with another sablé and shock freeze.
Make the meringue and pipe around the sandwich. Burn with a blowtorch.
Pipe the mango sorbet on the surface.
Finish with grated parmesan cheese and black pepper.
---
You will also find these  recipes in so good #20
Black mountain
Peanut butter SnoBall