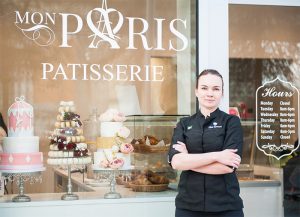 Russia, France, and Canada have marked the career of Elena Krasnova, owner of the pastry shop Mon Paris Patisserie, located in a new area in Vancouver.
Her philosophy is based on using the best fresh ingredients, with the least amount of sweetness and fat possible, to produce pieces that seduce "at first sight" and that closely follow the tradition of French patisserie.
Her personal style is reflected in this dessert that reproduces the experience of a classic cup of tea with raspberries in a sweet bite.
"There are great teas with red berry bouquet, and I found it interesting to transfer such sensation to a cake"
Raspberry tea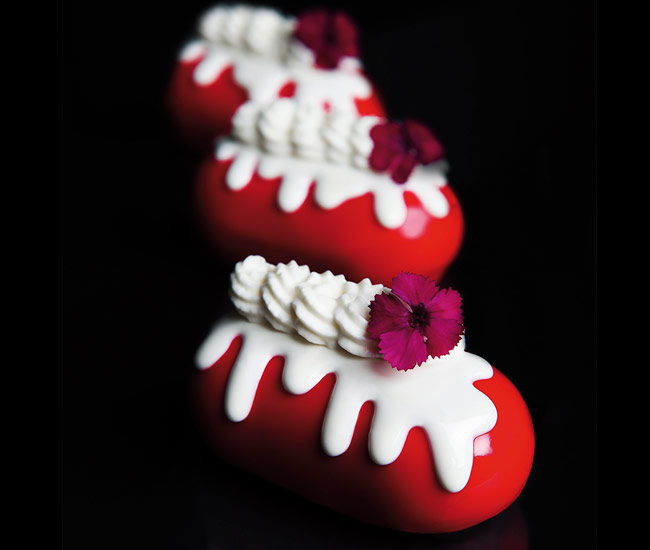 raspberry confit
600 g raspberry purée
200 g sugar
20 g pectin
28 g gelatin mass
480 g frozen raspberries
Heat the raspberries and raspberry purée with sugar and pectin till it boils. Pour over the gelatin mass. Mold at the bottom of the desired molds at 10 mm. Freeze overnight.
---
biscuit
350 g almond paste
2 g salt
242 g eggs
6 g Earl Grey tea
25 g almond flour
52 g starch
130 g melted butter
Beat the first three ingredients to a smooth batter. Grind the tea in the food processor to a powder. Add the sifted almond flour to the first ingredients, together with the starch and tea powder. Finally add the melted butter. Spread to 5 mm thick on the baking sheet lined with paper. Cook at 180ºC in a ventilated oven for 10 minutes.
---
mousse with Earl Grey
40 g gelatin mass
200 g milk
10 g Earl Grey tea
60 g sugar
300 g cream
Infuse the tea in the hot milk for 15 minutes. Filter and rescale the milk to 200 g again. Heat the milk and combine with the gelatin mass. Cool down to 30ºC. Combine with the semi-whipped cream.
---
white chocolate glaze
250 g water
500 g glucose
500 g sugar
330 g condensed sweet milk
230 g gelatin mass
500 g white chocolate
red color or white color
Heat the water, glucose and sugar till it boils. Pour over the gelatin mass, white chocolate and condensed milk. Mix. Leave in the fridge overnight. Use at 40ºC (the red one).
---
Assembly
Assemble the dessert in the desired silicone molds.
Pour just 1/4 of the raspberry confit in the mold and freeze it.
Then continue with the mousse and the biscuit.
Freeze overnight.
Remove from the mold and glaze with the red glaze at 40ºC.
Color a little bit of the white chocolate glaze with titanium dioxide to receive a brighter white color glaze.
Cool this glaze to 25ºC.
Place into a piping bag and pipe on top of the red glazed desserts.
---
You will also find the Dolce's recipe in so good #18