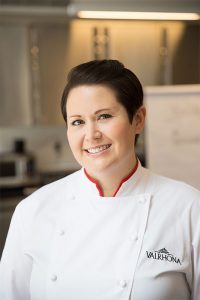 Last August, Sarah Tibbetts, who joined Valrhona as L'École Valrhona Pastry Chef USA in 2012, gave a two-day course at L'École Valrhona Brooklyn on modern buffet, very popular in major events and celebrations of all kinds.
The chef drew on her extensive experience in some of America's most prestigious hotels and restaurants to meet the objectives of training: exploring the role of flavor and texture in smaller desserts and teaching visually appealing displays with seasonal inspiration.
Attendees, in addition to creating desserts in a small format, including verrines, cakes, petits gateaux, macarons, and various sweets, acquired notions on how to use color and seasonal accents to design a finished buffet.
Praline Mallomar is one of the delicate pieces made during the course, which you can create following the step-by-step instructions that we detail below.
Photos: Alex Ayer Photography

Praline mallomar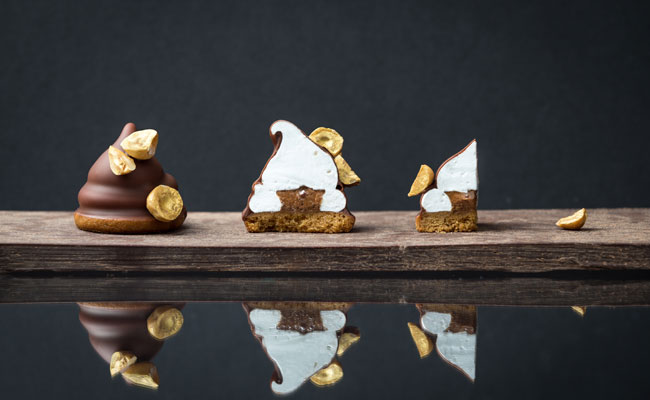 yields 50 pieces
praline cookie base
113 g butter
90 g sugar
90 g light brown sugar
47 g eggs
5 g vanilla extract
128 g Hazelnut Praline 60%
8 g baking powder
250 g flour
3 g salt
In the bowl of a stand mixer fitted with a paddle attachment, cream the butter and both sugars. Add the eggs and vanilla extract- scrape down the sides of the bowl and mix until combined.
Add the Hazelnut Praline, followed by the sifted dry ingredients. Mix just until combined.
Remove from bowl and place between two plastic sheets. Roll to a thickness of 5mm and chill.
Cut with a 3.5cm round cutter and place on a Silpain lined perforated baking tray. Bake at 320F for 5-7 minutes.
---
marshmallow topping
50 g water
335 g corn syrup
158 g sugar
90 g egg whites
3 g gelatin
15 g waterwhites
½ ea. vanilla bean, seeds only
Combine the 1st quantity of water, corn syrup and sugar in a pot and bring to a boil. Bloom gelatin in the 2nd quantity of water.
Start the whip the whites on low speed. When the sugar syrup reaches 248F, slowly pour over the frothy whipped whites. Melt the gelatin and add to the whites, along with the vanilla bean seeds.
Continue to whip on medium speed until thickened but still slightly warm. Use immediately.
---
bahibe coating
500 g Bahibe 46% Milk Chocolate
35 g cocoa Butter
Melt the Bahibe chocolate and cocoa butter to 118F and temper. Use immediately.
---
Assembly and finishing
100 g crunch praline
AN roasted whole hazelnuts
AN gold luster dust
Arrange baked Praline Cookies on a sheet tray. Make Marshmallow topping and place half in a piping bag fitted with a 9mm straight tip.
Pipe a ring of Marshmallow topping directly on the Praline Cookie Base, leaving a hole in the center. Fill with 2g of Crunch Praline.
Fill another piping bag fitted with an 11mm straight tip with the remaining marshmallow topping. Pipe a dollop of Marshmallow on top.
Let set for 1 hour in a cool place (do not refrigerate) to allow the gelatin to set.
Temper the Bahibe Coating and holding the cookie base, dip the Mallomars into the glaze to coat the Marshmallow. Tap off excess coating and set on Silpat lined sheet pan to let crystallize completely.
Mix gold luster dust with a small amount of neutral alcohol and brush hazelnut pieces. Using a coronet filled with tempered Bahibe Coating, fix the gold hazelnuts to the finished Mallomars and serve.