DelRey is one of those great names closely linked to chocolate and pastry in Belgium. Its headquarters in Antwerp is a true temple that worships chocolate and from which it has been able to expand to other distant ports, with special fortune in Japan.
DelRey is facing a new renewal, with the challenge of attracting a local public to come more frequently to his establishment, while the arrival of tourists has not yet fully recovered. Their next objective is to develop a range of fresh viennoiserie with the same criteria of quality and style as their bonbons and cakes, although this seems to be a future challenge that will fall into the hands of Jan Proot, the fourth generation to take over the helm. In so good #26 we have the chance to enjoy of some of their signature cakes, like this Espresso cake which combines coffee and dark chocolate.
Photos: Debic
Espresso Cake
Hazelnut sponge cake
280 g dark brown sugar
229 g eggs
76 g icing sugar
305 g hazelnut powder (100%)
382 g egg whites
61 g dark brown sugar
153 g flour
9,2 g baking powder
153 g hazelnut oil
153 g butter, 84% fat
Slightly whisk the eggs with the first amount of brown sugar. Mix with the icing sugar and hazelnut powder. Whip the egg whites along with the second brown sugar. Combine both mixtures. Add the sifted flour and baking powder. Add and mix the melted butter and oil thoroughly. Cast onto 40×60-cm sheet pans, approximately 1500 g per pan. Bake at 175ºC for about 20 minutes, vent closed.
---
Araguani crémeux
566 g milk
566 g heavy cream, 37% fat
264 g egg yolks (pasteurized)
226 g sugar
679 g Araguani dark chocolate, 72% cocoa
Caramelize the sucrose using dry method and Heat the cream, milk and sugar to 60ºC. Add the egg yolks, make an anglaise and stir at 85ºC. Achieve an emulsion with the chocolate. 2 kg is needed for the cake and the rest is for the quenelles. the honey. Cook until all the water in it evaporates. Add the warm peanuts and roll out on a silpat. Let cool and grind in a blender together with the peanut oil until the desired texture is achieved.
---
Coffee cream
MILK COFFEE INFUSION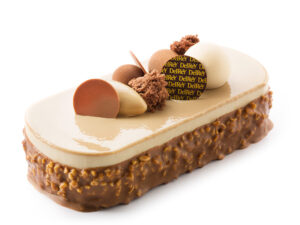 145 g coffee beans
855 g milk
COFFEE CREAM
662 g milk coffee infusion
9 g instant coffee powder
30 g powder gelatin 200 bloom
152 g water for gelatin
1315 g white chocolate
1332 g lightly whipped cream, 37% fat
Heat the infused milk to 30ºC and add the instant coffee. Achieve an emulsion with this milk and the white chocolate. Add the melted gelatin. At 30ºC, fold in the cream. It is needed 3.2 kg for the cake. The rest is to prepare quenelles.
---
Chocolate syphon cake
187 g egg whites (pasteurized)
120 g ground almonds
120 g sugar
120 g egg yolks (pasteurized)
30 g flour
50 g cocoa powder
Mix and sieve all the ingredients together. Leave to rest in the refrigerator overnight. Pour into the syphon container with 4 gas cartridges. Syphon it into a carton cup. Bake in a microwave oven for 40 seconds.
---
Chocolate coating
1400 g dark chocolate 865
360 g hazelnut oil
400 g ground almonds
Mix everything together and use at 30ºC. Dip the cakes into the glaze and wipe off the bottom sponge cake. Put on a parchment paper sheet and leave to crystallize.
---
Coffee glaze
560 g water
850 g sugar
850 g glucose
60 g powdered gelatin, 200 bloom
300 g water (for the gelatin)
570 g condensed milk
850 g white chocolate
12 g titanium dioxide
q.s. Trablit coffee extract
Heat the water, sugar, glucose and white color at 90ºC. Add the condensed milk. Add the gelatin. Make an emulsion with the chocolate. Add coffee aroma (to taste). Use at 35ºC.
---
Montage
Use 4-cm-high frames. Place the hazelnut sponge cake in the bottom and Araguani crémeux on top. After freezing, seal with the coffee cream and freeze again. Glaze with the coffee glaze. Cut the cakes with a watercut machine. Dip into the chocolate glaze. Finish with quenelles and syphon sponge cake.
Discover these recipes by DelRey in so good #26