There is no or very little use in winning a prestigious competition if then one does not have the will and resolution to face the day-by-day challenge. This is not the case of the Dutch chef Frank Haasnoot, brilliant winner of the latest World Chocolate Masters edition, who has not ceased to grow professionally after obtaining the title. His refined, elegant style has gained unanimous acknowledgement on the international scene. And his enthusiasm has no limits. After his stay at Dobla, he took over the luxury patisserie The Victorian in Kuwait, and now he has just started again as a head pastry chef at the Hotel Mandarin Oriental in Taipei (Taiwan). 'As a pastry chef, you always need to be challenged in some sort of way', concludes Haasnoot.
Ellyrose, a very elegant petit gateau for a wedding, is one of the four exclusive creations Frank Haasnoot has made for So Good #10.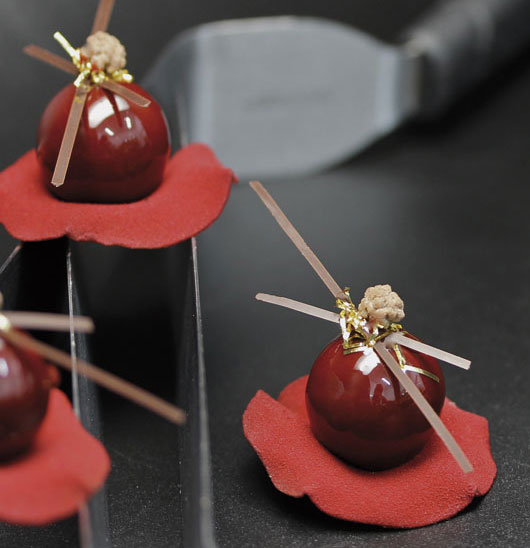 MONTAGE
Roll the flexible chocolate as thin as possible, cut out to 4 cm and shape into a rose petal.
Let it dry and cool before you spray it velvet with red chocolate.
Bake the madeleine citrus sponge in a half sphere silicon mold. When it has cooled down, place the Cherry rose crémeux on top and scrape the top clean.
Place the mold in the refrigerator.
Take another half sphere mold and fill with the Cherry rose crémeux. Place this one in the freezer, when it is solid frozen take the crémeux out of the mold and place them single handed on the refrigerated crémeux and freeze all.
Bring the red glaçage to a temperature of 35ºC and dip the sphere into the glaçage and place on the velvet rose petal. Finish with chocolate decor.