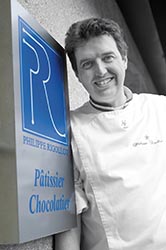 'I intend to highlight the product by playing with fruity and generally less sweet flavors. I try to play with different textures and temperatures so they are tasty and quite simple regarding the serving. That defines my career within patisserie.' Simplicity, flavor and balance. Great Philippe Rigollot, MOF patissier and a world pastry champion, has settled on this trend which insists on enhancing the purity of flavors and aesthetic lines. For this task, he has found a great partner in the diverse world of silicone molds. Alongside the Italian firm Silikomart, Rigollot offers us two creations which stand out thanks to their studied simplicity.
Coconut and lime ball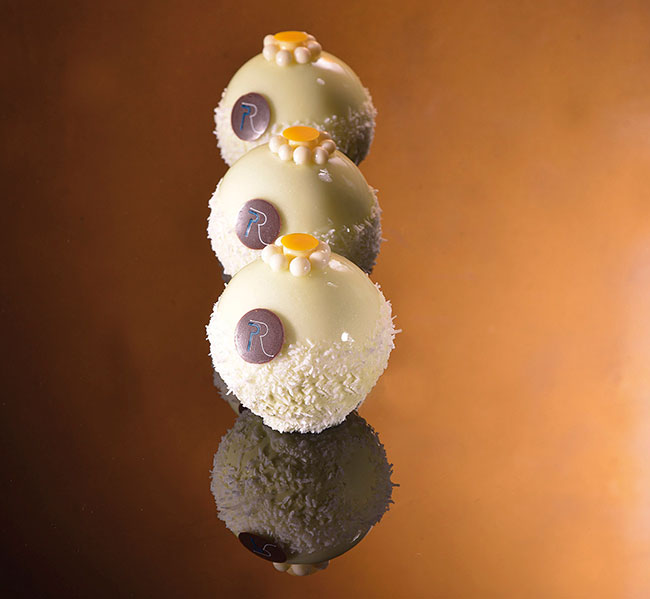 lime cream
41 g butter
113 g eggs
77 g sugar
71 g lime juice
2 g powdered gelatin, 200 bloom
5 g corn starch
lime zest
Combine the lime juice and the mixture of sugar, eggs, starch and lime zest and place over a gentle heat. Bring to a boil, then add the gelatin and butter. Homogenize properly and pour about 20 g into a sphere mold (Flan Mould – Silikomart). Freeze.
---
lime sponge
37 g eggs
15 g egg yolks
30 g almond powder
3 g honey
3 g corn starch
30 g sugar
lime zest
Place all the ingredients except the lime zest in the bowl of a stand mixer fitted with a paddle and beat to a ribbon stage. Gently fold in the lime zest and pour onto a sheet pan. Bake at 180ºC for 6 to 7 minutes. Allow to cool, spread the exotic compote over the surface and freeze. Cut into 4-cm-wide disks.
---
ivoire coconut mousse
115 g coconut purée
147 g Ivoire white couverture
13 g cocoa butter
5 g powdered gelatin, 200 bloom
231 g semi-whipped cream, 35% fat
28 gcoconut, shredded
Heat the coconut purée and add the gelatin. Pour one third of the hot liquid over the chocolate and cocoa butter, previously melted together. Mix with the help of a hand whisk so as to obtain a smooth, glossy and elastic texture. Process with a hand blender. Add the shredded coconut very carefully so as not to alter the texture. Once the chocolate mixture is at about 30-35ºC, fold in the cream, previously whipped to soft peaks. Pipe 45 g into each mold and freeze.
---
exotic compote
23 g passion fruit purée
20 g mango purée
23 g coconut purée
27 g sugar
11 g atomized glucose
7 g sugar
2 g pectin NH
7 g lime juice
Combine the purées in a saucepan and heat. Pour in the mixture of sugar and atomized glucose and add the pectin together with the second measurement of sugar. Bring to a boil. Off the heat, add the lime juice, allow to cool and homogenize.
---
Assembly
Prepare a sphere mold, 5.8 cm in diameter. Fill the bottom with the Ivoire coconut mousse, sprinkle with some white-chocolate crunchy pearls, cover with the sponge, compote, lime cream, compote and sponge insert. Seal the mold and pour the remaining mousse. Unmold, partially coat with a mixture of cocoa butter and white chocolate. Glaze with neutral gelatin and toss in shredded coconut. Garnish.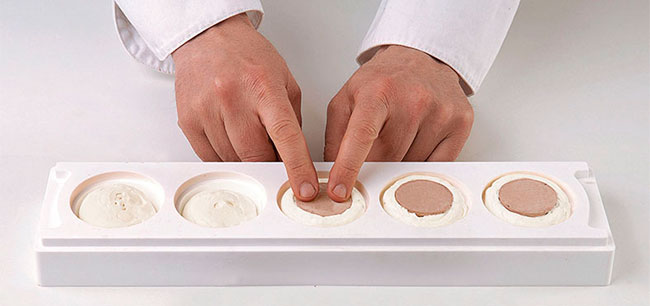 ---
You will find Crunchy framboise's recipe in so good #14