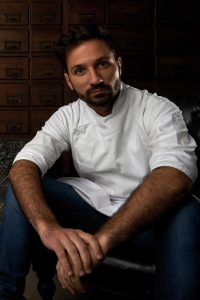 There are winds of change in Argentina. Based on great doses of perseverance and passion, Chef Luciano García is succeeding in introducing a taste for an updated, balanced, subtly Argentine pastry despite being clearly related to The French classics in the hearts of the new generations that pass through the OTT College of Buenos Aires.
Pastry that Luciano not only teaches, but is also successfully introducing in the OTT Warehouse, an establishment attached to the school. There, he offers creations like the three shown in these pages.
Elegant presentations that combine two or three ingredients with brilliance. Products that not only seduce the customers in Buenos Aires, but also demonstrate the gastronomic potential of good pastry.
'Revisiting a classic tart, my objective is mainly to find the right balance between textures and flavors. On this occasion, the chocolate comes in a creamy, intense shape, and is rounded by the freshness of mango, lime and lychee.'
Chocolate, mango and lychee meringue tart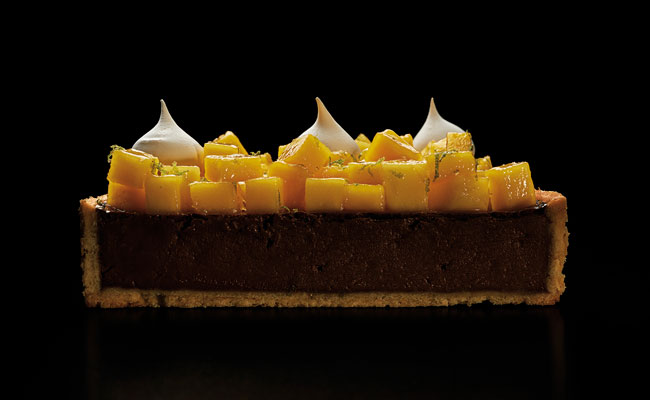 pâte brisée
250 g flour
125 g butter, chilled and diced
30 g confectioners' sugar
3 g salt
40 ml water, chilled
10 g vanilla extract
Make a sandy dough with the flour and butter dice. Add the sugar and salt. Finally beat in the egg and, if needed, some water. Make two fresaiges and refrigerate for 30 minutes. Roll out to 4 mm and line a 20x20x3-cm frame. Refrigerate again and bake at 170ºC to a slightly golden color.
---
dark chocolate appareil
190 g cream
75 ml milk
50 g eggs
150 g semi-sweet chocolate
Make a ganache with the cream, milk and chocolate. Add the eggs, making sure they are fully incorporated. Cast over the pâte brisée and bake at 100ºC for approximately 25 minutes. Make sure the egg is perfectly set, preventing the preparation from boiling. Allow to cool.
---
macerated mango
1 u mango
100 g sugar
100 ml water
1 u lime zest
Make a syrup with the sugar and water until it reaches a boil. Infuse the lime zest and allow to cool completely. Cut the mango into 1×1 cm cubes and macerate in the syrup in the refrigerator for 2 hours.
---
lychee meringues
100 g egg whites
200 g sugar
3 g lychee essence
Make a Swiss meringue and give some extra flavor with the lychee essence. Pipe in the shape of small dollops with the help of a pastry bag fitted with a #9 tip and dry in a 100ºC oven.
---
Assembly
Garnish all the surface with the macerated mango cubes and scatter with meringue buttons.
Finish with some lime zest
---
You will also find this two recipes in so good #17