This year, L'École Valrhona Brooklyn has given the opportunity to a group of students to explore the art of making sugar flowers and learn about Valrhona chocolate in the studio in NYC's Garment District of the couture cake master, Ron Ben-Israel.
The students, in addition to discovering the origins and flavor combinations of various Valrhona chocolates, created shape, texture, and movement in sugar paste to resemble flowers as they appear in nature, acquired knowledge about the application of sugar flowers in decorative arts of confectionery, and learned the techniques to make a moist chocolate cake  with chocolate fillings to add an extra wow for chocolate-loving customers, like the one we detail below.
Photos: Alex Ayer
Ron's Chocolate Cake with Valrhona Cocoa
A
1 boiling water
85.5 g Valrhona cocoa powder
Mix and let cool.
---
B
218 g all-purpose flour (sifted)
1 teaspoon salt
1 ½ teaspoon baking soda
1 ½ teaspoon baking powder
400 g granulated sugar
Mix all dry ingredients in mixer bowl on low speed to blend.
---
C
2 eggs
½ cup oil
2 teaspoon vanilla
1 cup milk
Add to dries mixture "B" and beat on medium speed for 2 minutes.
---
D
Scrape the bowl and add cocoa mixture "A" slowly, mixing on low speed until incorporated.
The batter will be very loose.
Yield: 1 pan 9"x2"
Grease pan (spray is Eine) and place a parchment circle in the bottom. Grease again and sprinkle Elour. Tap away the excess. Fill pan only halfway.
Bake at 350 degrees F./ 175 C. for 30-40 minutes. Test that a skewer in the middle comes out clean. Let cool in the pan on a rack for 10 minutes, and then release and let cool completely on a rack. Once cool, wrap well in plastic wrap and refrigerate for few hours or overnight.
---
Ganache for filling and frosting
500 g bittersweet chocolate
600 g heavy cream
Place in food-processor bowl fitted with the metal blade the bittersweet chocolate. Pulse few times to chop and pulverize. Bring to boil (in microwave or over stovetop) the heavy cream. Pour over chocolate through feed tube while motor is running. Process until smooth. Transfer to a container and let solidify in room-temperature. For filling between cake layers, whip up gently to incorporate air and lighten. For frosting top & sides of cake, use as is in room-temperature.
---
Ron Ben-Israel's sugar flowers
Ron Ben Israel has explored the history of pastry to find the origin of these beautiful decorations. It is concretely the technique of "pastillage" and the French "Pièce Montée", originals of the mythical Marie Antoinette and the French King Louis XIV period, which connects one with the past. At that time, however, this type of sweet artistic constructions could have only be appreciated in very restricted aristocratic environments.
The chef has studied the characteristics of this pastry, which was originally made mostly with egg whites and sugar, and which was usually very rigid. In its current adaptation, he looks to the use of gelatins and glucose, instead of egg whites, to achieve a much more malleable result. It also adds gums that provide pastry with the texture and extensibility that it needs, especially using Gum Tragacanth and CMC (Sodium Methyl Cellulose).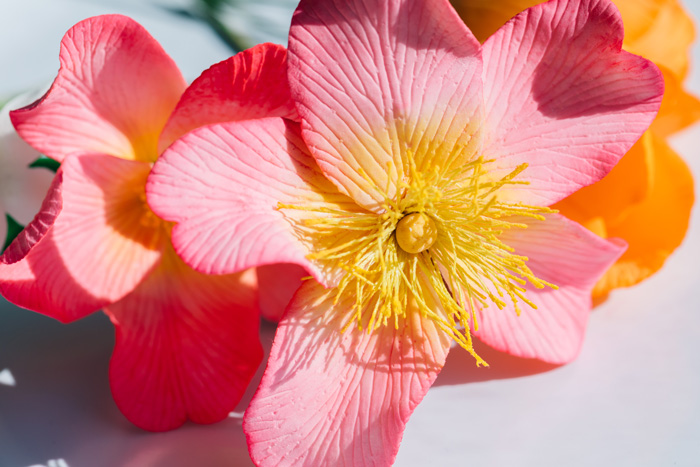 Although the names of these gums may suggest a chemical additive of industrial origin, the pastry chef explains that for centuries these gums were already common in many monasteries, extracted from roots and plants, and normally used for medicinal purposes. At present, they are not less common in all kinds of products of the food industry, and that is why the chef considers that the artisan should not have qualms about its use in a segment such as the artistic pastry.
To obtain these sugar flowers, the chef and owner of Wedding Cakes in New York, extends this paste and manipulates it as if it were a sculpture, doing an eminently manual work of classical inspiration. It also takes advantage of the advances of the sector to obtain his own silicone molds, commercial sheeters, and other materials with which to achieve the best result in each case. The process of coloring is also eminently artisan and the one that will make each flower a unique and delicate piece.
---