For the Argentinian pastry chef Belén Belamed, one of the stars of so good # 24, getting bored is not an option. "I like to play with everything which is different, be it sweet, savory, spices … because I get bored and I have to constantly propose new things," she says.
Her innovative and nonconformist attitude is reflected in elaborations such as this Bosque la Angostura, inspired precisely by an idyllic area of ​​southern Argentina. Now we present it on our website as a complement to her proposals from the last issue of so good. This tartlet, made with hazelnut sablé, cream cheese mousse and blackberry pulp, water-based ganache, dried pine mushroom powder and black truffle oil, is suggestive both in the interplay of flavors and in the colorful presentation. Original format, personality in the palette of flavors and lively -and natural- tones combined with fresh fruit, become the perfect introduction to this chef and the values ​​that she defends.
Photographies: Pablo Baracat
Bosque la angostura
Hazelnut shortcrust
125 g butter
70 g confectioners' sugar
35 g egg yolks
180 g cake flour
20 g Sosa maltodextrin
40 g hazelnut powder
1 g sea salt
q/s vanilla extract
Cream the butter together with the confectioners' sugar and vanilla. Beat in the egg yolks and finally the dry ingredients. Beat until all the ingredients are just combined. Roll out to 2.5 mm thick between flexible acetate sheets. Refrigerate and line 7×2-cm high rings. Bake in the oven at 160ºC for approximately 15 minutes. Separately, cut out a 7-cm lid with the same base for each tart and make a 3-cm hole in the center. Bake in an oven at 160ºC for approximately 10 minutes between two micro-perforated silicone mats.
---
Cream cheese and blackberry mousse
60 g Philadelphia-type cheese
75 g blackberry purée
20 g sugar
35 g gelatin mass
175 g cream
Mix the cheese, purée and sugar and heat to 60ºC. Whisk in the gelatin mass and cool down to 30-35ºC. Add the cream whipped to soft peaks. Pipe into the already baked tarts and refrigerate.
---
Water-based ganache of boletus and black truffle oil
300 g Macaé semisweet couverture, 62% cocoa
210 g water
30 g glucose
5 drops black truffle oil
2 tbsp dried boletus powder (granulated boletus)
Melt the couverture. Combine the water, glucose and boletus powder and cook to 80ºC. In three stages, pour the liquid over the chocolate and emulsify. Finally add the truffle oil. Finish the emulsion with an immersion blender. Cover the surface with plastic wrap and allow to crystallize for 12 hours.
---
Montage
Transfer the ganache to a pastry bag fitted with a #5 tip and pipe into piles on top of the mousse all around the tart. Top with the shortcrust lid and place some fresh blackberries in the center.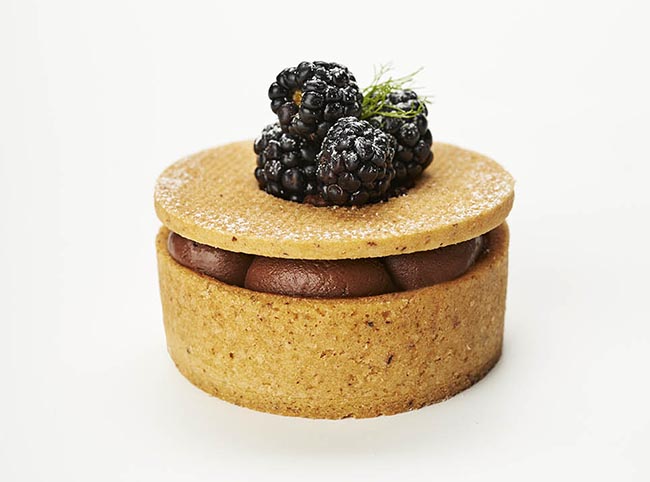 Discover these three creations by Belén Belamed in sogood #24