L'École Valrhona Brooklyn is one of the centers that has been able to adapt due to the setbacks arising from the pandemic by changing its training offer. After organizing successful online classes during the second semester of 2020 and some face-to-face classes in 2021, in 2022 l'École Valrhona Brooklyn will launch a course program with new chefs, new classes, and new topics. Training designed for pastry professionals who wish to expand their creativity, stay relevant, develop their skills and their network, and change their perspective.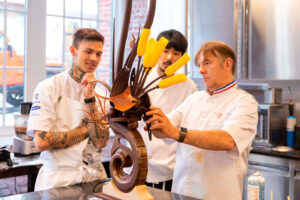 To respond to the constant evolution of pastry making, the school presents the new class, "Fine Vegan Pastry" with the French pastry chef Anaïs Galpin, and another "Pastry Evolution" with Sarah Tibbetts. In addition, it welcomes two renowned international chefs such as Ko Eun Su from Seoul and Karim Bourgi from Dubai. Kelly Fields (2019 James Beard Award winner for Outstanding Pastry Chef), Ginger Elizabeth (two-store owner in Sacramento), Angel Betancourt (Executive Pastry Chef, The One & Only), Diane Moua (2019 and 2020 James Beard nominees for Best Pastry Chef), and Sebastien Rouxel (Executive Pastry Chef of the Thomas Keller Restaurant Group for 15 years and current Pastry Chef of Daniel Bould's Dinex Restaurant Group) will also join the list of instructors.

L'École Valrhona Brooklyn is continuing its most popular classes from previous years taught by Antonio Bachour, Greg Mindel, Patrice Demers, Ron-Ben Israel, the MOF Stephane Treand, and Valrhona corporate pastry chefs Sarah Tibbetts, Guillaume Roesz, and Derek Poirier.

In total there are 19 classes planned from March to October, with the possibility of adding more sessions taught by L'École Valrhona Corporate Chefs based in France. While most of the classes will take place at the Valrhona space in Dumbo (Brooklyn), a couple will happen in Tustin, California to give students on the West Coast the option to take classes closer to home.